Self-storage facilities are quite handy for the "Four D's" of life (as real estate professionals would like to tell you); divorce, death, dislocation, and downsizing.
Each life event may entail moving household items and related stuff in a temporary hold until a set time.
Property owners can rent out the storage units, often on a short-term contract, and have equipment at the ready for the tenant's convenience.
However, there is a bit of a learning curve on management, occupancy, and benefits of self-storage facilities, both for rental owners and the individuals paying for the service.
The guide below provides some pointers on all information about managing a self storage facility.
Benefits of Self-Storage Facilities
There are several client-facing benefits of owning a self-storage unit. Some of the advantages of renting a self-storage facility are:
1. Security
Due to the nature of a self-storage contract, the client is often in possession of the facility's keys.
It means two things: the facility owner is not liable for the unit's security, and the client can implement security and insurance plans as he/she sees fit.
At the start, the property owner might have insurance coverage for the space upon purchase; at other times, you could use your insurance coverage instead.
The storage facility's security is also at your discretion; you get to provide your lock mechanism and determine how much protection your belongings need.
Access is also solely with the tenant unless otherwise stated in a document; it is a clear advantage over a warehouse, for example.
2. Low-Risk Storage
Self-storage rental services generally have an added layer of organization, providing marginally better handling for fragile items you might have to move frequently.
There is less chance of losing your stuff to accidents and poor handling.
3. Cost-Effectiveness
Simply put, you get to pay only for the storage space you use if you go the way of self-storage rentals.
It is a crucial benefit, especially if you have certain confidential items and don't want to incur extra cost to have a home rental service handle it for you.
If you pack and move periodically, self-storage facilities offer more economy on time due to the organization and security.
Self-Storage Types
Considering the different moving and packing needs individuals might have, there are several self-storage facility types, some of which are:
1. Outdoor Storage
Outdoor self-storage facilities are suitable for items that could stay outside. It utilizes storage blocks to keep stuff such as motorbikes, tractors, and other vehicles; it covers each of its units with several wire mesh partitions.
Comparatively, outdoor storages are some of the cheapest and most widely available storage options.
However, there are some drawbacks to self-storage, the major one being that the facilities do not offer comprehensive protection against weather and the elements.
Keep it in mind for any item (vehicular or non-vehicular); you don't want to come in contact with rain or snow.
2. Indoor Storage
On the flip side, indoor self-service storage units live within a roofed building and exist in several different compartments.
Typically, the containment units are guarded and are of various sizes, ranging from tiny cupboards to expansive rooms.
For higher-tiered indoor self-service storage facilities, you could also have access to climate-controlled, hermetically-sealed rooms for all your delicate art pieces and other similar items.
You could go through the management to get the exact storage specification you might need; a unit's location has many variables you have to consider before picking it.
Also, you might have to pay a high premium for the services for Indoor self-storage facilities.
3. Mobile Storage
Mobile self-storage facilities are available to clients who want a storage unit on their property.
One of the everyday use cases for mobile storage facilities is in the event of a home renovation.
The furniture and upholstery could stay in a storage facility for a short while; it would cost more to drive up to an indoor storage facility and store for a few days.
Mobile storage units come in cuboid containers of varying sizes, and most services allow renting multiple containers.
However, prepare for a possible additional charge for the convenience that mobile self-storage facilities provide.
Key Self-Storage Manager Qualities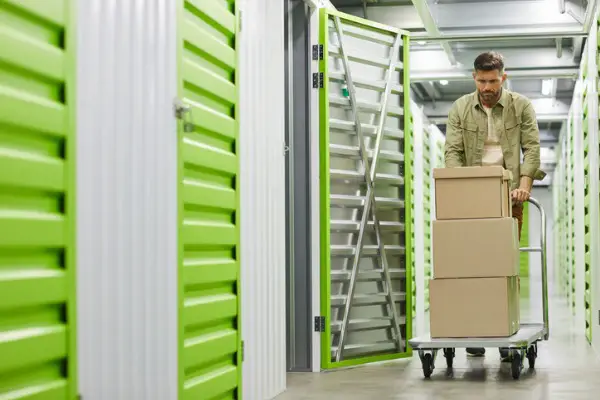 For self-storage rental investors, the business's success lies majorly on the performance of the self-storage manager hired.
Since he/she interfaces between the storage units and the clients who want them, the choice of a self-storage manager must stem from the core responsibilities expected from the job.
Below are some of the highlight qualities for someone managing a self-storage facility;
1. Customer Service
A self-service storage facility manager needs to have excellent customer service skills, among all else.
It is even more critical, given that he/she is at the forefront of the business and, most likely, the first person the client meets.
Working at a storage facility brings the manager the closest to the clients/customers.
An excellent customer service enhances the client's first time experience, making him/her a potential repeat customer.
2. Meticulousness
In the storage rental business, the outlook is almost everything.
Rental investors need someone who pays quality attention to details, generally uphold the physical appearance of the facility, and improve the first impressions clients have of the place.
Self-storage management best practices often include an acute eye for attention.
3. Sales Experience
Self-storage manager duties majorly include actual renting out of the facility. Self-service storage units are like products; the more the investor can rent out, the better for the business.
Thus, the rental company needs a manager who understands the urgency to increase its occupancy rate. Also, it helps if there is a reward system for extra sales efforts from the managers.
Wrapping Up
If you are considering moving, renovating, or packing at some point, self-storage units would help keep your materials and items safe over the short-term.
However, understanding how the service works are crucial to getting the most of it – client and investor alike. Above are some of the areas of self-storage types and management that matters for optimal performance.
(Visited 63 times, 1 visits today)