You know all the benefits of ceiling fans — the exceedingly low running cost, the effectiveness in cooling a room, the aesthetic interest — and you know that you want to install a few modern ceiling fans in different rooms in your home.
Yet, you also know that a licensed electrician is going to charge you an arm and a leg. You could save up and pay a professional to install your fans one at a time as you can afford it — or you could hang your ceiling fans all at once if you learn how to do it yourself.
Fortunately, installing a ceiling fan is not a particularly challenging home improvement project. You can follow these easy steps to hanging your modern ceiling fans today.
Mark the Location of Your Ceiling Fan
You can hang a ceiling fan almost anywhere in your space, but some areas will make installation much easier and ensure that your fan functions effectively for years to come.
Generally, you want to hang your fan directly next to a ceiling joist, so you should use a stud finder to identify where (and which direction) your joists are running.
Additionally, you probably want your fan as close to the center of your room as possible. You should mark the space with tape or pencil.
Investigate the Electrical System in Your Home
It is much easier to install a ceiling fan by replacing an existing fixture, like a light or an older fan, because it means you can use the wiring that already runs through your ceiling.
However, if your new fan is the first fixture to be installed in your ceiling, you will need to run wires from an outlet in your wall to the location of your soon-to-be fan.
If you want a light switch to control your fan, you will also need to run wires from the fan to the switch.
As you are exploring the locations of your home's wires, you should determine whether you have aluminum or copper wiring. Aluminum wires will compress over time, which could cause dangerous electrical arcs.
Thus, if you have aluminum wiring, you will need to take extra steps during your installation to keep your home safe.
Collect the Right Tools for the Job
To do a job right, you need the right tools. The most important tools you will need for this fan installation include:
Old work junction box. This junction box attaches to your ceiling joist and holds the electrical connections that power your fan. An old work box fits through the drywall of your ceiling, making it easier to install around an existing room.
You need a box that is strong enough to hold your fan, and you may need to replace your existing junction box if it held only a light fixture.
Wire cutters and strippers. To attach the wires of your fan with the wiring in your home, you need tools to adjust wire length and remove insulation.
Pliers. Pliers are stronger and more precise than your fingers. You should acquire at least two pairs of needle nose pliers for this job.
Screwdrivers. You will use screwdrivers to install the junction box, to affix the fan's mount and more. Honestly, you should have a variety of screwdrivers in different sizes to accomplish any home project.
Saws. If you are not replacing an existing fixture, you will need to cut through the drywall of your ceiling to install a junction box, run wiring and more. A punch saw is an excellent tool for this task.
Turn off the Power to Your Home
You should never perform any electrical work with power running to your home. You can shut off the power using the main breaker in your breaker box, or if you know which breaker controls the room you are working in, you can flip that switch, instead.
Install the Brace System for the Fan
After you run any necessary wiring and install the proper junction box, you will need to attach the fan's bracket to the ceiling.
You will need to thread your home's wires through the bracket, so you can connect them to your fan. If you have an especially tall room and need to install a downrod for your fan, you should set the downrod in place at this point.
However, if your ceiling is sloped, you may need to invest in a special downrod that can account for this.
Wire the Fan's Motor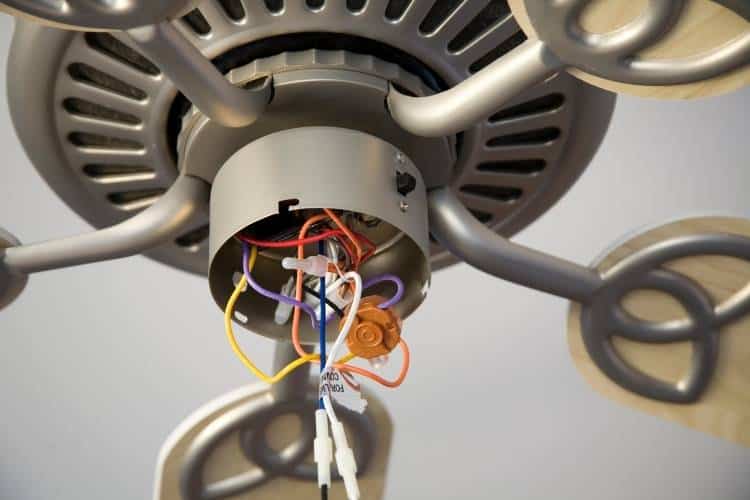 Now you need to connect the wires of the motor to the wiring of your home's electrical system. You may need to enlist help from a housemate who can hold the heavy fan as you use the pliers to twist the wires together.
Generally, the colors of the wires of the fan should correlate to the colors of your home's wires. If this is not the case, you should consult your fan's installation manual for more information.
Attach the Blades and Bulbs
Experienced handypeople tend to install the blades and light fixtures to the fan's motor on the ground, so they do not have to manage this task while maintaining an uncomfortable position on a ladder.
However, blades and bulbs make a fan much more difficult to lift and hold, which makes installing the motor tricky. You can decide for yourself when and where to put all the pieces of your fan together.
At this point, you can restore power to your home and switch your fan on to begin experiencing the amazing benefits of this simple and stylish fixture.