With the summer rolling in, now's the time to get your house in tip-top shape for all the crazy this season will bring.
After getting through spring cleaning projects, the next step is to update spaces in your home that desperately need it.
One of the most important rooms to keep up-to-date is the bathroom(s). Keep in mind these five tips when redesigning yours this year!
Create a Plan
The first step in creating a plan is to identify the key areas in your bathroom that need to be updated.
Start with the primary bathroom then determine if this is the only one you'll be updating or if there are other bathrooms that need work as well.
Next, determine if each project is a total gut job or a simple facelift.
Once these ideas have been identified, spend some time going through the details of each project and aligning them in the order you wish to complete them.
This can vary person-to-person but one thing to keep in mind is that completing them all simultaneously should be avoided.
It will not only increase the amount of stress that comes with home projects, but it will also leave you without a bathroom for the entire duration of the projects.
Lastly, when planning, you'll want to identify the areas you may want to splurge on.
There are certain items and fixtures that will leave a tremendous impact and will last much longer if taken care of properly.
Include these in your design as well as identify the areas where you'll save money, such as smaller decor pieces that will be changed out more frequently.
Incorporate Trendy Items
Before finalizing your plan, consider incorporating some trendy fixtures and decor pieces into your new design.
These items can give your bathroom(s) the most up-to-date look while increasing the value of your home.
This is especially important for those who aren't in their forever home and want to get the best return on investment (ROI) in each project.
Larger fixtures that are very popular include a double-sink vanity, a walk-in shower, and a stand-alone tub.
Likely all of these are things you'll include in your primary bathroom and some in your secondary to achieve the most updated look while also being functional.
A vanity is a very important piece of the bathroom and there are so many different options to choose from.
Upgrading to a timeless bathroom vanity will ensure it's an investment that will last and it will provide functionality with your current lifestyle
Once the vanity portion is chosen, the next decision will be picking out sinks, faucets, and a countertop that matches.
This is where you can bring in trending elements that will tie it in with the rest of your space.
A walk-in shower and stand-alone tub are two other trendy features to include in the primary bathroom.
However, these do take up a lot of square footage and are only worth including both if they fit in the layout.
The walk-in shower is a beautiful design element and is very functional at the same time, ultimately creating a personal oasis for you right in your home.
Include a glass shower enclosure to not obstruct the view and to aid in making the room feel larger.
Some design-focused trends include wallpaper and the use of reclaimed materials.
Wallpaper is being used in half baths all over the country and is a very easy way to turn a boring space into a very unique one.
This is where you can let your personality shine and it is quite easy to take down or replace when trends change.
Reclaimed materials can be included in various different ways.
Some include decor items for shelves or countertops and others can be utilized in window treatments or smaller pieces of furniture.
Either way, these are both ways to make your space unique and are also very affordable.
Outline a Budget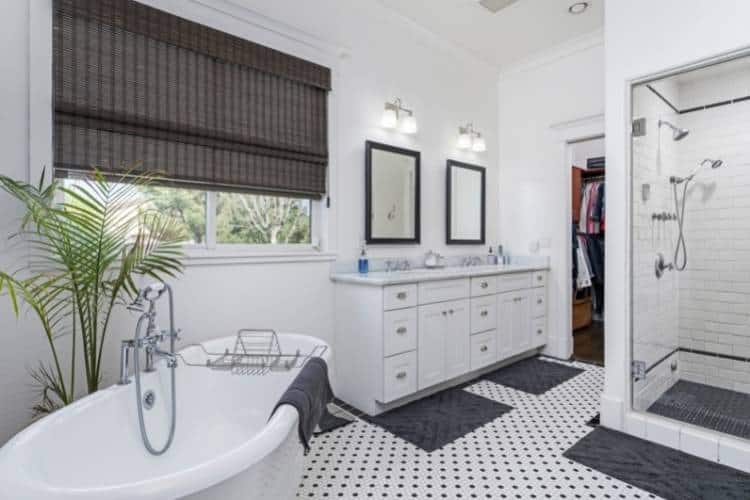 After creating a plan and outlining the trendy items you'll include, your next step is determining your budget.
Like any project, there is always a need for a budget in order to allocate money to specific materials and services.
The first step to a budget is creating a list of any and all materials and tools needed for the renovation.
Once this is outlined, it will give you a better understanding of how much you'll need to save for the project.
It's also a good way to look back at your plan and potentially make adjustments that help get your budget to a more ideal total cost.
Another crucial point is to not look over services you may need to hire out. Any help that may be needed is an additional cost and needs to be
Included in the budget.
While paying with cash for everything is ideal, it may not always be possible depending on the amount of work that is needed.
This is where financing comes in. There are two types of loans that are typically used for home improvements and those are a home improvement loan (learn more) and a home equity loan (learn more).
There are two types of home improvement loans; secured and unsecured. A secured loan will use your house as collateral.
Because of this, it will typically allow you to obtain a larger dollar amount because it isn't very risky for the lender.
Unsecured is much riskier for the lender because there is no collateral backing the loan.
This also means that it isn't as risky for the borrower, but will result in a smaller amount of funding.
A home equity loan is using the equity you've built in your home as cash for things like renovations and debt consolidation.
Some benefits include a fixed interest rate, low-interest rates, and longer repayment terms.
This type of financing also uses your home as collateral, but it is only possible to obtain a home equity loan if you have enough equity in your home.
Consult a Professional
Depending on your plan, you may need to consult a professional before or during your updates.
Types of professionals that may be needed include a contractor, plumber, wallpaper specialist, and interior designer.
These are all great options for finding someone who specializes in the type of work that needs to be done and will ensure the new bathroom(s) are up to code.
You likely will also consider having an inspection done prior to beginning any projects.
It is recommended to have one every five years, if not before any projects/renovations.
Home inspections allow you to get a bigger picture and can save you money in the long run by identifying problems before it's too late.
Establish a Cohesive Design Flow
The only thing left to do is start your projects. Once you've completed your bathroom redesign, it is important to take a deeper look into the rest of your home.
Rooms such as the kitchen and family room may need a little work and matching them to your newly finished bathroom is the way to go.
Creating a cohesive design throughout your home will give it the most up-to-date feel and a huge ROI.
Whether you're planning to stay in your home forever or sell in the near future there are many benefits.
One being the equity you build from doing these updates and renovations is tremendous.
Just be sure to do your research to ensure that the money you spend on a project creates ROI because not every project does.
All-in-all, it is key to remember that your plan will evolve and change throughout the project and that is completely normal.
Things may change, but in the end, you'll be left with a stunning bathroom for years to come.