Renovating your bathroom is inevitable. It's often something that people do shortly after they move into a new property.
But, even if the bathroom is amazing, it will need to be replaced at some point. The simple fact is that trends and tastes change, as do your needs.
Ideally, you'll get a plumber to do the work for you. But, if you do attempt to renovate the bathroom yourself make sure you have the number of a reputable emergency plumber handy such as ontimelocalplumber.com.au .
You never know when it may be needed.  As a precaution you should also know where your main stop valves are, it can help prevent you from flooding your home.
Either way, it's worth knowing the material options available:
Pipes
The general approach has always been to use copper pipes.
These are durable, relatively easy to bend, and can be soldered together, giving a solid and reliable joint. Of course, copper doesn't rust but it will corrode over time.
The alternative, which is gaining in popularity, is plastic pipes. These are much more flexible and can be used to create significantly longer runs.
That allows you to minimize the number of joints and reduce the likelihood of leaks.
However, plastic pipes can be kinked easily, potentially causing flow issues. There are also questions regarding whether the plastic compounds can infiltrate the water or not.
Appliances
All plumbing must lead to your appliances and then away from them to the waste.
Of course, the wastewater plumbing must be set at a specific gradient to ensure it complies with the necessary regs in force.
Alongside considering the plumbing path, you need to think about the appliances. There is an impressive array of energy-efficient appliances on the market.
They generally cost a little more but they will use less water when flushing or showering.
This means you'll be saving money on your water bill and doing your bit to help the environment. The lower flow and water usage also reduce the pressure on the appliance, potentially extending its lifespan.
Finishing Touches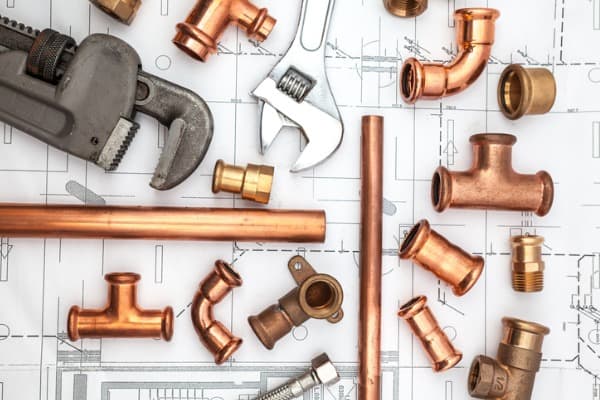 Perhaps the most important plumbing material in a bathroom renovation is the finishing items, that's the faucets and showerheads.
You'll find they are available in a variety of colors and finishes. It can be tempting to go with your favorite color like a brush nickel or darker bronze look, but the best choice is to stick with the traditional silver or chrome. This look is timeless, spanning many decades and still used today. It doesn't go out of fashion, and still look attractive.
However, you should note that some faucets are simply coated with silver looking material. These will become damaged over time by hard water and other wear and tear issues. A flaking finish is never a good look.
You should consider using the more expensive items that are made completely of metal, ensuring their longevity both in usefulness and in how they will look.
Final Thoughts
Don't forget that any bathroom is a personal space. If you're renovating to sell then you'll want to keep it neutral.
But, if you're simply renovating for yourself don't be afraid to embrace any material you like, from granite tiles to a gold showerhead. It is, after all, you that will be using the space the most.