A nicely designed bathroom is a pleasure to spend time in, providing a place to rest, refuel, and unwind at the end of a long day.
Many factors contribute to a great bathroom design, such as a functional layout and well-chosen finishes, fixtures, and accessories like these.
An often overlooked yet crucial element in achieving a comfortable, simple to use and nice-looking bathroom is the hand sink.
The sink can greatly influence the overall appearance of the bathroom.
And aside from aesthetics and design, utility and space are also important considerations. Because a bathroom may have several users, the sink must be able to meet everyone's needs and function.
But with the many styles available you may be asking yourself: How do you choose a bathroom sink?
Different designs of bathroom hand sinks are available but they are generally divided into bench-mount and under-counter hand sinks.
Although both serve the same function of allowing you to wash up, they're quite opposite to each other in several aspects.
Bench Mount Hand Sinks
What Is a Bench Mount Sink?
A bench-mount sink, also called a countertop or above counter sink, is a type of sink that is installed on top of a flat countertop.
This level surface might be a vanity unit, cabinet, or shelf unit.
Because the sink is on top of the surface and not within the unit, it looks like a bowl sitting on the surface.
The effect is achieved also by the fact that the sink is not required to connect to the rear wall.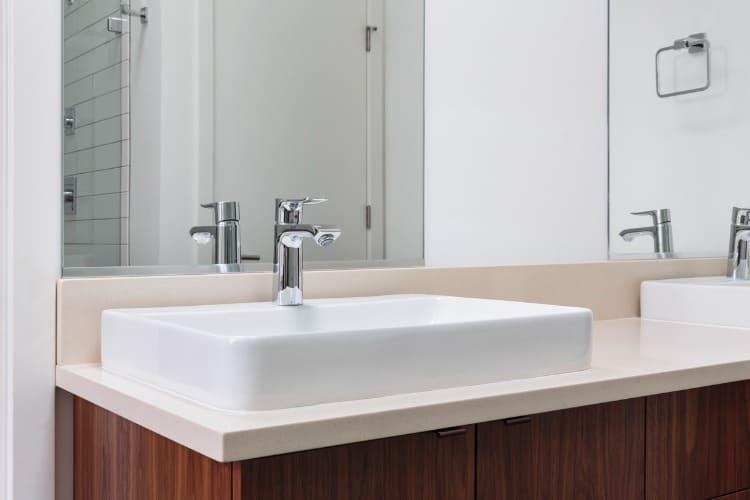 What Are the Different Options?
When shopping for bench mount hand sinks, you'll come across several options, including:
Low dish style – Often oval in shape, these sinks have lower sides and are ideal for tiny bathroom areas such as en-suites and cloakrooms.
Circular bowls – These are deeper, bigger countertop sinks in the shape of a circle that can have a strong aesthetic impact on the area, creating a highlight.
Rectangular sinks – For something a little different, consider a rectangular sink. These are available as slimline and bigger variants for smaller bathroom areas.
What Are the Benefits of a Bench Mount Sink?
Style and design – Benchtop bathroom sinks are wonderful for displaying exquisite design features because the whole body of the sink is visible, making them ideal statement pieces. Because of the vast range of forms and designs available, this sink layout may be suited to any bathroom style you decide to go with, as long as you have enough room.
More space – Because countertop sinks do not have to rest flat in the center of the surface or counter or within a vanity, you will have more storage space for your natural and organic skincare products and necessary accessories.
Easy to install – Bench mount sinks are quite simple to install. You only need to make minimal alterations to the counter to mount such a sink. The installation usually involves making a waste cut-out, with the sink affixed by silicon. If your sink is glazed on the back, leave at least 50mm between the back of the sink and the wall to allow for easy washing.
Under Counter Hand sinks
What Is an Under Counter Sink?
Under counter, also called under mount sinks, are installed beneath your countertop.
The sink's edge is hidden below the countertop surface, and the body hangs below the countertop, resulting in a smooth and seamless transition in which the countertop integrates cleanly into the sink.
The sink's ability to remain submerged and hidden beneath the countertop avoids it from concealing or disrupting the design of your countertop.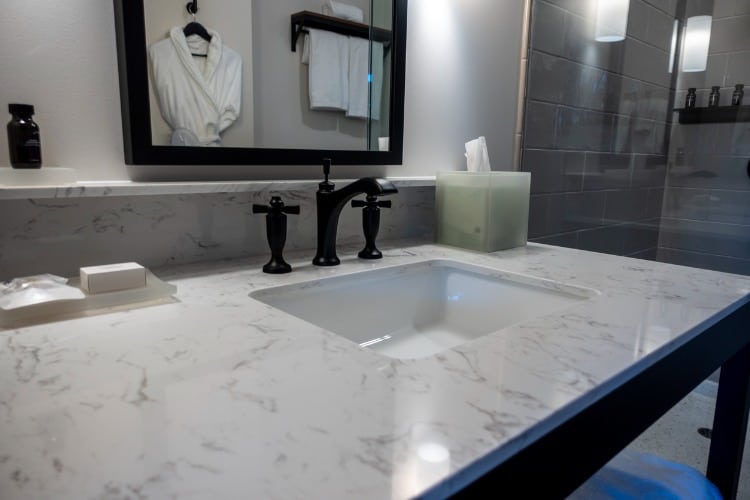 What Are the Different Options for Under Counter Sinks?
Undermount sinks come in a variety of forms, including round, oval, square, rectangular, and others. Unusual and irregular patterns can also be found in some stores.
Traditional glossy bathroom sink finishes include vitreous china, ceramic, and porcelain, while composite, metal, and solid-surface materials are more avant-garde.
The stone under mounts are some of the most elegant designs.
What Are the Benefits of an Under Counter Sink?
Countertop installation compatibility – Undermount sinks are compatible with virtually all natural stone surfaces. They pair particularly well with granite, quartz, or Silestone counters.
Easy to maintain and clean – Undermount sinks make cleaning your counters much easier. You can simply and quickly wipe your countertops into the sink. The buried edges do not collect dirt or debris, therefore it is rarely required to wipe the exterior shell of the sink.
Space utilization – Undermount sinks can also help you make better use of countertop space. Overmount sinks protrude over the surrounding countertop regions, which might limit available countertop space and prevent you from using the spaces around the sink edges. Undermount sinks, on the other hand, avoid impeding the counters due to their flush location and instead optimize the amount of countertop space accessible to you. This makes them especially suitable for little bathroom counters.
Which One Should You Choose?
Since there are many different types of counter sinks and a wide range of options, there is no doubt that the bench mount (above counter) sink is the most attractive from an aesthetic perspective.
But if you want to maintain the integrity of your bathroom cabinet, then an under counter sink is right for you.
When it comes to durability, bench mount sinks fare better since they are strongly fastened to the countertop.
The under-counter sink may experience the so-called "drop phenomena" over time, and the durability is average.
The bench mount sink is also simpler to install and you can do this yourself.
On the other hand, an under-counter sink has high installation requirements, the installation method is complicated, and the construction is difficult.
The most significant advantage of under-counter sinks is the ease with which they can be cleaned.
Cleaning a bench mount sink can be a little more difficult due to a dead corner in the sink.
At the end of the day, which one to choose will come down to your personal preferences and needs.