Not too long-ago bathrooms were considered mainly practical rooms in our living spaces; however, they also promote relaxation and make our precious downtime more enjoyable.
After seeing so many gorgeous bathrooms on social media and in design magazines, you might be thinking of giving your bathroom an upgrade too.
When designing this important area of your home, you need to pay attention to certain factors, such as:
bathroom supplies;
color palette;
lighting fixtures, etc.
How to Select Bathroom Supplies?
The bathroom is a small area that covers many elements.
You need to make sure that all of these elements are functional, practical, and fit well in your home's design scheme.
Is it leaning more towards contemporary or traditional design? Or maybe you want to give the Scandi-style bathroom a shot?
Browse through the wide range of bathroom fittings and get all of the essential elements for your bath.
You can find elegant and stylish vanities, modern basins, tapware in different finishes, an extensive range of tiles in various designs, and many more essential supplies for your bathroom.
Read on to discover what to look for when shopping for these elements.
Vanity
Choosing a bathroom vanity requires a lot of thinking and effort.
Follow these tips to make sure that you select the ideal vanity for your bathroom:
Take into account who will use it and how: If you're designing a bathroom for you and your partner, you might need a double sink.
Additionally, you'll need more counter space and storage to accommodate your beauty supplies if you prefer doing your own hair and makeup in the bathroom.
Find the location of your plumbing system: When deciding on a style for your vanity, the location of your plumbing will also have a say.
Pay attention to certain obstacles, such as the door swing, the flow of traffic, and your bath fittings.
Choose the amount and type of storage you want: One advantage of having a vanity is having more storage.
You'll finally have a home for everything! Depending on the available space and the objects you wish to store, a compromise may be necessary.
Towel Rail
Even though they're an often-ignored bath supply, modern towel rails are convenient and stylish.
They give an average bathroom some creative flare in addition to its essential function as a place to store towels.
Towel rails come in three basic varieties: freestanding towel ladders (great for adding some visual interest and expanding your storage space), wall-mounted rails (ideal for small bathrooms), and heated towel rails (they keep your towels nice and toasty).
I suggest going for a heated towel rail, as they help you save space while drying and warming up your towels.
Tapware
Bath taps are among the most essential bathroom fittings. Selecting high-quality and stylish tapware helps you steer clear of unnecessary plumbing bills in the future, and adds some personality and flare to your bathroom.
The sleek modern tapware with brass or matte finish can add the finishing touch to transform your bathroom from ordinary to exceptional.
When making your pick, also pay attention to the style and function of the tap, as well as the style of your vanity basin and bath.
Choose the Right Color Palette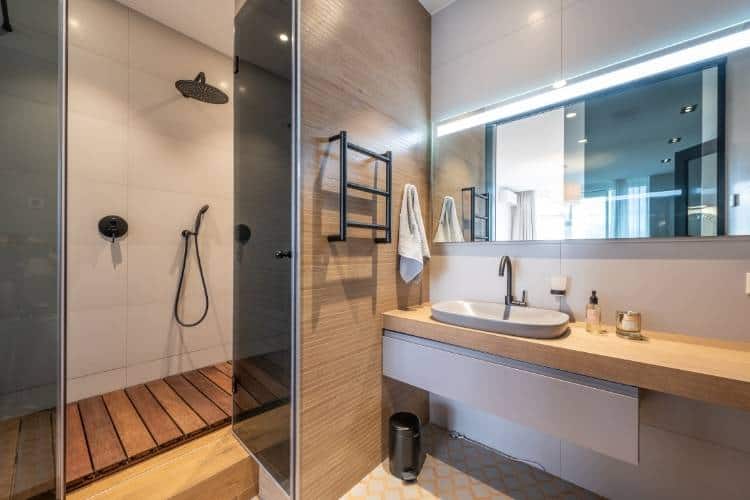 When designing your bathroom, color is an essential factor to take into account. While you may easily change the wallpaper or the wall paint, tiles and bathroom hardware are built to last.
The most popular color schemes frequently reflect freshness and relaxation.
After all, it's these qualities that we associate with restrooms the most.
Because of this, neutral hues like warm off-whites, crisp whites, and stone-like neutrals are perennial favorites in many houses.
These paler hues are more adaptable and practical, and they can also help create a feeling of more space.
Don't forget that colorful accents can also be provided by artwork or even a variety of plants.
Go for a Floor-to-Wall Wallpaper Feature
Surface areas can make or break a bathroom. Wallpaper is a fantastic choice to give your bathroom a stylish, colorful, and pattern-filled look.
There are wallpaper selections to help you set the mood, from seashore to farmhouse contemporary and everything in between.
Additionally, installing wallpaper in your bathroom won't break the bank because of its tiny size.
You may also create the illusion that you are having a bath in a mountain spring rather than in your bathroom by diffusing some essential oils and filling your tub with hot water.
Another popular style right now is graphic ceramics, such as stunning hexagonal patterns or a patchwork of beautiful geometric shapes.
The most dramatic feature is a floor-to-wall continuous feature, though you can also go with a feature wall or floor. Before picking your tiles, consider the size of your room.
In contrast to being a great method to give interest and warmth to a large bathroom, more elaborate patterns might be too busy for a small area.
Create Different Layers of Lighting
You need to be careful when choosing lighting fixtures for your bathroom, as it's often located next to the bedroom.
Bright lights flashing on in the middle of the night is not a good idea since it disturbs anyone using the restroom or sleeping in the bedroom next door.
I'd advise you to think about using different layers of lighting.
Then, if you need to use the restroom late at night, you may switch on the low-level lights without waking other people or yourself!
If you have trouble looking for the light switch in the middle of the night, opt for fixtures that are controlled by motion sensors.
As for daytime – one great idea is to bring in lots of natural light. After all, this is how the outside world perceives you.
Ensure that window coverings allow plenty of light to enter.
The greatest location for a bathroom in a new or renovated home is facing north since the light from a northern exposure is indirect, gentle, and diffused.
Another clever tip? If your living space allows it, adding a skylight to the bathroom may have a dramatic effect and will encourage you to spend as much time as you can relaxing in the tub or getting pampered at your vanity.