A chef's kitchen is ideally an efficient workspace that is designed to satiate the requirements of a professional, whether or not the homeowner is one.
The idea is for the kitchen to be organized in a way so as to save time while swinging between recipes.
This is excellent for busy kitchens and seasonal entertainers. Effective kitchen upgrades like cleverly designed storage space to effective placement of the appliances, there are many factors that go into designing the perfect chef's kitchen.
Here are a few tips to help you make your home kitchen into a chef-worthy kitchen:
1. Declutter Your Space
The aim should be to organize your space with suitable storage. This will lead to a streamlined area which should be the first step in initiating the declutter task.
Start by emptying everything from your cabinets, pantries, and drawers and grab a few garbage bags to stockpile things that you may want to sell or give away.
This should be followed by distributing all the items into different categories and sorting them appropriately.
It is also wise to put the most used utensils including spatulas, wooden spoons, etc. in a single container on the counter where you will be cooking more often.
Do not forget to clear out all expired food and things that have not been used in the last year.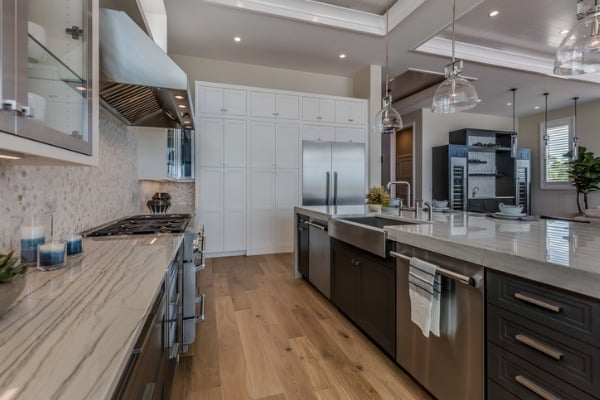 2. Use Smart Storage
No amount of storage is ever enough for busy kitchens. The purpose shouldn't be to have a lot of storage space but to use the space you have cleverly!
You can opt for secondary cabinets under the kitchen island besides the primary ones that come with the countertops or use open shelves to get some extra storage space.
Secondary cabinets and cabinets near the sink are more prone to water damage, so don't miss these 11 tips on waterproofing your kitchen cabinets .
You can use shelves inside drawers and cabinets to organize things in a better way and use that storage more efficiently!
3. A Bigger Sink Space
A good chef's kitchen is the one where all your dirty dishes and utensils can be kept in one space rather than be seen lying around the entire kitchen.
Effective kitchen upgrades should include a deep enough sink and decent counter space around the sink which fits a cutting board as well.
It is a very helpful feature when it comes to the prep work of your everyday or complicated recipes, washing fruits and vegetables, and also hand-washing fragile glassware.
4. Energy Efficient Appliances
In order to remodel your kitchen into a chef's kitchen, it is not necessary that you spend thousands on commercial cookware.
It is a good idea to go for high-end appliances at your residence which is beneficial in the sense that it throws off less heat as well.
Moreover, you could invest in a high-speed oven that combines the transfer of heat and other microwave elements enabling faster cooking for a busy household or a Sub-Zero refrigerator/freezer comprising a high-end air purification system and a vacuum seal that keeps the food fresh for a longer time and reduces cross-contamination.
A professional chef's kitchen design is all about elegance, functionality and maximum organization.
From the arrangement of the appliances to the smart utilization of the storage space, careful consideration goes into planning a chef kitchen at home.
Once you organize your space like a chef, it is always a good idea to plan your menus in advance which shall give you a feeling of control and will allow you to better manage the available time. Happy cooking!