Hinges are often a mechanical bearing with which two objects are connected, giving a limited rotational angle between them.
While hinges can be purchased from any hardware store, you can also make them for various purposes.
This round-up focuses on DIY hinge ideas – you will find metal, wire, rope, and wooden hinge options suitable for various purposes.
Let's learn how to make a hinge.
#1 Shop Made Wooden Hinge
DIY a shop-made wooden hinge to give a streamlined and polished finishing look to the object. These have a seamless design, and while metal hinges are great, sometimes wooden hinges make an object stand out from the rest.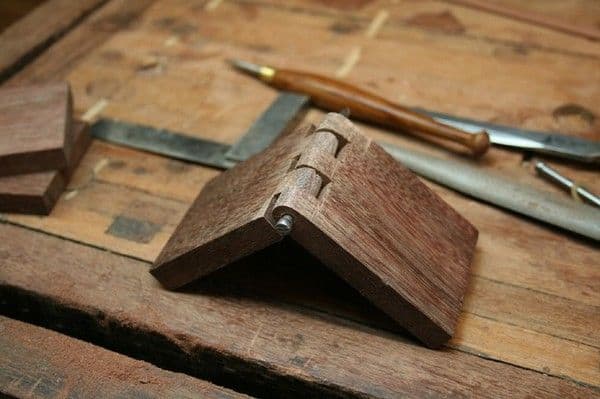 Derek Cohen on Manmade DIY explains the DIY process of making a wooden hinge.
#2 Adjustable Gate Hinge
Opt for a customized metal hinge for your heavy duty gate. This needs considerable fabrication skills.
You need chains, the bigger kind than what is used in bicycles, stainless steel all-thread rod, and nut.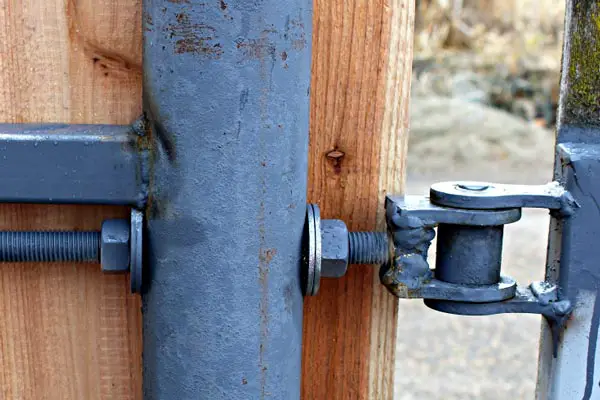 Head over to Jensen Creative Works for a pictorial demonstration of how Jensen's husband created the adjustable gate hinge.
#3 Ball Bearing Door Hinge
Door designs can be creative, which is why sometimes traditional hinges do not suffice.
You can overcome this by using ball bearing as a part of the hinge to give it pivot points for swiveling. Combine it with magnets as a stop option to get the perfect ball bearing door hinge.
Head over to the Woodcraft YouTube video to see Jory Brigham explain how ball bearing door hinges are made.
#4 Homemade Scrap Metal Hinges
Traditional metal hinges are insufficient for miniature projects such as making dollhouse furniture or any other school project.
You need miniature hinges to hold things together, and these can be made at home with simple brass sheets or scrap metal excavated from tin cans.
The trick is to make a simple hinge that is modifiable for various purposes.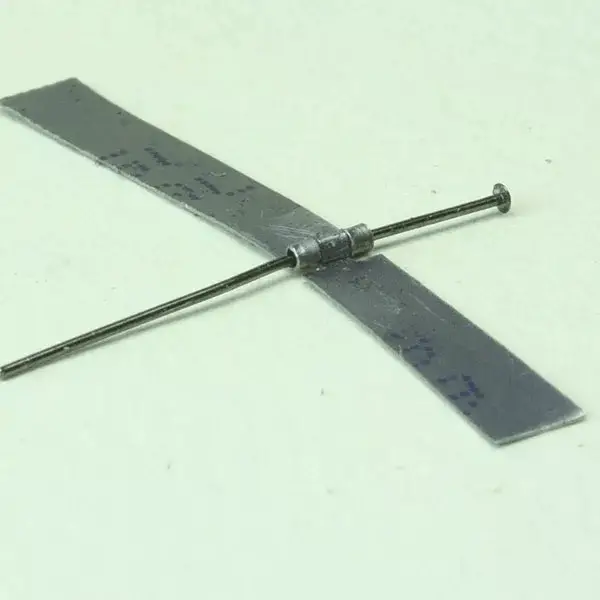 Lesley Shepherd at The Spruce Crafts writes about how she creates simple metal hinges at home for miniature projects.
#5 DIY Wooden Hinges
You can make various kinds of wooden hinges with basic tools and techniques.
Whether you want to build a wooden door or a miniature cabinet for a kid, using wooden homemade hinges is a good option.
Head over to the Green Acre Homestead YouTube video to see how various kinds of wooden hinges are made.
#6 Homemade Metal Hinge
This DIY is meant for beginners.
You need a 4 mm steel rod for the hinge and a 1 mm steel plate to give it shape. The process is quite simple, and you do not require any special tools.
These metal hinges are good enough for home furniture and cabinets.
Head over to Garage Knight YouTube video to see how you can make metal hinges at home with basic tools.
#7 Lock and Hinge Board
Maybe this is a boy thing, but they are obsessed with hinges, latches, locks, etc.
You can create a lock and hinge board for your toddler to play. All you need is a wooden board, some power tools, and a lot of hinges and latches.
Arrange and screw them neatly on the board. Ensure there are no sharp edges to prevent injuries.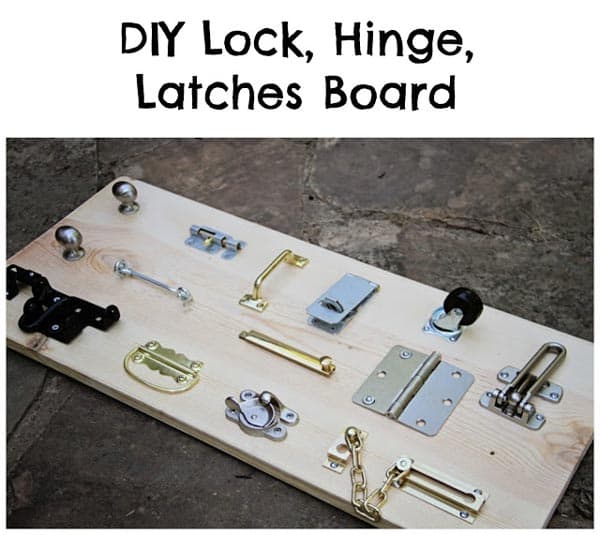 Ryan at Running From The Law walks you through the process.
#8 Door Hinge and Chain Necklace
Hinges are not just for hardware use – this jewelry example proves that! You need various chains, a door hinge, jump rings, pliers, and a necklace closure.
Choose the chain length and gather it on one side with a jump ring and attach it to one hole of the door hinge. Repeat the same for the other side. Add the necklace closure and viola; it is ready!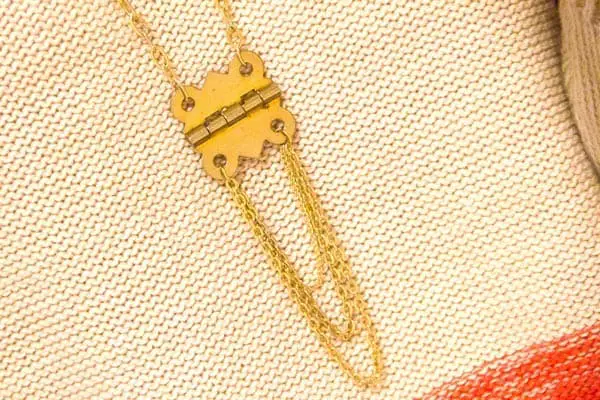 Make this DIY hinge and chain jewelry from the instructions at You Want Me To Buy That.
#9 Coiled Wire Hinges
These are prominently used in jewelry to connect two pieces. If you are into making jewelry at home like bracelets and necklaces, skip buying the coiled wire hinges and make them at home.
You need gold or silver-plated copper wire, two-hole beads, wire coiling tool, chain nose pliers, flush cutter, and a small knitting needle.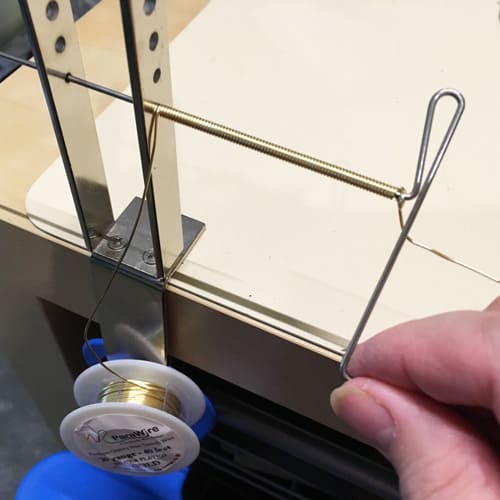 Head over to Beading Gem to read about the whole process in simple words.
#10 DIY Hinged Trellis
Hinged trellis is used in gardens and farmlands to keep plants like beans straight. You can build a trellis using hinges and chicken wire at the top.
Roll the chicken wire on narrow wood and use metal hinges to keep them in place. Use staple gun and wire cutters to trim the edges.
The Homesteady has a pictorial representation of how to create a hinged trellis for beans. You can use the DIY idea for any garden creeper and climber.
#11 DIY Rope Hinges
Rope hinges are better than metal hinges to close shut wooden chests, treasure boxes, or any other antique items.
Drill a hole on both sides. Insert the rope and tie a knot. Prop your lid and tie another knot on the other end. Ensure the rope length is the same for both.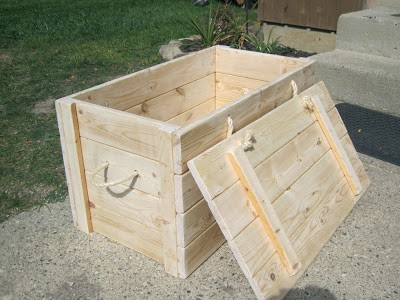 Dani at The Project Lady explains how to DIY rope hinges to tie wooden storage together.
—
We hope these DIY hinge ideas help.
You do not need industrial grade power tools to make these. Some of these DIY hinge ideas are doable by hand, and others with basic tools available at home.