Bathrooms are the most important room in any home and are often the room that guests will use to judge your house. So, if you have the space in your bathroom why not create that stunning feature that you have been dreaming of adding and treat yourself to the ultimate luxury bathroom accessory, the free-standing bath.
Over recent years baths that are freestanding have become increasingly popular, so now there are a lovely range of bath tubs to choose from, instead of only the traditional freestanding bath that we are all familiar with. Freestanding tubs have endless appeal as they create a bigger bathing area and allow you to relax in ultimate comfort.
Traditional Bath Tub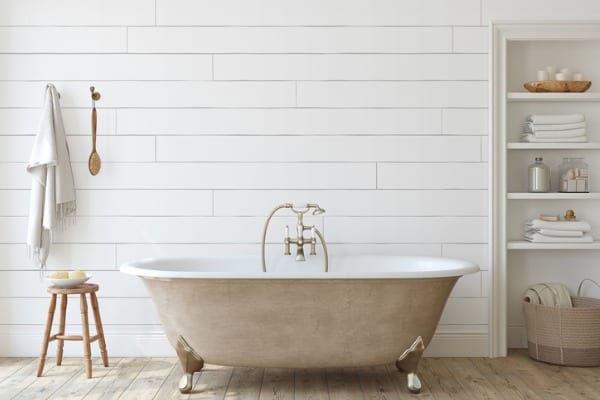 The traditional tubs are everyone's favorite bath, with its smooth rounded rim and its elegant claw feet. While the bath tub itself may seem basic in detail, this traditional style is becoming increasing popular in many bathroom refurbishments.
These fantastic freestanding ideas for your bathroom are very practical with a generous sized tub so every member of the family can relax in style and de-stress after a hard day at work.
The increased height that these bath tubs offer is also great for families, as they can reduce kids splashing and save the rest of your bathroom from unwanted water splashes.
These traditional baths will fit into every bathroom style so you do not have to worry about completely redesigning your bathroom when fitting one of these lovely bath tubs and for more ideas read this post on free standing bathtubs.
The beauty of these durable bath tubs are that they add character to every bathroom, no matter how simple or complex the rest of the bathroom design is.
While the outstanding highlight of this bath tub has got to be the amazing detail on the metal claw feet that will make this bath a stunning feature in every bathroom.
Luxury Bath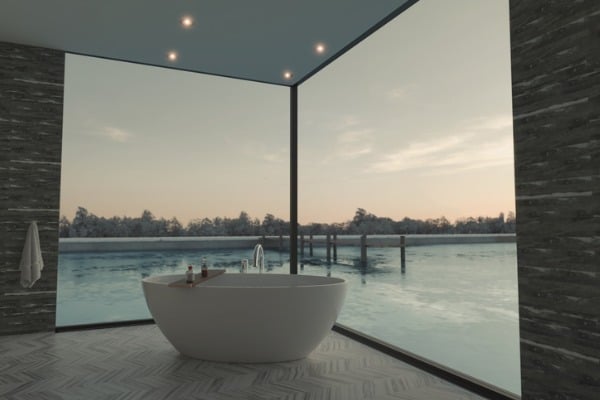 The modern bath has a superior design to any other bath tub and is the perfect choice for creating an unforgettable bathing experience. With the perfect amount of space to relax at the ideal water level, this amazing bath cannot be beaten.
This shimmering white bath sits on the beautiful oval rim that has been perfectly finished for the ultimate stylish look. This is a far cry from the classic 4 claw legs found on traditional baths so this luxury freestanding choice will bring every bathroom into the modern era.
Without the 4 claw legs the overall feel of this modern bath is of a tub that is slimmer and more compact, making it ideal for smaller bathrooms.
While this bath might not have the grand features of a traditional bath it does not lose any of the important bathing space, while still creating the perfect statement of elegance and luxury.
A Modern Contrasting Bathroom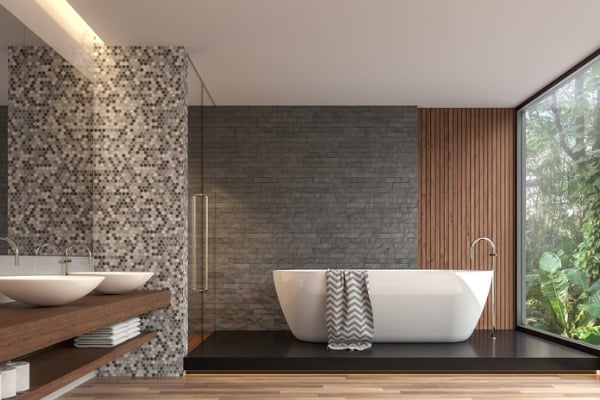 The monochrome palate is a popular option in many modern households and the bath works perfectly with this bathroom color scheme. A simple modern white freestanding bath tub with no fancy extras is a stunning example of elegance that brings endless light into every bathroom.
This means that you can be bold with the rest of your bathroom design and really make your bathroom a much loved feature that will stand out.
When deciding on your monochrome bathroom decoration for that contrasting appeal you can be outgoing with your decisions. These fantastic bath tubs will look great against black stone wall tiles and will seem even more light and reflective as a result.
For added effect, a simple grey bathroom design with concrete floor is the ideal finishing touch for every bathroom. This is the perfect look for every bathroom if you are after a modern minimalist finish, as any bathroom furniture can be discreetly added to the room where it will blend into the background and allow your beautiful bath tub to be the centerpiece. T
he contrasting monochrome bathroom finish is the bathroom choice of the future, so is the perfect creation that will add that extra value to your home.
Stunning Black Bath Tub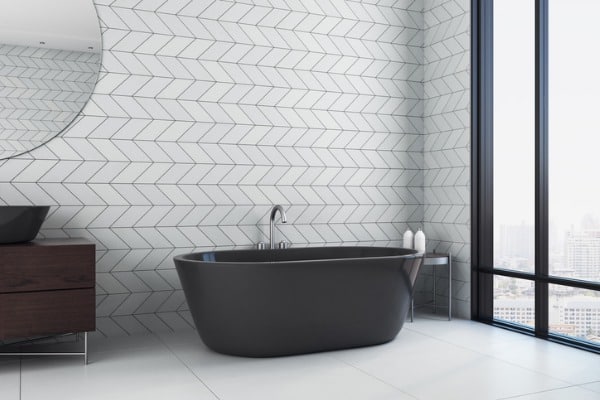 The inclusion of a stunning black bath tub is definitely a design choice for the brave and bold but if you are adventurous enough to make this choice then you will most certainly be rewarded.
There is no other freestanding idea that will match this sophisticated bath and its elegance will be loved by everyone. The clever use of light and space will ensure that this bath is used to its full potential as the smooth sleek finish of this bath is prefect for reflecting light.
While the ideal bathroom for this amazing black bath is a larger sized room with plenty of light, if you have the space to use this bath tub then the bathroom décor options that are open to you are endless.
Everyone loves a white marble finish, so what better surface to use on the walls and floor to allow this stunning bath to really make a statement. If your bathroom allows you the space, then the completion of the room with this continued monochrome effect is fantastic, especially if you can include a black tiled feature wall for additional character.
Vintage Metal Freestanding Bath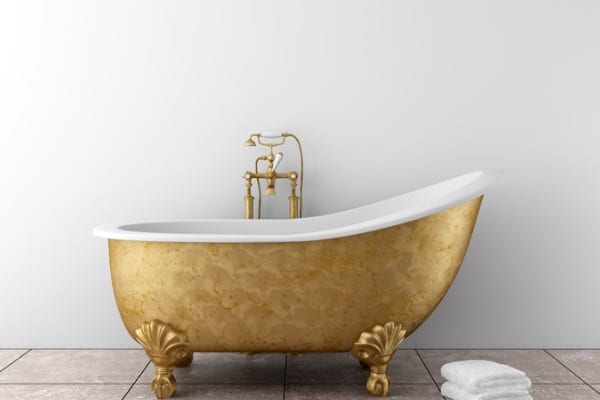 If you are looking for the perfect vintage idea then you will love a metal bath tub. The character that this free-standing bath creates makes it the ideal feature for every room. With vintage baths being popular in period properties, they are the perfect design choice for adding extra value to these homes.
These lovely baths are simple in design, which allows the detail of the rounded edges of the bath to compliment the brilliant color finish that this bath displays. This also means that they are the perfect centerpiece for a minimalist room or are also able to catch the eye in a room with a bold color scheme.
The additional brilliance of a vintage bath is that you can choose the tap fittings, which will allow you to keep the overall design simple or add an exciting retro feature. This is truly a versatile bath tub that will give your bathroom a unique feel with endless character.