As the cold weather makes way for warm spring days, we are all looking at getting out into the garden. Whether you have a small yard or a good-sized garden, you'll need to start by tidying up, and that means dealing with all the mess that comes about during winter.
It's not a difficult job, but it's one that's less enjoyable than when you get around to planting!
If you have hedges, or bushes and shrubs, you'll see that they have grown unevenly during the winter and now look a mess rather!
This is one of the first jobs you need to tackle when you start putting things in order for the year to come. Trimming hedges and bushes can be a difficult job, so what do we recommend to help?
We're going to talk about hedge trimmers -the electric corded variety in particular – and why you will benefit from investing in one. Let's start by explaining what a hedge trimmer is and what it can do.
What is a Hedge Trimmer?
Before we go on to explain what a hedge trimmer is and why you need one, we recommend you check out the reviews at TraditionalGardening as well as the additional content they include, all of which is first-class and inspirational.
They list several of the best-coded hedge trimmers, so it's a good start.
Let's put it simply: a corded hedge trimmer is a powerful tool that has an electric motor powering a set of oscillating blades. Usually, the bladed move back and forth across the second set of static blades.
This cuts anything he comes between. This type of hedge trimmer takes its power from the mains electricity supply in the home or from a garden outlet.
The alternative types of hedge trimmer are a cordless electric variety, which uses a battery that will need recharging and the gas engine variety.
The latter are more powerful than electric models and are favored in some cases by professionals. However, they are also heavier, more difficult to use, and require more maintenance.
For a domestic garden of average size, we believe the corded hedge trimmer is the version that will suit you best. Let's take a look at why this is in comparison to the alternative versions.
Why a Corded Hedge Trimmer?
For many gardeners, the simplest power tools are those that plug into the mains sockets. The disadvantage of this, however, is that range is limited by the cord.
Many homes have outdoor sockets – and if you don't, they are easy to have fitted and do not cost a great deal – and the range can be extended by an extension lead.
However, others prefer the cordless version. Powered by a rechargeable battery, this type of hedge trimmer will give you a limited amount of use before it needs to be recharged.
It is not limited by the length of the cord and can go anywhere, but it is worth knowing that thanks to the battery, it will be a heavier machine than the corded model.
Let's summarise some of the benefits of a corded hedge trimmer:
Constant power supply, so no need to stop and recharge.
Lighter than both cordless and petrol models, so easier to use.
Likely to be the cheaper variety in comparison to the alternatives.
Little to no maintenance bar cleaning the blades after use.
No need to buy extra batteries to gain a longer usage time.
No fuel needed and no maintenance as with gas models.
The basic fact is that the corded electric hedge trimmer remains the simplest model in terms of usage and maintenance, with the only real downside being the cord and its limiting length.
With a good outdoor extension lead, you should be able to enhance the reach of your hedge trimmer without a problem. What else do you know about these devices?
Safety First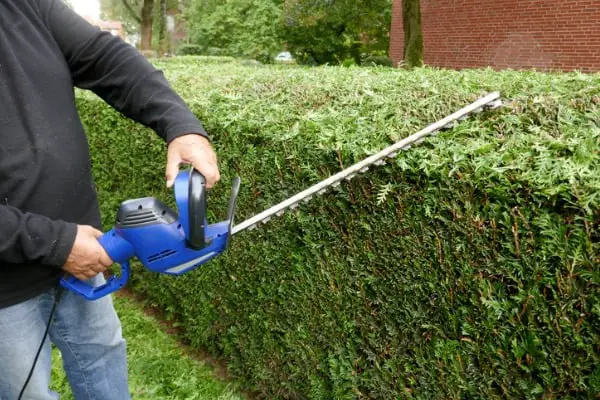 Safety is always a point to consider when we are talking about power tools, and as the hedge trimmer has sharp blades, it is important to treat it with care. Here are a few tips on using one safely:
Always check the device for damage before using it.
Wear gloves when handling tools with sharp blades.
If you need to be up a ladder, make sure there is someone with you.
Never allow children to play with a hedge trimmer.
Always follow the manufacturer's instructions.
We hope that this article has helped you understand why a hedge trimmer makes life a lot easier for maintaining your hedges, bushes, and shrubs, as well as smaller trees.
Before we go, check out the gardening trends for 2021 and get some inspiration for making your garden the envy of the neighborhood this summer, and enjoy it out there!