If you've been looking for more space for your family, but don't want to leave the house you've worked so hard to turn into a home, a home addition could grant the square footage you've wanted.
Home additions are an excellent opportunity to express your creativity and personalize your home so it feels more like your own space.
And depending on the size of your property, you may be able to complete multiple additions to give your home a comprehensive refresh.
We've compiled a short list of home additions that can give your home the extra square footage you've been dreaming about.
While not every home may be able to accommodate every project, taking on just one of them will evolve your home into a more functional and harmonious place to live.
Expand Your Kitchen
Almost every home could use just a little more counter space, that's why expanding your kitchen is such a great idea for many homeowners.
While you could push out the wall your kitchen sits along entirely, resulting in a significant increase in square footage, less drastic measures are popular as well.
A bump out is a kind of home addition where only a small amount of space is added, usually about 50 square feet.
If you want just enough space to add a kitchen island or another set of cabinets, then a bump out is likely your best option.
Add a Mudroom
Mudrooms are very useful for families that live in an area with varying weather, as they grant a space for people to take off their shoes and jackets to prevent tracking mud and water through the house.
Adding a mudroom to your home can also be more simple than other home additions, as they can often be placed where a rear porch already exists.
Once completed, you'll have a space that will not only keep the rest of your home clean, but serve as a welcoming entryway for guests.
Attach Your Detached Garage
If your garage is detached from your home, and the distance between the two is minimal, then you have an excellent opportunity to expand your home's overall square footage by connecting both structures.
Depending on the exact distance between your garage and home, and your own ambition, this addition could become anything you want it to.
Whether you want it to be a dedicated space for laundry, a mudroom, or simply a hallway that protects you from the elements as you go to your car.
Turn a Porch Into a Sunroom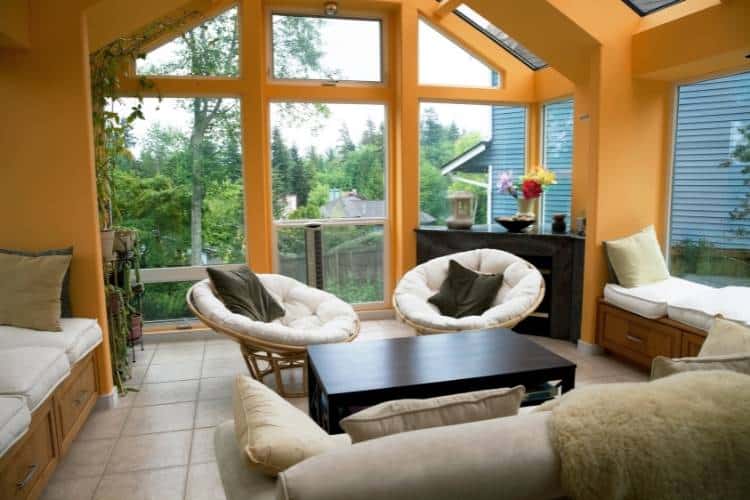 If you're looking for a new space to relax and take in the warmth of the sun, a sunroom can be a great addition to your home.
Whether you add a completely unique sunroom to the side of your home, or you construct one over a pre-existing back porch, this addition can breathe new life into your home as a whole.
These spaces are also very DIY-friendly if you're the crafty type and want to save yourself some money.
Give Yourself Another Bathroom
If your home only has one bathroom, it can be very difficult to share that with a big family who may need to use it at conflicting times.
One possible solution is to add a whole other bathroom to your home. The great thing about this kind of project is its flexibility, as you can either construct a half or full bathroom and still provide a significant upgrade to your home.
Adding another bathroom to your home will also be a great help when you have guests over, as they will be able to use your new second bathroom if the main one is occupied.
Home additions may seem daunting, but with the right amount of research, creative vision, and quality approach to construction, you can give your home a complete makeover.
Don't feel confined to the home you bought, and expand it into the home you've always dreamed of with any one of the listed expansions.
So long as you remain persistent and stick to your initial goal of a new space for you and your family, you should be satisfied with the final product.
Jenn Walker is a freelance writer, blogger, dog-enthusiast, and avid beach goer operating out of Southern New Jersey. She writes for a Custom Home Builder in Ocean City (see here).