Nothing beats living in the comfort of your own home. You get a good amount of independence as you are spending your days there.
But having an own home comes with many responsibilities. The duty of taking care of the house ultimately falls on you.
As a result, you may need to do many works in order to keep your house long-lasting and on top-shape.
One of the prime parts of your house is its exterior part. Without having enough protection, the exterior of your home is entirely vulnerable to severe weather damages.
Especially winter and rainy seasons are the major enemy of your home exterior. But by taking some simple steps, you can easily tackle these issues.
That is by coating it whole with some fresh paint. Painting your home exterior has many benefits against the weather. Let's discuss them-
Prevention of Wood Rotting
When it is a time with lots of moisture in the air, like cold or heavy-raining, wood rotting is a common issue many homeowners face.
Damages caused by humidity can be hard to repair. At least, you will spend a lot to do so.
Since there is nothing to protect the outer surfaces, they easily become victims of rotting.
A fresh paint works as a protective layer to prevent moisture from your doors, sidings, or walls.
If you notice peeling paint on the wood surfaces, it's best to scrape it off first and apply a primer. After that, repaint the surfaces and have them sealed.
Keep in mind that the rotting doesn't only happen during the rain or snow, but the whole season.
Hence, always make an effort to prevent wood rotting with exterior painting projects.
Check multiple manufacturers or providers online if you're looking for exterior painting, coating, and finishing materials.
For example, Rockcote has many exterior options for Australian homes that provide the perfect inspiration for achieving stunning finishes for your home's exterior.
Prevention of Insects
During the heated summer, insects usually get out of the ground. They make their way through the walls and floors of houses – read more.
The problematic thing is that some of them can even manage to damage even surfaces with hard materials.
But painting is a fantastic way to keep them off. Because of the paint, those insects cannot directly come in contact with the wood.
Thus, if insects have started damaging your wood surfaces and other related materials, it's best to work with experts who offer exterior painting, refinishing and surface coating services.
Make sure the one you pick has the valuable experience and a good reputation in the industry.
To find the best exterior painting service provider, seek referrals from family and friends or research options online.
Visit their websites and read some customer reviews to know the quality of their work. By doing all these, you can choose the professionals who can deliver reliable painting services for your exterior needs.
Saving the Energy
As scenically proven, you can keep the heat inside your house by coating or sealing the house walls perfectly. Nothing gets that done better than a paint job.
But is that only for the winter season? Not really. Painting your exterior walls can also keep a cooler environment inside the house during the summer.
As a result, you can potentially save a good amount of money that would be wasted behind air conditioning and so.
Covering Any Hard Stains
There are chances that your house-exterior walls are okay, but they got a lot of stains and spots during a harsh weather condition.
Stains do not need any repair but cleaning. But do you want to go for all those efforts of cleaning up the entirety of your exterior walls?
The easy solution to that is painting the whole thing. Painting over stains is a win-win situation. Not only do you get rid of any spots from the walls, but your house is also getting a new and amazing look.
If you want more information about exterior painting services, you can go to metroprecisionpainting.com.
Avoiding Mold or Mildew
Molds, mildews, or green algae, whatever you want to call them, are a prime enemy of walls. They are living organism that mostly grows from damp areas.
They are mostly seen during the rainy days. The worse thing is that, without wiping them out quickly, they may spread throughout your walls.
However, these green and mean stuff cannot grow on fresh paints. It is probably the easiest way to keep them away.
By getting rid of these living organisms, you can avoid their long-term, adverse consequences on your property, such as collapsed ceilings, broken walls, HVAC contamination, and broken window frames.
Also, you can prevent specific health issues, such as asthma, allergies, headaches, and lung problems.
Conclusion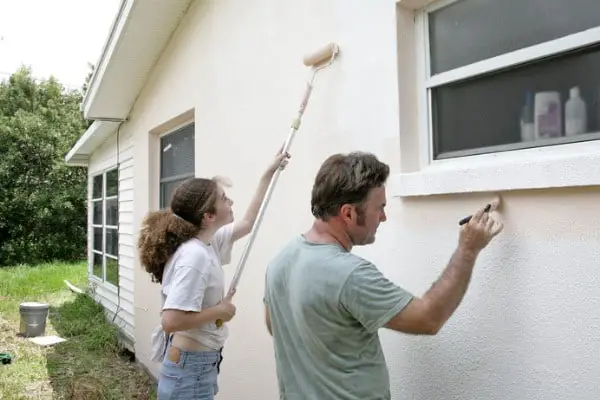 Painting the exterior of your house comes with a lot of advantages. It brings a new appearance to your home. It can light up your mood.
If you are preparing the house for the real estate business, painting can increase the value. But the main benefit you get is the removal of all the weathered conditions.