Before you begin any home remodeling project, you must get your finances in order. Planning and organization can go a long way in ensuring your project stays on budget.
Here are ten tips from experienced homeowners who've been in your shoes.
Create a Budget
The first step is to create a realistic budget for your project. Start by evaluating how much you can afford to spend without putting undue stress on your monthly finances.
If the numbers are tight, consider reviewing your home budget and reducing expenses to shift your funding.
Taking steps to reduce your costs can take many forms. Look into different insurance companies to find a better rate, consider refinancing your car loans to reduce your monthly payments, install eco-friendly appliances to reduce your utility bills, and other similar approaches.
Once you've researched and set your project budget, outline all the costs associated with your remodel, including materials, labor, permits, and other necessary expenses.
Once you understand your total costs, you can start looking for ways to save.
Get Pre-Approved for a Loan
If you plan on financing your remodel with a loan, getting pre-approved before you start spending is essential.
This will give you a better idea of how much money you can borrow and what interest rate you'll be paying.
It's also good to compare rates from multiple lenders to ensure you're getting the best deal possible.
If you can put something on loan for collateral, such as a car or other valuable item, you're likely to get a lower interest rate.
However, working with your local financial institute, you may not need to put anything useful on the line.
The rates and amount you can borrow depend greatly on your credit score and proven income.
If you're a USAA member, you can contact them to discuss options for personal or home improvement loans and discounts with local contractors through your membership benefits.
Save Up in Advance
If you can save up for your project in advance, it's worth considering. Paying cash for your remodel means you won't worry about interest payments or other loan-related expenses.
It can also help you stay on budget since you won't be tempted to spend more than you have saved.
Additionally, if you cannot save up enough for the entire project, you will need to borrow less money to finish the project.
For many families, downsizing things and purging unused items from the space they're remodeling is part of the process.
Saving up some extra funds from a yard sale is a great way to clear clutter and add resources to your project.
Find Ways to Save on Materials and Labor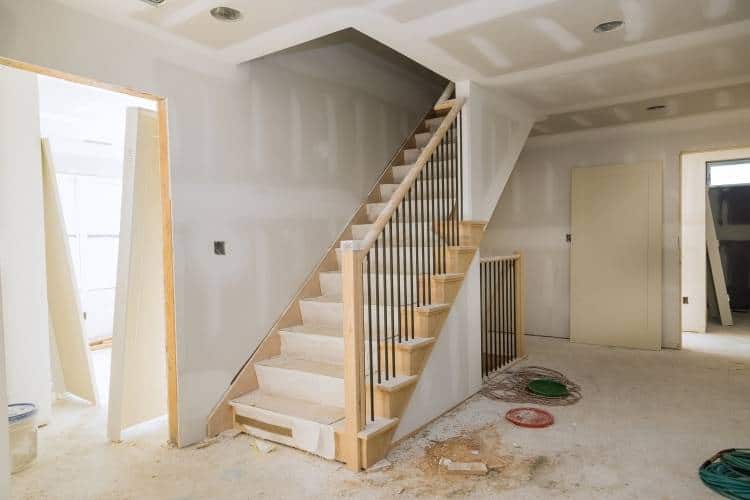 If you're working with a limited budget, it's essential to find ways to save on materials and labor costs whenever possible.
One way to do this is by comparison shopping for materials at multiple stores. You can also look for discounts and coupons from local retailers.
Try negotiating with contractors or hiring workers willing to work for a lower hourly rate for labor costs.
If you've the time and confidence to work on the project yourself, much of the work can be done without professional contractors.
Things like hanging drywall, insulating wall spaces, painting, laying floor coverings, and other tasks often fall under the "sweat equity" category.
Most of these skills are easy to learn from YouTube or work alongside your contractors to decrease costs.
If you've got friends in the trades, you could offer to host a work party and add a fair amount of elbow grease to the project.
Working alongside someone who can teach you is a fun way to learn new skills and create a less expensive remodel project.
When to Hire Professionals
There are many aspects of a project that will require professional assistance. If you obtain permits for your work, you may need a licensed and bonded contractor to work on your electricity, plumbing, load-bearing structures, and even doorway and window installation.
If you choose to move forward on a project that isn't properly licensed and permitted, you can face fines, and your resale value may suffer, but more importantly, you run the risk of damage due to missed details.
This is especially important in working on your electrical systems, as mistakes can be costly and lethal.
Financial Benefits of a Quality Remodel
Depending on the room you choose to remodel or the addition to your home, you could add significantly to your home's resale value. The top five remodels regarding a sizable return on investment are described below.
Adding Attic Bedrooms: Conversion of an unfinished attic into a livable space, such as a bedroom, bathroom, and home office, can offer a 70-73% return.
Kitchen Remodeling: A complete kitchen can offer homeowners a 62-64% return. Focusing on smaller projects, such as refacing cabinets, painting walls, and replacing appliances, will offer a slightly lower return of 57-58%.
Bathroom Additions: Adding a bathroom to your home can have a 66% return on investment, making it one of the more significant remodels you can do. If you cannot add a new bathroom, even updating an existing one can offer a 62% return.
Re-siding your Home: Replacing the siding on your home is not only aesthetically pleasing but also offers one of the highest returns you can get from a remodel, with an average return of 75%.
Window Replacement: New windows can brighten a home inside and out. They also offer a solid return on investment, with an average of 73% returned to the homeowner.
Conclusion:
USAA offers a variety of resources to help you get your home's finances in order before remodeling, whether you're looking for tips on how to save money or advice on obtaining a loan.
Additionally, USAA members can take advantage of discounts and special offers from participating contractors and suppliers.
So, whether you're doing a DIY project or hiring professionals, USAA can help make you remodel as affordable as possible.