More and more people are shifting to the work from home lifestyle. Being able to do your job from the comfort of your house is an invaluable opportunity.
With this shift, comes the need for a great workspace. When spending so many hours working, it's important to have a space designed specifically for your needs.
You also want to ensure that it's pleasing to the eye and you enjoy being in it. Considering your style and the tone you want can give you a home office that's both beautiful and functional.
You can consider doing it yourself or hiring professionals such as commercial painters to help you to achieve the space of your dreams, but here are a few tips for creating the home office of your dreams.
Consider Your Needs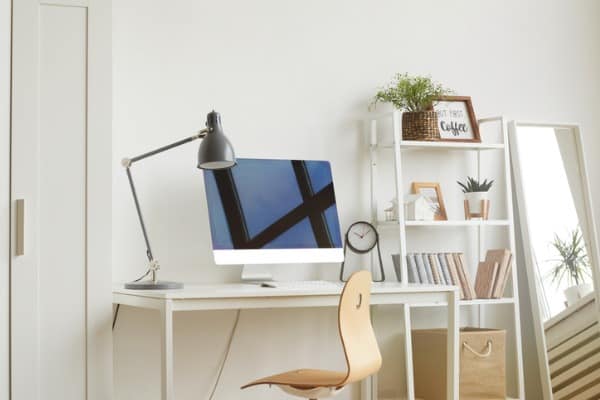 Everyone's home office needs are unique. It's important to take what you need to get out of the space into account when creating it? Are you planning on hosting clients in your home office? Maybe you need a great background for video calls.
The purpose determines how you should design your space. If you need a more private, quiet office, consider adding walls to create this area.
You can also transition everything from a bedroom to a walk-in closet into a home office. Be creative about the rooms you have and how they can make them work for you.
If you have constant appointments with clients or co-workers, be mindful of the placement of your office space. You might want to opt for a room close to the front door or a side entrance.
This allows you to host these visitors with minimal interruption to the rest of the home.
Conference calls and video meetings might fill your workday. Find a quiet location for your office where you can conduct these without distracting background noise.
Installing built-in shelves or a gallery wall can give you the perfect backdrop for these virtual meetings.
Make Sure You Have a View
No one likes being stuck in an office all day. You also might be multi-tasking and watching over kiddos while you work. Be strategic in how you place and design your office for the ideal view.
Natural light can actually increase your work performance and productivity. Try to situate your office so you are near a window to let those mood-boosting rays of sunshine in.
Is this logistically impossible? Fake it till you make it with a fun daylight lamp.
Maybe you need to have a better view of what's going on around your home while you work. Installing glass office industrial doors allows you to see what's going on while maintaining a quiet space.
Many people look to have their home office installed in their garden in the form of a conservatory, with the help of companies like Projects 4 Roofing. This enables people to have a private yet attractive working space with plenty of natural light.
If you have a loft, it can be the perfect way to keep an eye on little ones below while you work.
Encouraging Breaks
It can be easy to get caught up in work, especially without the separation from a physical office. Create an office that encourages breaks and allows you to move.
This will help you stay fresh and reduce the risk of burnout.
Sitting is one of the most unhealthy things for your body. A standing desk is a perfect way to still get your work done while stretching your legs. Many are adjustable so you can stand most of the day but get off your feet when needed.
Sometimes conference calls can drag on for hours on end. Use this time to productively multi-task.
Adding a treadmill or stationary bike to your office allows you to use this time listening while being active.
Don't let the day get away from you. Add a fun clock to your office to keep track of the hours going by.
Look for a smart clock that can encourage breaks at regular intervals as well as remind you to wrap up for the day.
Use Color Thoughtfully
The color you choose for your office can impact your mood. It can also affect how you work and function. Plus, you want to select color carefully so your office blends well with the rest of your home.
Did you know that color can actually impact your productivity? Set yourself up for success by choosing a hue for your office to help your work performance improve.
Shades of blue can help you stay on task and create a calming environment. Look for yellow hues if you are in a creative field, as it boosts ingenuity.
Try to balance creating a professional space with one that energizes you. You want to love the space you'll spend so many hours in. Set on a statement hue or graphic wallpaper?
Maybe cover one wall so it's easy to switch out when you tire of it.
Remember that your office space is still a part of your home. You want it to feel separate but be cohesive at the same time.
Think about the colors in the rest of your home when choosing paint for your office.
Are your walls mostly swathed in cool, neutral hues? A medium grey or sophisticated navy can create a stunning office that fits right into your home.
Maybe you usually go for shades of cream and brown. An espresso-colored statement wall or leathery tan paint color can transform your home office from plain to posh.
Combine Function and Style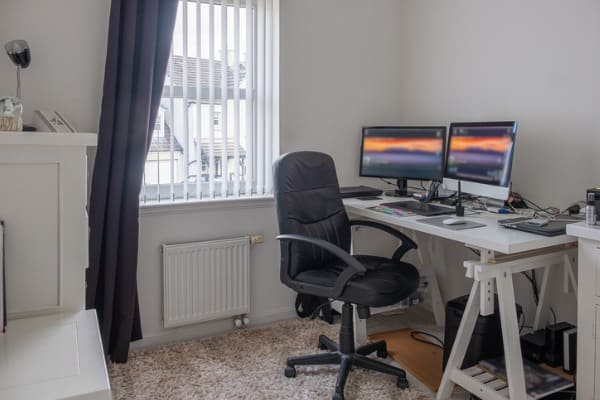 Whatever color you choose, it's important to balance function and style. You want your office to be a useable part of your home. However, you also want to enjoy actually being in it and sitting at a comfortable desk ((see some good examples here: https://www.officemonster.co.uk/office-desks-1).
Maybe you are taking over a bedroom to create your office. This doesn't mean that you have to give up that super handy space for guests.
Adding a Murphy bed allows you to fold it down for weekend visitors and tuck it away during the workweek. Some are even designed with attached desks, making them the perfect fit!
Furnish your office so it's both comfortable and looks polished. A couch or chairs for clients is a welcoming idea.
Maybe include a side table for them to rest their coffee and paperwork during meetings.
One of the most important parts of creating an office is designing storage that works. You might be working with a small space, but that doesn't mean you can't have a smart storage strategy.
Think vertically when it comes to adding storage. Floor to ceiling bookshelves will give you lots of space to stash away all of your workday needs.
Add stylish bins and baskets to keep everything organized and polished looking.
An Office Space That's Uniquely You
Whether you're working from home temporarily or have done so your whole career, your home office can make or break how well you get your job done.
It can leave you feeling exhausted and distracted. Or when carefully designed, it can make you more productive and efficient.
Only you can decide the unique needs that your home office needs to fill. Your job and family life will determine how you design your space.
And once you create the perfect home office for you, your work from home life will thrive.