With the advent of technology, you no longer need to go on a long drive to the cinema and sit with a bunch of strangers before you can get the best view of your favorite movie. Entertainment has gone a lot personal, and a rich home theater is the most incredible way to enjoy your favorite flicks in a cozy, beautiful room.
Nothing beats the amazing feeling you get in a home theater. From the high surrounding sound system, smart lighting, projector, wall décor, and theater seating, you can make your home a haven of entertainment.
A well-designed home theater can easily exceed the experience of going to the cinema any time and day if created with the right components. Consider these ten elements you need to input in to bring to light the luxury you desire.
1. 4K HDR TV or Projector
Every home theater requires a screen, and the time of screen you select is significant in determining your viewing experience. A 4k high-dynamic-range (HDR) TV can give a strikingly colorful display. The only way to enjoy movies in your home is when you feel like you are in it.
The 4K HDR TV provides a visually immersive experience with stunning clarity, brightness, and an up-close realism that comes alive on the big screen. However, to make your home theater come alive like a real movie theater, a projector and screen composition is the way to go. A projector can cast a huge image that fills your screen, giving you a real-time cinema experience.
2. Acoustic Audio Sound
Acoustic sound systems are a unique model for creating a fantastic home theater design. If you buy expensive speakers as part of your home av installation setup, but place them in a shabby listening environment, then you'll be missing the overall touch of finesse.
Acoustic sound panels are placed in elegant positions around the room, giving the room a perfect setup. They also improve the sound emission, absorbing unwanted sounds such as echoes and noise.
High-performance audio systems built-in in-wall speakers, floor speakers, ceiling speakers, overhead speakers, and subwoofers create the perfect cinematic sound you desire and add a new dimension to your home theater audio.
3. Cozy Room Sofa and Furniture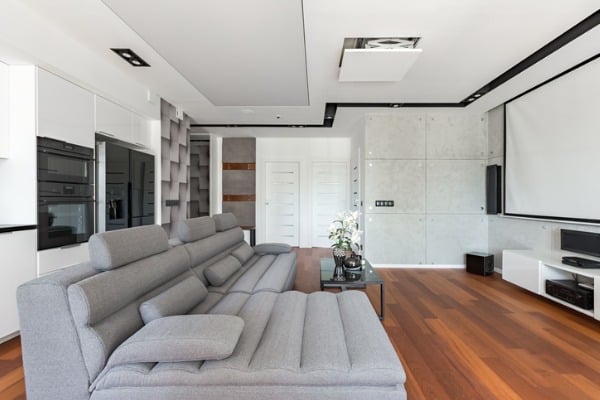 If the seating in your home theater is not comfortable enough, then it will defeat the whole process of having a luxury cinematic experience. The importance of seating in your home theater plays a considerable part in your overall viewing experience.
Going for quality seats, especially sofas, incorporates a homely feeling that everyone desires. Your choice could vary from models designed to suit different home spaces, taking notes of fabrics that match your style and taste.
4. Color
One element that showcases the beauty of your home theater is the color you select for the ceiling and walls. If you're planning to have the ultimate viewing experience, whether it's going binge on Netflix or watching the big soccer game, then take cognizance of color.
For excellent visuals, colors such as burgundy, grey, dark brown, dark green are good choices. Also, go for colors that suit your settings but ensure they can cut down on lights projecting from the TV.
5. Lighting
Careful placement of lighting is efficient to create a good mood and a pleasant viewing environment. We generally can do away with light in the theater room, but you need to be able to see and move. So consider imputing your own managed lighting to add glamour to the room.
You can illuminate the room floor with LED rope lighting to create a wow display and can be set along a path to direct people from the door to their seats. You can also place them on the ceiling or under the seat. Go creative with the light you want but ensure they aren't bright.
6. Wall Arts
Imagine dressing up the walls of your home theater with elegance by adding art of your favorite movie or some unique decorative prints. Wall arts enhance the setting of your theater room by placing you in the movie realm itself.
Wall arts are one of the easiest ways to personalize your home theater and transform it into the perfect entertaining space. They form an integral part of our being and add a unique appeal to the room's entire appearance. Are you willing to explore several wall arts options for your home theater? Feel free to explore some of the best options at ElephantStock.
7. Accented Rugs
Your theater room can look elite with the inclusion of some decorated rugs. They add some visual dimension to the room by complementing the theme and enhancing the acoustic setup.
Rugs give a warm and fabulous feeling to your viewing experience and can also serve as a sound absorber and prevent reverberation. It presents to you a sense of luxury.
8. Create A Bar
You can create an amazing home theater by going forward to install a small bar counter to raise a toast. Your home theater is your way of bringing the universal experience of going out to see a movie to your home.
A bar is another way of winding up and feeling relaxed while you enjoy your favorite movie. It is the perfect replacement for the overpriced popcorn given at the cinemas.
9. False Ceilings
Installing false ceilings in your home theater room adds top-notch finesse to the decorative alignment of the room. False ceilings are beautiful when suitable material is selected. They make the room look stylish and spacious.
Apart from bestowing an elegant look to the room, they keep off excess heat and sounds emanating outside.
10. Motorized Shades
You can block out natural lights with some decorative shades with a suitable theme for the room. They might not necessarily be vintage. A plain colored drape is sufficient to add a warm touch to your home theater.
Conclusion
Putting together the perfect home theater can seem daunting with you trying to fix so many pieces together. You can apply any of the elements to give you the standard viewing room you desire.