Carrying out repairs and regular maintenance is an important element of property ownership.
If you own your home, for example, you'll want to keep the property in good condition to enhance your living environment and protect your investment.
Looking for help? You can use a home warranty plan, like from one of these great sources, or an independent contractor for any repair needs.
It's also worthwhile ensuring you book an electrical safety inspection for your home each year to keep you and your household from experiencing any serious electrical issues.
Alternatively, if you're renting, you'll need to inform your landlord of any issues with the property as quickly as possible. Failing to do so could mean you're in contravention of your lease, so it's vital to update your landlord regarding any problems.
While some repairs can be postponed until an opportune time, others are always considered urgent.
If your health or the safety of the building is in jeopardy, for example, it's essential that action is taken swiftly. To ensure you know when to act quickly, take a look at these three types of home repairs you can't put off:
1. Electrical Malfunctions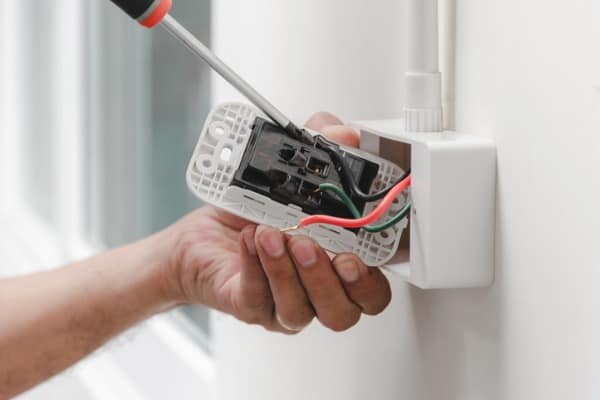 If your electrical system isn't working correctly, contact a qualified electrician as quickly as possible.
Don't attempt to keep using items that require electrical power and don't be tempted to try and resolve the problem yourself. Electrics can be extremely dangerous, particularly if they're not working correctly. Due to this, there are strict regulations requiring only certified electricians to carry out repair works.
Malfunctions can occur in your electrical systems for a number of reasons.
While simple issues such as a blown fuse can be rectified fairly easily, they may be indicative of a larger and more serious problem. If the amount of power entering the home isn't regulated properly, for example, the system could short out or overheat.
Alternatively, the system could be overloaded if too many outlets are placed on a circuit or if multiple adapters are used. In addition to this, wear and tear could degrade the wires in your property, leaving them exposed.
Regardless of what the problem is, it's always advisable to seek advice from a qualified electrician. Their expertise and experience will enable them to resolve the issue quickly and safely, so it's well worth seeking professional assistance.
2. Leaks and Burst Pipes
If a pipe bursts or a leak occurs, it can cause damage to your property in a matter of seconds. When water flows from a pipe, it can cause a leak anywhere in your home, including behind walls and beneath floorboards. If it's a slow leak, it could go on for weeks or months before you become aware of it, which is why it's important to check your plumbing system regularly.
First and foremost, you'll need to address the issue at hand. This might involve turning off the mains water to the property to stop the leak.
this, you'll want to contact a plumber so that they can diagnose the issue and take steps to repair it. Depending on the exact problem, there could be a quick fix or more time-intensive repairs may be required.
However, stopping the leak and repairing the original problem isn't the only issue you need to deal with. Following a leak, you'll need to contact a water damage restoration company like PuroClean in order to rectify the damage to your property. Without proper restoration, damp and mold can fester.
While mold removal and biohazard cleanup services can be used in the future, you can minimize the work required by implementing water damage restoration methods straight away.
When you contact a specialist water damage restoration company such as PuroClean, you can access the expert services you require 24 hours a day, 7 days a week.
With emergency, mitigation, remediation and reconstruction services available, you can be confident that their experienced technicians will be able to implement effective restoration measures to prevent further damage and repair your property.
3. Faulty Smoke Alarms
Smoke and fire alarms should be checked on a regular basis and replaced when necessary. If an alarm is faulty, don't delay in getting a new one and installing it immediately.
Tragically, household fires cause an average of 11,030 civilian injuries and 2,620 civilian fatalities every year, in addition to $7.2 billion in property damage.
Although fire damage restoration and smoke damage restoration services may be able to save your property, prevention is always better than cure. Having reliable, functional alarms in your home could save your life and the lives of your family, so it should always be a top priority.
In addition to checking your alarms are in good working order, you should also ensure that they're placed in appropriate locations within your property.
This maximizes their efficacy and increases your chances of getting out of the property unscathed if a fire does break out.
While it might be tempting to put off buying a new alarm until your next shopping trip, it simply isn't worth the risk. By replacing your alarms as soon as they show signs of wear and tear, you can improve your home safety and have peace of mind.
Keeping Your Home Well-Maintained
While some home repairs may enhance your comfort, others are critical to your safety and well-being.
Knowing when a home repair should be treated as an emergency will ensure you're able to protect your property, your health and your loved ones.