We have all experienced the opulence of a boutique accommodation that comes with the luxuries of a hotel experience.
From the perfect ambiance to the crisp white sheets, the grandness of a top-rated hotel is unparalleled.
What if we told you that you can emulate that very atmosphere in your home?
Whether you are looking for a complete makeover of your space, or plan on accentuating your surroundings with a few eye-catching pieces, getting a luxury hotel look in your home is possible!
When it comes to curating your space to give it a hotel look, our suggestion would be to go minimalistic while keeping every aspect of the interior design functional and accessible.
Secondly, luxury hotels cash in on the ambiance and atmosphere of their rooms; a key feature that you can easily adopt in your own home as well.
If you are on the lookout for all these and more, read on to learn the different ways in which you can transform your house to attain the luxuries commonly associated with hotel interior design.
First Impressions Matter
The entryway or foyer in your home is the first impression you and your guests will get, so make sure it makes a lasting impact.
Interestingly, hotel designers expend tremendous energy to ensure that the entryway is posh, stylish, and elegant.
One of the best ways to draw attention to the entryway is by opting for a piece that makes a bold statement.
This could include premium art framed prints with a light fixture on top, or a rich mahogany console table adorned with a vase of fresh flowers.
Other suggestions include a large imposing mirror with a frame that complements your general home aesthetic or even a couple of lamps with energy-efficient LED light bulbs.
If you have a large entryway, consider placing an entryway bench or a wingback chair.
In case you want to go all-in, consider a crystal chandelier as a dramatic luxurious statement.
Make sure that your entryway is well lit and makes use of layered lighting.
This is a popular design tool for achieving a balanced lighting effect and helps focus attention on the unique features in a room.
Whatever furniture or art piece you choose in the entryway or any other part of the house for that matter, always remember to make it more intimate with the use of multiple layers of lighting.
It will help add rich complexity to your room and give depth to your surroundings.
Your Personal Sanctuary – The Bedroom
Hotel bedrooms are the envy of the world! They are stylish, comfortable and functional all at once.
First and foremost, invest in good bed linens. Skip the floral, flamboyant, colorful, patterned bed sheets for simple white Egyptian cotton or linen sheets.
Added to that, dress your bed with cushions such as Euro sham cushions at the back, followed by your standard pillows, a couple of throw pillows and finish off with a boudoir pillow.
Since your bedsheets are plain, you can play around with various textures and colors when choosing your cushion covers.
Cushions that add to the overall sense of luxury, such as plush velvet cushions are always a good choice.  
Lastly, remember to add a comfortable duvet, comforter, or bedspread that complements the fabric and color of your cushions.
In case you are in the mood to spend a little money, get a new memory foam mattress or add an elegant upholstered velvet draped headboard so you can lean against it and relax after a stressful day.
You may also choose to spruce up your bedroom by adding a reading chair upholstered in a velvet fabric, a piece of wall art above your headboard, or a modern armoire.
You may also choose to swap your lamps for bedside wall lights in metallic accents for a contemporary hotel look.
Curate A Luxurious Lounging Space
Hotel suite interior designs are meticulous and minimalist. They often carry sparsely populated lavish furniture and decor to create an environment of a relaxed yet luxurious atmosphere.
To achieve that in your living room, opt for a versatile mid century modern sofa to elevate your space.
Choose a base color palette and build around it; this will ensure that you don't end up cluttering your space with an array of hues and patterns.
Finishing touches for your living room sofa include contrasting cushions in various sizes, colors, textures and patterns.
Adding your favorite wall art above the sofa or on an adjacent wall with antique brass display lighting will also help achieve the luxury hotel look.
Added to that, you may also want to invest in mood lighting for a lux feel.
One integral aspect in achieving a hotel look is to make sure your living room, and indeed your entire home, is well-organized and clutter-free.
You can do this by introducing multi-purpose furniture such as an ottoman with storage, a credenza, or built-in wall units.
You can highlight the latter by installing overhead lighting to add personality and style.
Other ways to redecorate your space for a hotel look would be to swap out old lamp shades for contemporary minimalist ones.
You can also add richness and texture by including a silk or Persian rug that compliments your existing upholstery.
Make sure your curtains flow well with the rest of the room and don't create a stark contrast. If possible, make a window recess for an ultimate luxury hotel feel.
And of course, for a chic hotel look, opt for a neutral palette with the occasional pop of color introduced using your cushions, the odd armchair, or a piece of wall art.
Don't Forget The Bathroom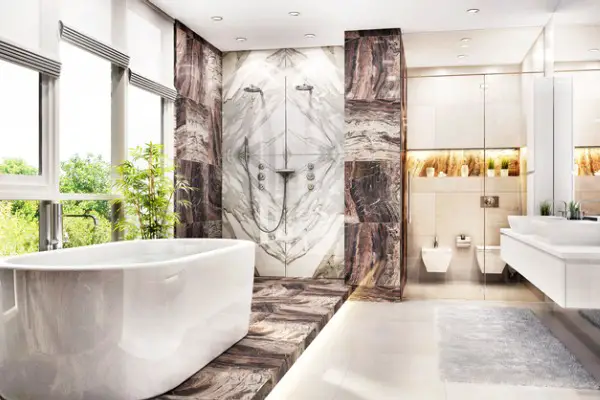 A relaxing and spacious bathroom with ample lighting is one of the major pillars of a luxury hotel.
First things first, upgrade your towel collection with white, fluffy, high-quality cotton towel sets.
Next, get a bathrobe; after all, it is one of the key elements of any hotel experience.
You may also want to add some houseplants in your bathroom, like a potted plant that can survive in low light and a high-humidity environment.
Consider making space for a mirror or lacquer tray to display your perfumes or any other personal items.
It's the little details that will not only add distinctiveness and style but will also impress your guests.
If you are looking for a complete bathroom renovation, consider adding two sinks and ample storage space below to store your essentials.
Opt for light, cool colors when deciding on the walls, and adorn them with your favorite wall art pieces to help spruce up the place.
Furthermore, choose floor materials such as water-resistant wood, marble, granite, or ceramic tiles; they don't only look classy but are also easier to clean and maintain in the long-run.
As for the daily shower, we suggest a walk-in frosted glass shower or a soaking tub for an enjoyable bath. Last but not least, add a reed diffuser for a constant fresh scent.
Final Thoughts
Investing in a few key pieces and paying attention to minute details can help you reinvent your space and make it appear like you just walked into a luxury hotel.
Add finishing touches with your favorite scented candle, and opt for simple, yet stylish pieces of furniture or decor.
We hope you are inspired and looking forward to decorating your space to give it an upscale five-star hotel look.
Remember to always stick to your personal aesthetic so that your home doesn't only feel luxurious, but also complements your personality and taste. Happy decorating!