An outdoor kitchen extends a home's living and entertainment space to enjoy the great outdoors. The ability to cook and serve delicious food outside starts with a well-planned and fully-equipped outdoor kitchen.
Are you ready to design an outdoor kitchen for your deck? Find out how to get started and design an outdoor kitchen that serves everyone for years to come.
Measurements Matter
The first step to effectively design an outdoor kitchen is determining how many people will use it regularly. Figure out the available space in the yard by measuring the area intended for the outdoor eating space.
Be aware of other factors, such as doorways and a swimming pool, to design a space that works well wherever everyone typically gatherings to appreciate outdoor living.
Figure Out Flooring
An outdoor kitchen must be supported by solid floorings, such as a deck or patio. Popular options include cement, brick, stone, wood, and manufactured materials. Each variety has different pricing and maintenance levels.
Consider the initial cost for the flooring, as well as expenses to maintain it in the future, to determine which one is best.
Add Hardscapes
An outdoor kitchen also needs quality hardscaping to help it blend into the rest of the exterior and interior living spaces. The materials should complement the exterior of the house and blend into the other yard features.
Choosing functional appliances is crucial to the overall success of an outdoor kitchen. Use the measurements taken to invest in appliances that function optimally in the space.
To create a great space, remember to have a grill, counters, sink, and all kitchen necessities for complete convenience.
Keep Storage in Mind
Finally, storage is critical to ensure everything for a delicious meal is at the cook's fingertips. Cabinetry is part of the overall aesthetic of the space, making it part of the total function and style.
Choose materials that stand up to outdoor elements and the test of ongoing use. Make a checklist of items to store to maximize the outdoor living experience.
Once again, take measurements to ensure the cabinetry provides adequate storage and fits the space perfectly.
A Word About the Grill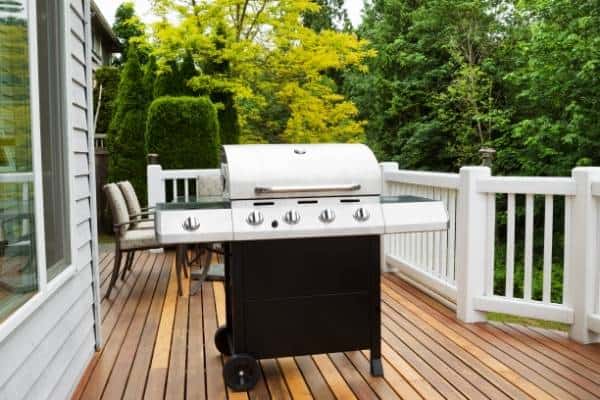 If you're looking to become a grill master, you're bound to fire up the grill once or twice and start handing out burgers and hot dogs to everyone around.
You're going to want to be careful when it comes to grill placement.
If you have a portable gas or charcoal grill, make sure you put it away from the house while it's in use.
Too many people will put it close to their house and melt their siding, burn the wood or discolor their brick.
This goes for butting the grill up against a deck railing system. Pull the grill into the middle of your deck, and you'll be good.
Those grills can get pretty hot, and you don't want to ruin a perfectly good summer day realizing you've messed up something on your house or deck.
You also don't want to bother your guests too much with any smoke that will run off.
While you can never predict the wind, try and put it in a place where it's not going to blow back onto your face.
How to Design an Outdoor Kitchen
Designing an outdoor kitchen quickly becomes challenging, with all the factors to consider for its success. Trying to design one from blueprints is impossible without becoming an architect.
Hiring a professional becomes costly and could mean compromising the overall result. Free outdoor kitchen design software is a simple way to get ideas for the outdoor kitchen of your dreams.
Try different configurations to determine what design fits the space and use optimally. With design software, homeowners have an opportunity to try before they buy.
Knowing how the kitchen might look gives amateur designers a vision for the future based on facts and figures.
What about the Deck?
When it comes to building a kitchen of any sort out on your deck you obviously want everything to look great – this goes for the actual deck too!
When building a deck to support the physical weight of an outdoor kitchen and also the look, there are different kinds of deck materials, but the most common type is wood.
Wood is a great material that is sturdy, long-lasting and looks great when properly cared for.
To give it that great look, you're going to have to stain your deck.
Staining your deck is like painting your bedroom, it may take a while to find that perfect shade but once you do, it will bring everything together perfectly.
The process of staining isn't too incredibly difficult, but it can take a long time to actually perform.
You'll need to make sure you start staining your deck in mild temperatures for the best results.
Don't wait until you have a scorcher of a day to stain away.
Make sure there is no rain in the forecast either and clean off your deck for any debris for the best results.
Once you start staining, put about 2-3 brush strokes on each piece of wood. Don't overstain, as too much stain will crack too easily. This is not a good look!
Let it dry for about a day and you're finished! A healthy deck will repel water (and grease from cooking!) and keep looking great for years to come.
Summing It All Up…
Outdoor kitchens add value to a home and provide additional entertainment space. Plus, outdoor kitchens encourage people to relax and enjoy the house after a long day instead of staying indoors.
Designing an outdoor kitchen is easy when you use free software to get ideas. Remember to plan ahead by determining who will use the space and what items are required for cooking.
In addition, measurements are important to ensure everything fits into the design. With creativity and free outdoor kitchen design software, anyone can have the space of their dreams!