It's never too early to start preparing for the barbecue season. But don't buy all those steaks and buns just yet; let's start it off by creating a perfect outdoor kitchen.
Are you moving into a new home and want to splurge on a great entertainment tool, or maybe you simply want to give your old house a well-deserved upgrade – you should know that an outdoor kitchen is just the perfect way to achieve that!
If you aren't sure to go about creating one, you could visit https://outdoorcookingpros.com/.
The kitchen is the unquestionable heart of the home, where you've probably found yourselves chattering with friends, baking your secret recipes, or simply snacking a bit too much than you had planned (we know we have!).
So why not move all the fun outdoors?
Who doesn't like gathering all your friends together and making all those delicious foods while catching up on new developments in everyone's lives?
But an outdoor kitchen isn't constructed by just putting a few pieces of equipment outside and calling it a day; it's an expansion of the outdoor living area that requires a lot of thoughtful consideration to go into it to make it just as cozy as your indoor space!
How to Build an Outdoor Kitchen?
Building an outdoor kitchen requires a similar level of expertise that you'd need while building an indoor one – that's why if you don't have much experience with fitting the pieces of wooden cabinetry, maybe you should leave that to the experts.
Outdoor kitchens also can be utilized to their fullest extent when adequately adapted.
Therefore hiring a professional to help you with water installations to add a sink might make the difference between running every few minutes inside to wash something off during your party and fully enjoying the moment!
The first step into designing an outdoor kitchen is as simple as planning it out.
Choose a place on your patio that has a nearby electrical installation so that you're able to connect the appliances directly into it so that you won't have to re-cable your entire backyard.
Once the initial project is confirmed, start choosing the materials and measuring precisely the sizes of the kitchen appliances and the grill that you'll want to install.
This will minimize any risks that you won't be left with enough space to install your cooking tools after the cabinetry is installed.
You can find measurements for any appliances that you'll want to install on websites specializing in such inventory.
It will not only guarantee you with the highest quality stoves but let you find the size that's just right for the area you have dedicated for its installation.
Choosing The Right Materials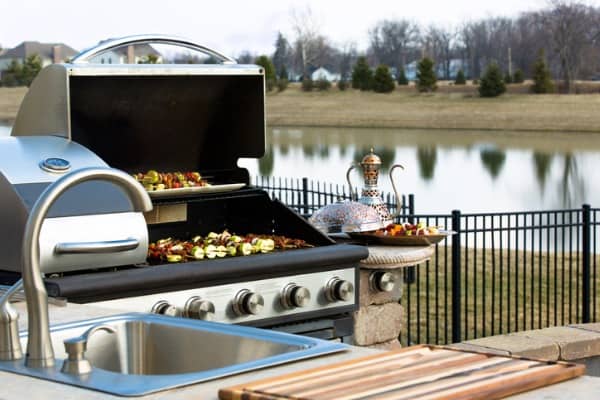 To choose the ideal materials for an outdoor kitchen, you'll need to be thoughtful. With your outdoor kitchen not being protected from the elements, it will be subjected to dangers that you wouldn't have to worry about in the case of an indoor kitchen.
We recommend opting for wooden cabinets and stone countertops. The rigid flow of cabinets will fit coherently with the natural feeling the outdoors provide.
In contrast, the stone countertop will offer a durable design, and you won't have to worry about something spilling over and staining the kitchen top.
In addition to that, stone countertops are also durable to higher temperatures; therefore, you won't have to worry about placing hot pans straight from the grill on it or any heat from the fire leaving a mark.
For your appliances, we'd recommend you choose stainless steel ones. As the name suggests, that type of steel is stainless.
You might pay a premium for that kind of material, but it's worth it in the long run, as it's one of the highest quality metals that's used in the kitchen appliances industry.
Stainless steel kitchen equipment will withstand exposure to fire, or extreme weather and won't rust.
If you want to minimize your expenses, we recommend you simply splurge on a stainless stone grill that will be the focal point of your outdoor area and find cheaper alternatives for other built-ins.
Appliances
It can be hard to decide upon what appliances you should install in your outdoor kitchen but don't worry, we're here to help you figure it out.
Suppose your outdoor kitchen is more of a DIY project rather than a full-on investment for your home.
In that case, we recommend trying to budget in a different category than the cooking appliances.
It is crucial to install a sturdy open-air grill to create the desired look you may want your outdoor area to achieve so that it will last you for years to come.
Suppose you're wondering about the sorts of appliances to install to maximize the outdoor kitchen's efficiency and usage.
In that case, we recommend installing a grill, ice chest sink, a mini-fridge, and maybe if you've got a place in your budget, even a pizza oven.
In addition to that, you'll want to utilize the cabinetry space you've got for extra storage, so maybe even a mini-wine fridge is something that's on your list!
Concluding
An outdoor kitchen is not only an area that will be the perfect place for entertaining your guests, but it's an expansion of your living room, creating an outdoor space to relax and enjoy life to the fullest.
Not only is installing an outdoor kitchen a great project to get your hands on, but it can translate to the value of your home increasing due to the additional upgrades.
And let's face it, we don't know how much longer we're going to have to be homebound, so it is the perfect excuse to finally set up that outdoor kitchen we always wanted to start cooking in our backyard!