Sometimes, a home improvement project can get out of hand and become much more expensive than it needs to be, especially if you're not prepared beforehand with the right knowledge and tools.
For many people, purchasing a new home provides an opportunity to fix up and upgrade key areas.
A new roof, an improved electrical system, and fresh paint can go a long way towards increasing the value of your property and turning it into the dream home you always wanted.
Unfortunately, not all homeowners have the budget to pay an outside contractor whenever they need something fixed around their house.
This guide on how to repair your house safely and on a budget will walk you through 10 ways to get things fixed in your home without spending too much money at the outset, so you can save your hard-earned cash for other more important things, like that vacation to Europe or your kid's college fund.
Without further ado, let's dive in!
1) Don't be afraid to do it yourself
Most people have some kind of skill that they can use to help fix up their house.
You don't have to be a professional handyman to do something that you know how to do.
Doing a task yourself can save money, boost your morale, and teach you something new simultaneously.
If you are not confident in your abilities, take pictures before and after so that you can refer back to them later.
2) Don't be afraid to ask for advice
Sure, DIY jobs can be fun, and you get to call all the shots, but it's important to recognize that you don't have to do it alone.
Whether you hire a professional contractor or just ask for help from family and friends, don't hesitate to reach out when you feel your project has hit a dead end.
3) Fix small things first
It's not uncommon for something small to start a big problem. Fixing these issues as soon as they happen can prevent larger, more expensive repairs down the line.
The good news is that you can do plenty of inexpensive repairs without any professional skill.
Whether it's caulking a leaky faucet or replacing your old pipes, there are several issues that anyone can fix without spending too much money.
4) Get supplies from inexpensive shops
When it comes to repair jobs, you don't have to go to the hardware store for everything.
Instead, there are inexpensive alternatives in local shops and online that can be just as good if not better than anything you find in a store.
You'll also save on gas by shopping locally or online. And remember, cheaper is not always equal to worse quality.
5) Ask family members and friends to help
Sometimes the best way to repair your house is by reaching out to friends and family.
Get together with loved ones and see who else you can recruit to help out.
As long as they know what they're doing, it should be easy. Plus, you'll save money and get support at the same time.
6) Replace light bulbs with energy-efficient LED lights
Old light bulbs can take more than 10 times as much energy to produce the same amount of light, so replacing them with LED lights is a good idea.
LEDs use at least 90% less electricity than traditional light bulbs, saving you $79 to $128 per year on your electric bill.
Start by looking for C-class LEDs that are high-quality and long-lasting.
7) Use lighting creatively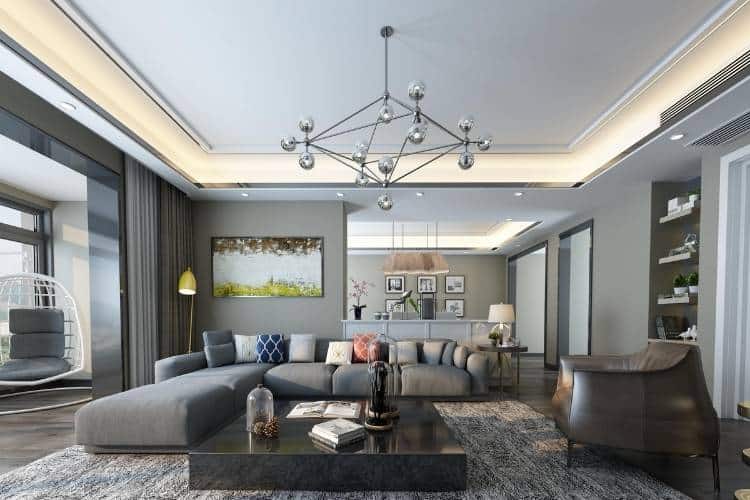 While hiring a professional can be costly, you can also save money on home improvement by using lighting creatively.
You can purchase a box of cheap light bulbs at the hardware store or buy inexpensive battery-powered lamps and place them around your house to add extra brightness to otherwise dimly lit rooms.
8) Filling in holes
Fixing holes in your wall doesn't have to be expensive.
You can use silicone caulk, toothpaste, or drywall compound (available at your local hardware store).
Holes are a perfect time to practice your DIY skills and save money.
You can also seal up drafts around windows and doors using caulk or draft seals.
These will prevent heated air from escaping through small cracks in the frame, costing you hundreds of dollars yearly in heating costs.
9) Improvise
One of the best ways to repair your house on a budget is by improvising.  Here are a few ideas:
Check those hard-to-reach places for leaks and cracks that need repairs. Use a needle or a small tree branch to plug them up if you see any.
Get out your screwdriver and replace handles on cabinets, doors, and drawers with replacements from the hardware store.
Take down old wallpaper with a scraper and adhesive remover that you can find at most home improvement stores or online retailers of wallpaper removal products.
Consider painting as an option for sprucing up your house; this is also an easy way to remove blemishes and worn spots on walls.
Keep an eye out for pests; if they are around, invest in some traps
Remove mold with bleach (wear protective gear).
Give all appliances like dishwashers, refrigerators, microwaves, ovens, ranges, and more a good scrubbing.
10) Hire a good company
Spending money can sound scary, but it doesn't have to be so. Hiring a good company for repairs will save you time and money in the long run.
Plus, these companies will often give you a price estimate along with an estimate of how much time they'll need to complete the job.
Once you decide what project to undertake, do some research and determine the average cost for contractors for that particular job.
This is the best way to know if you are getting a good deal or if there are hidden costs.
Always ask as many questions as possible before agreeing to anything.
Get referrals from family and friends, check online reviews, be sure they have all the necessary permits, and verify the identities of the company owners and workers on Nuwber before letting them into your home.
Final Thought
As the saying goes, home is where the heart is. This means that if you're not properly taking care of your home, then chances are you aren't properly taking care of your heart!
No one likes to spend money on repairs or maintenance, but some things simply can't be avoided if you want to continue living in your house.
We hope this list has helped provide some creative ways to save money and fix up your home without breaking the bank.
That being said, we do not recommend you try to repair a furnace or any other complex system on your own; get an expert who knows what they're doing to ensure you are safe and getting the right repairs done.
And don't hurt yourself by attempting any of these fixes if you don't know what you're doing.