Home improvements don't always add enough value to a house to be profitable at the point of sale.
However, if you expect to sell the house in the next 3 to 5 years, you might as well stick to home improvements that are more likely to increase the house's sale value, suggests Real Property Group.
That will allow you to enjoy the improved house and recoup most — if not all — of your investment.
With that in mind, here are some of the home improvements that are most likely to increase the sale value of your property.
1 – Replace the garage door
Old garage doors are loud, prone to breaking, and often lack many security and smart features that have become standard in new doors.
And because they are such a key part of a house's infrastructure, a newly installed garage door can often add a lot to its sale value.
Especially since replacing a garage door on an old house can be quite the hassle, which means most potential buyers would rather get a house that already has an updated garage door.
Most garage door retailers offer full-service delivery and installation, so you don't have to worry about disposing of your old door and setting up a new one yourself.
However, if you're quite the repairman and have the right skill and experience for the job, you can take on the challenge as a side project.
This will help you save money on installation and savor the satisfaction of completing a big project on your own.
Just a caveat: replacing garage doors with zero repair skills or experience can be dangerous, so make sure you have the right tools and assistance to get the job done safely.
For this project, you'll need a set of proper and reliable tools, including reamers (see here), adjustable-locking pliers, drills and drill bits, a socket bit, a driver bit, a wrench, hammer, rods, and of course, your safety glasses.
Never make the mistake of doing the project without the right instructions or proper guidance.
When shopping for a new garage door, keep in mind that home buyers will favor security and convenience above all else.
Garage doors have historically been a weak point when it comes to home security, with many criminals targeting homes with garage doors that have known security flaws.
Luckily garage doors with glaring security flaws are easy to avoid, as those are often quickly discovered and reported online.
However, this means you should probably avoid buying this year's latest and greatest garage doors, as they haven't been in the market long enough to be tested and reported on.
Last year's models will be cheaper, will have more information available, and will still add a lot to the sale value of a home.
2 – Renovate the bathroom
Bathroom renovations can add a lot to the home's sale value, and a particularly sharp-looking bathroom can even help leave a lasting impression on potential home buyers.
That may sound counter-intuitive. After all, when you consider the most important rooms in your home, the bathroom might not be the first that comes to mind.
But all you need to do is spend a week in a fancy hotel suite with a great bathroom to get a good sense of why they are valuable.
Just consider how wonderful it is to have a nice room that can turn daily rituals into something enjoyable and relaxing. Who doesn't want a home with amenities that can melt their stress away?
Another factor to consider is that while many people want a great bathroom, few are eager to deal with the hassle of having an in-depth bathroom renovation.
Particularly in homes that only have one bathroom.
Finally, sharp-looking and well-equipped bathrooms often leave a strong impression on house tours.
Not only because they look – and often are – expensive, but also because they don't require any additional furniture to perform their function.
While potential buyers have to imagine how they will want to organize and use other rooms in the house, the bathroom is already finished and ready to be used.
3 – Landscape the garden
A landscaped garden offers two advantages. One is that it improves curb appeal, which can be useful whether you're trying to sell your own home or sell an inherited house (learn more).
The second is that it helps the garden look more like a living area rather than a hassle the next owner will contend with.
The effect is even greater if your garden has pathways, decoration, and outdoor furniture.
Families with kids love having an outdoor area for the little ones to play with.
A landscaped garden is also good for families with pets, and for any single adults or couples who would like an area where they can host parties, and entertain guests or family.
And all of those users are easier when the garden is properly landscaped.
4 – Invest in smart home features
Smart home devices and appliances are becoming more popular over the years, and they can help increase the sale value of your house.
This means it can be worthwhile to invest in a smart microwave, fridge, toaster, lamps, and more.
And if nothing else, you should at least consider investing in a smart thermostat, as those offer both convenience and energy-saving options.
If you don't know where to get started on smart appliances, start with the kitchen. Kitchen renovations are usually the ones that add the most value to the house.
And if you are keeping resale value in mind, it is probably worth it to invest in smart fridges, ovens, freezes, and more for your kitchen, even if you don't personally intend to make use of those smart features.
5 – Renovate the kitchen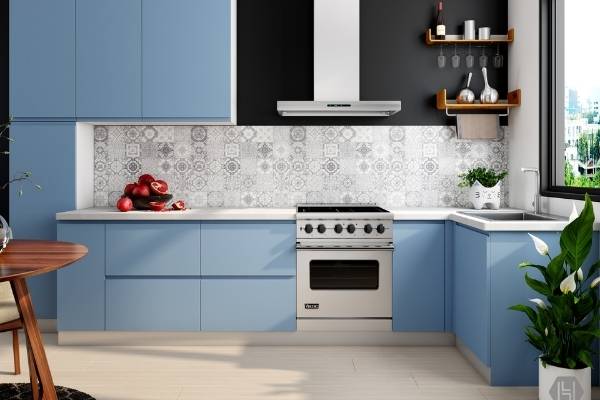 Appliances aren't the only thing that can add value to a kitchen.
Renovating the kitchen with a new set of cabinets, countertops, faucets, and more can all help boost the resale value of the house as well.
Kitchen renovations enjoy similar advantages to bathroom renovations, since many people like the idea of a renovated kitchen, but would rather not deal with the hassle of managing the project themselves.
As such, families that are looking to upgrade to a better home will often favor properties with beautiful and well-equipped kitchens.
One good tip is to keep lighting in mind when renovating. Well-positioned wall and counter lights can make a kitchen look a lot more welcoming and spacious, while also helping it look better in pictures.
And of course, better light also makes working in the kitchen a little easier.
6 – Get better interior lighting
Don't underestimate the effect that light has on different living spaces.
Getting other lighting fixtures and better lamps can help change the atmosphere of different rooms, and proper lighting can even be used to make rooms look bigger or smaller.
Investing in lighting also allows you to get more energy-efficient solutions, making the house more attractive to buyers.