As time passes and seasons change, so should your house.
If you are big on décor, you probably get tired of looking at your winter styled home in summer.
Well, with a few seasonal décor tips under your sleeve, you do not have to.
Here, read some easy and inexpensive decorating ideas to help you dress your home for each season.
1. Winter Décor Tips
For most, winter decor is often overtaken by holiday décor.
While this is fine, it does leave the house looking and feeling a little drab after the holidays.
What to do:
Add Some Cozy Elements
In winter, your indoors should feel warm and cozy to contrast the chilly outdoors.
Look for doonas with good filling, blankets, and throw pillows to adorn your sofas.
This does not only look cozy but is functional as well.
Evergreen Branches
Evergreens are among the best things about winter. They are also easy to incorporate indoors.
A simple way to do this is to get a few sprigs and arrange them alongside fake snow in a mason jar-small wreath arrangements for the dinner and coffee table work just as well.
2. Spring Décor Tips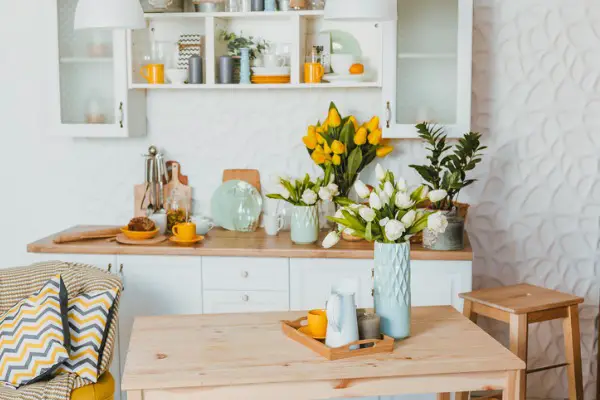 Spring is all about joy and new signs of life. Here are ideas to add the celebratory feel to your home.
Think About Florals
Flowers are always a great idea. Here, think floral runners on the dining table, pillowcases with floral prints, and floral ottoman and sofa covers. Fresh flowers are a good idea as well.
The possibilities are endless.
Bring in Some Sheer Fabrics
After the typically heavy winter window treatments, you can change things up with sheer fabrics on your windows.
These are light and airy and add a level of sophistication to any room. While white is always a classic, colored sheers add vibrancy.
3. Summer Home Décor Tips
Many people will agree that the summer heat requires light and bright décor. Here are some summer looks for your home.
Light Colors
Think in the lines of whites and washed out colors that seem to be bleached out in the sun.
For example, your bedroom can carry white bedding with sunny bright throw pillows.
However, be careful about the undertones of your wall and floor colors. I
t's always possible to find a shade of white that adequately complements these undertones.
Similarly, keep in mind that your lighting can also make different shades of white appear cooler or warmer.
Summer Patterns
Aside from white and washed out fabrics, try and incorporate summer-like patterns in your decor during this time of year.
Patterns like polka dots and bold stripes can be used to add a level of visual interest to your home.
Gingham is also great for casual dining setups.
4. Fall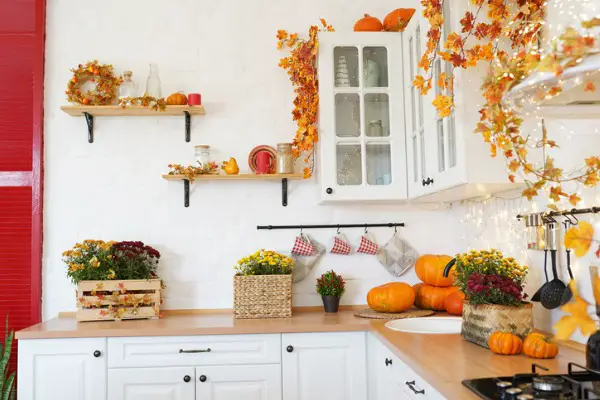 There is a lot to love about fall; vivid colors, crisp air, and delicious fall foods make this an especially loveable time of year.
Here are some things you can do to incorporate this into your décor:
Go Rustic
Rustic elements sit perfectly with fall décor. Rustic elements mean having unfinished or natural features as opposed to polished and processed.
Anything from unfinished wood, burlap, distressed painted furniture, and rusty walls will do.
Incorporate Some Earthy Colors
Fall colors are earthy and rich. The theme colors for this time are dark green, orange, rich browns, burnt reds, and warm golds.
You can mix and match the colors as they tend to complement each other.
You can also add lighter neutrals if you feel earthy colors will darken a room too much.
One Last Thing
Seasonal decorating is temporary. For this reason, focus on temporary changes as opposed to permanent ones.
You don't have to spend as much and will have the freedom to change things around to match your preferences.