A functional and utilitarian laundry room holds equal importance as the kitchen. Instead of giving it an afterthought, give it the love it deserves.
If your home isn't blessed with much space, don't fret.
We will share relevant small laundry room floor plans that cover the basic tasks you will do and the equipment needed to keep the laundry room going, such as washer and dryer units, clothes baskets, countertop, ironing board, cleaning supplies, and more.
Here's a round up of doable and practical small laundry room floor plans.
#1 Create Laundry Room Space
If you don't have a dedicated laundry room space, studying the existing blueprint of the bathroom/s, connected passageways, kitchen area, and connected bedrooms would help.
This is precisely what Taniwaki from Real Numeracy did. He demolished the wall between the bathroom and guest bedroom to edge out a 3 foot by 7 foot laundry room.
The existing bathtub was removed, and the area was walled off to create the laundry room space. You have to get creative!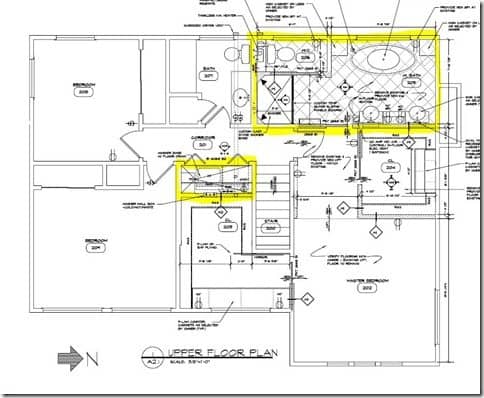 George Taniwaki shares his experience of remodeling their laundry room on Real Numeracy.
#2 Laundry Room Attached Bedroom
You can have a laundry room attached to the master bedroom with a connected doorway as well as having an independent door.
A square shaped laundry room can accommodate, at a bare minimum, a dryer area, washer, water heater, utility sink, and an area for dog wash.
In-built closet space improves the utility of inter-connected laundry space.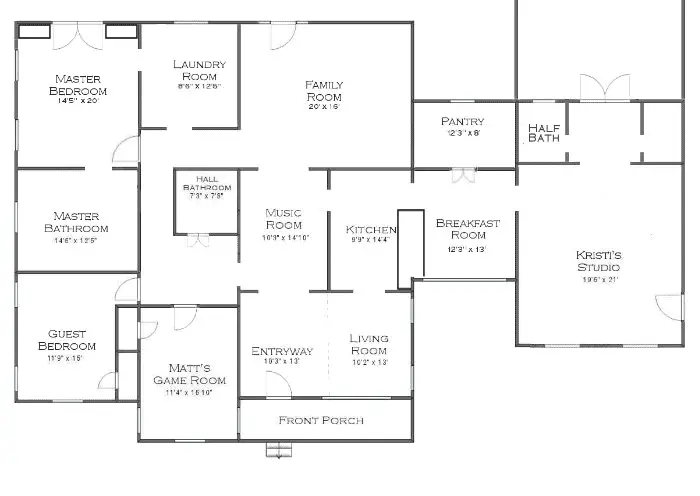 Kristi from Addicted 2 Decorating explained how they created a laundry room floor plan when they moved into a new house.
#3 Mudroom and Laundry Room Combo
Changing the architectural details of a home is truly not easy!
If you need both the laundry room and a mudroom, but lack space, the solution is to combine both. Mudroom space is ideal for storage, especially if the family members are outdoorsy.
Stack the washer and dryer to create space for drying racks and a laundry basket. Install slider doors instead of the traditional ones for unobstructed access.
Elevate the washer and dryer nook, and add a rustic ladder to access the drying rack. The space above the nook can hold storage items.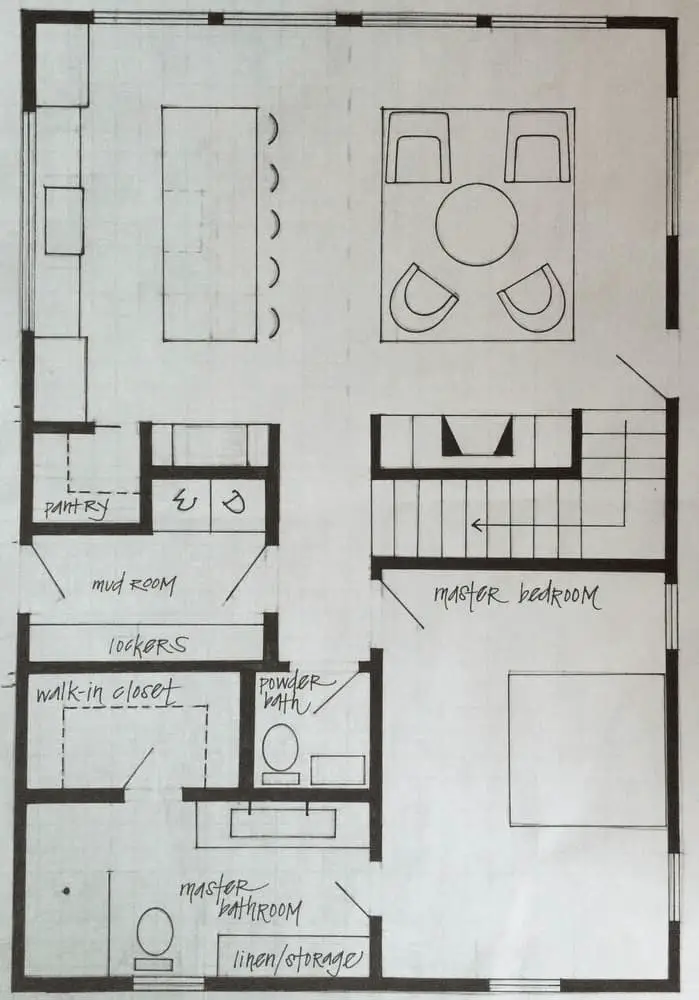 Tawna writes about remodeling her home and creating a combined mudroom and laundry room space for her growing family on Tawna All Red.
#4 Farmhouse Laundry Room
Convert a small rectangular area into a well-fitted laundry space for a growing family. Install the washer and dryer on one side, with storage cupboards above.
Utilize the vertical area by creating a laundry tower with racks to store dry clothes and a basket for soiled clothes. A sink and trash pull-out attached to the laundry tower creates a compact space.
On the opposite side, install an ironing rack and a dry rack, with ample storage space for laundry utilities.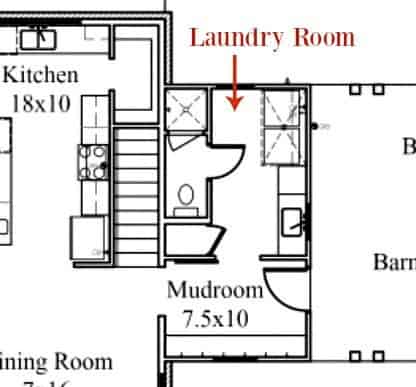 Ashley from Domestic Imperfection documents how they converted a passage into a laundry room in their farmhouse.
#5 Laundry Room-cum-Closet
A laundry room can be combined to create a walk-in closet if the master bedroom is nearby, and there is a common doorway. Stylize the laundry room with wooden flooring and shelves.
Connect the insulation with the entire home to protect the clothes and maintain room temperature.
You can fit in a countertop and backsplash, washer, and dryer fixtures with ample storage, faucet, multiple cabinets, clothing baskets, and wall-length storage cabinets.
As you can see here, the laundry room-cum-closet, documented on Chris Loves Julia, opens directly to the walk-in closet, storage cabinets, and the laundry space. It is neatly tucked at the back with sliding door access.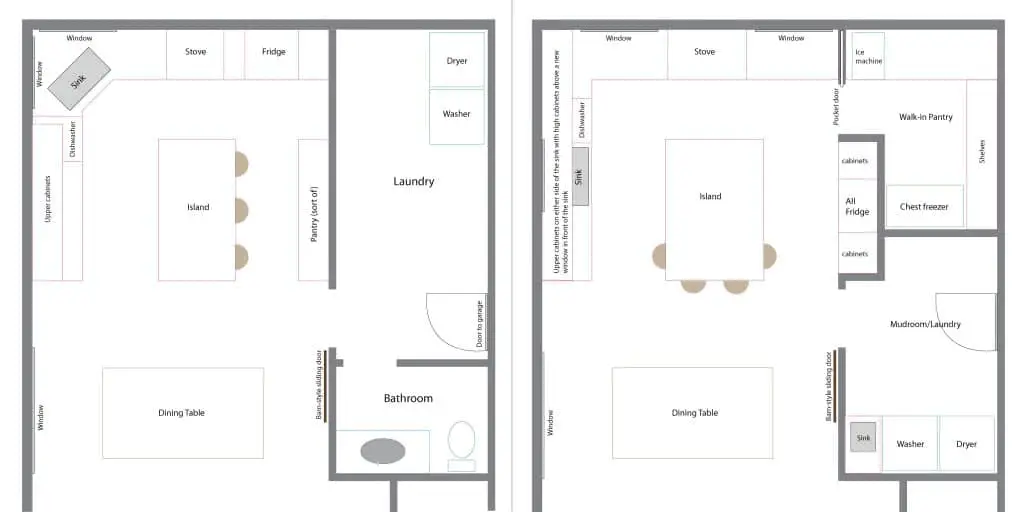 Source: Chris Loves Julia
#6 Basement Laundry Room
Basement laundry rooms are tricky to remodel. It is not uncommon to see a basement laundry room languishing in one corner for years because no one wants to deal with it.
But, a basement laundry room has tons of potential. It is in a secluded spot, doesn't disturb the whole household, and one can do laundry in peace.
You would want loads of lighting options and, if possible, have a small window that's easily accessible. Give it a clean and bright outlook with white paint.
Ideally, split the space into two sections: one section should have wall storage spaces for laundry accessories and clean clothes. The other section should have the washer, dryer, sink, and ironing necessities.
Remember, it can get moldy sometimes, so proper ventilation is a MUST!
A caveat that basement laundry rooms typically have is more square footage to work with.
Depending on your laundry appliances, you may also be able to use the vertical space to store various home appliances that could otherwise clutter your space, such as mini-split systems, and water heaters.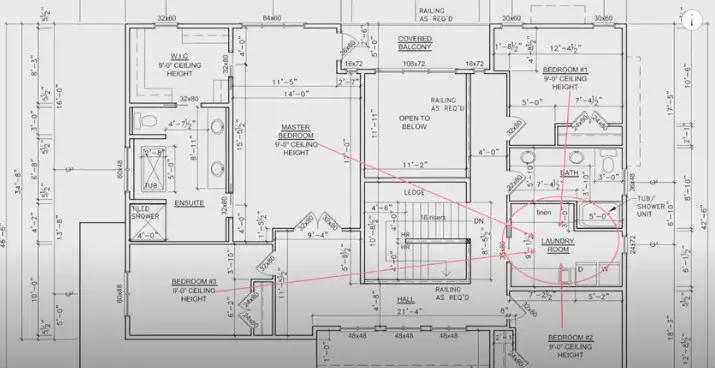 Check out the YouTube video by Emmett Leo Homes on how to plan your custom laundry room.
#7 Convertible Basement Laundry Room
If you don't want to spend much on remodeling and have a basic basement room, to begin with, this small laundry room idea would help you.
Spread out the laundry essential in a comfortable layout. Nicole from Making It Lovely shares a mockup of how she modified her dusty old basement to create an airy laundry room.
Keep the sink, washer, and dryer in one place, along with the hot water heater. The basement must have protruding pipes connecting the whole home; cover these pipes in an open cabinet covering for a prettier look.
On the side of the wall can have storage, clothes folding, and ironing space. Keep a chair or two around to enjoy a cup of tea while the laundry gets done. Install ample lighting and air the room frequently to prevent molding issues.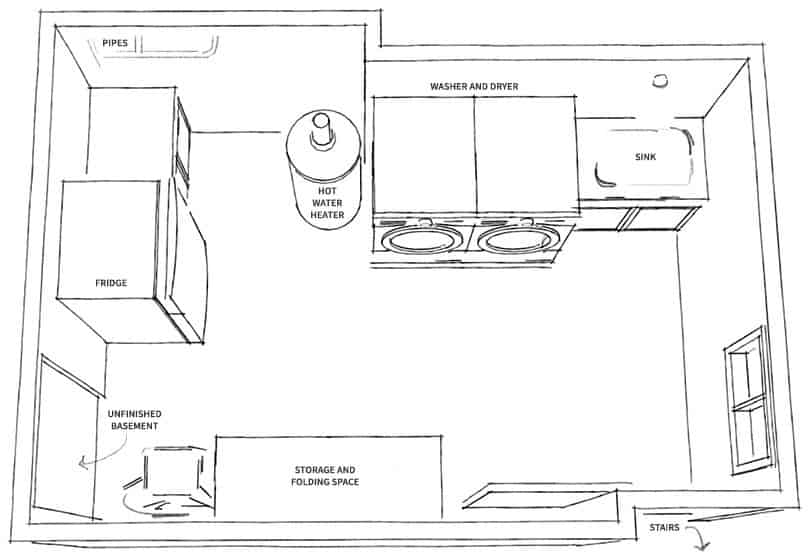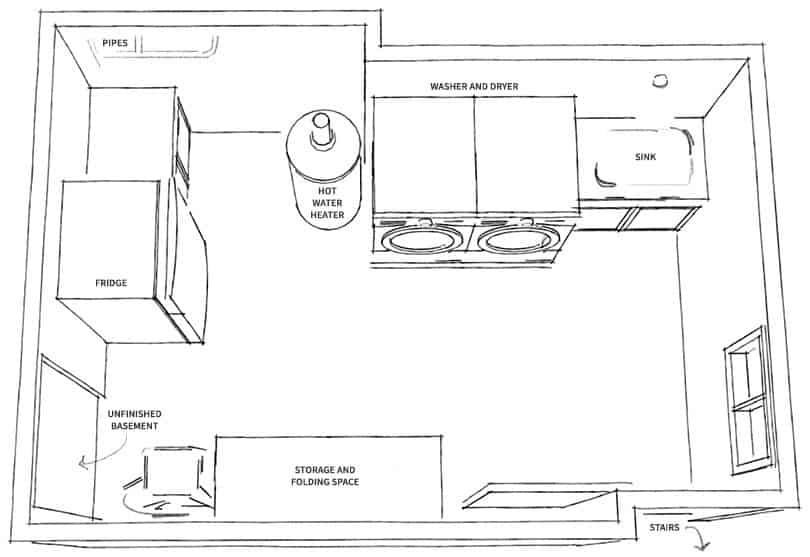 See Nicole bringing the idea to life on Making It Lovely.
Make laundry an easy job with these seven small laundry room floor plans. Small space should not become a deterrent to creating the perfect laundry room/mudroom.
Begin by studying the layout of the intended laundry space and think about how to organize it best.
Check this out: https://www.tileclub.com/blogs/news/