With 2021 well underway and the end of winter approaching, we can begin to look forward to some brighter, warmer weather in the spring and summer, as well as a bit more freedom and some sort of normality (hopefully).
Traditionally, the warmer weather in the spring gives us the perfect opportunity to start planning and making the initial arrangements for some much-needed home improvements that we've all been avoiding throughout the winter, particularly when it comes to the garden which is often the most neglected area of the home during periods bad weather.
One very simple but effective way that you can spruce up your outdoor area is by adding a brand-new deck where you can make the most of your garden and the weather at the same time.
Now, if you're not a very creative person and find choosing a design or style a little difficult, you can find some decking inspiration for your next garden project right here!
2021 Deck Ideas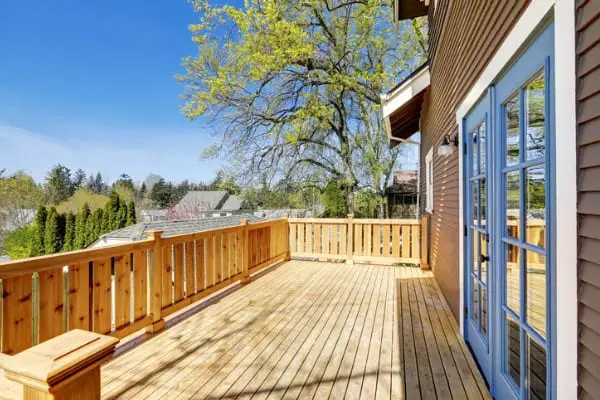 Covered decks
One of the most popular deck designs of recent times has most certainly been covered decks.
This is where a deck is installed and then covered using either a veranda, awning or pergola providing you with some much-needed protection from the elements when necessary.
Whether that be from the sun during the peak of the summer or the odd shower here and there, with a covered deck you can take advantage of your garden no matter the conditions.
Not only does a bit of cover provide you with some protection, but it can also complement the overall garden design with countless options available.
Choose a colored awning that matches the aesthetic of your outdoor space to take your deck to the next level!
Multi-layered decks
Why have one deck level when you can have two or three? Traditional deck designs feature a simple one-level deck that spans an area of your garden, often providing access to your home.
However, with designs becoming much more creative nowadays, multi-layered decks have become more and more popular amongst homeowners as they provide an extra dimension that you can work with.
Here you can really get your creative juices flowing with each level of the deck being home to a different outdoor feature.
For example, in a simple two-layered deck, you can install a quality outdoor BBQ on the higher level with some gorgeous garden furniture on the lower level. Both levels can be used simultaneously but in very different ways.
Add more levels to your design to get even more creative!
Accessorize all areas
Just like any form of interior or exterior design, the finishing touches that you add to your space can make all the difference to the final look.
Luckily, accessorizing your deck isn't as tiresome or complicated as you may initially think.
The great thing about accessories is that they can turn a simple design into something much more eye-catching.
So, if you find the design of your deck isn't as creative as you'd like and would like to give it a bit of a 'wow factor' then the right accessories can definitely help.
Choose from plant pots and garden furniture to hot tubs and deck fire pits, the choices are endless.
Also, if you find that you have some spare deck boards left over from your installation, you can even add a simple deck bench that matches the rest of your garden – perfect!
All of these things are more than achievable and will no doubt make your garden and deck look like something out of a magazine.
Composite deck boards are a great choice for creative deck designs thanks to their incredible low-maintenance and long-lasting capabilities!