Some of the best conversations happen around a fire pit.
And you won't believe how easy it is to build one for your deck!
DIYing a deck fire pit will give you an unlimited supply of great conversations for next to nothing!
But don't fret if you don't have a deck – you can use these ideas to build your own outdoor fire feature wherever you have room.
1. Voguish Fireplace
Pete's design will stay in style for the decades it's designed to last – it's SO chic!
It's a lot easier to build than it may seem. You only need to make the forms and pour the concrete. The right burner pan and stones will seal the stylish look.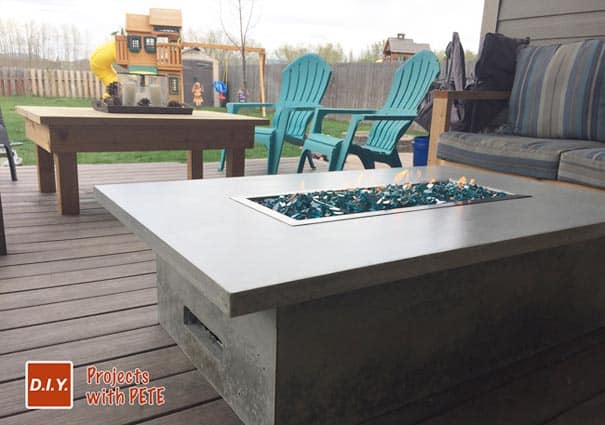 Pete goes into detail about his process on his blog DIYPete.com.
2. Neat and Minimalist Deck Fire Pit
Alex's fire pit design looks super clean and is very easy to execute.
You'll spend most of your time making the bottom frame. Making the forms and setting the concrete for the fire pit's top will take less effort.
Alex explains his process in great detail on his YouTube channel, Mr. Build It.
3. Elevated Deck With Slate-Finish Fire Pit
The simple elevated wooden deck enhances the slate-finished fire pits' charm.
You only need the right sized wood, some screws, and some bricks to pull this off!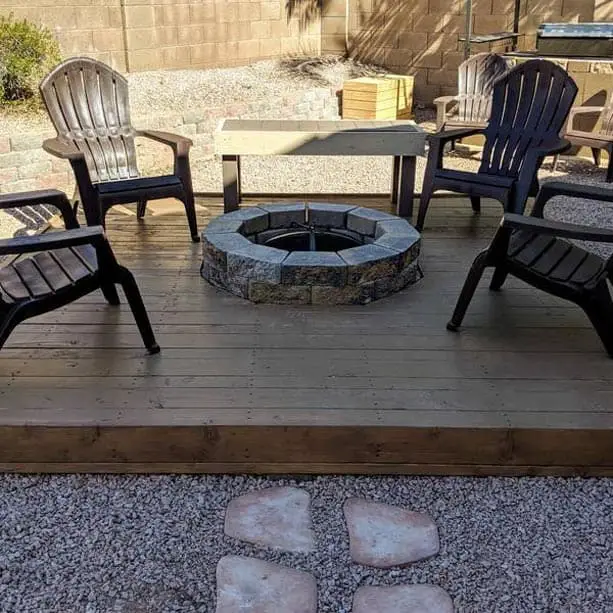 Ryobi Tools blogger PMCENANEY tells the story behind his fire pit here.
4. Elegant Propane Fire Pit
If you want to work with wood and not concrete, you can use the Modernize blog's idea.
After making the frame from wood, cut tiles up stylishly for the top.
Place the tray in the opening on the top, and BOOM, you have yourself an elegant fire pit!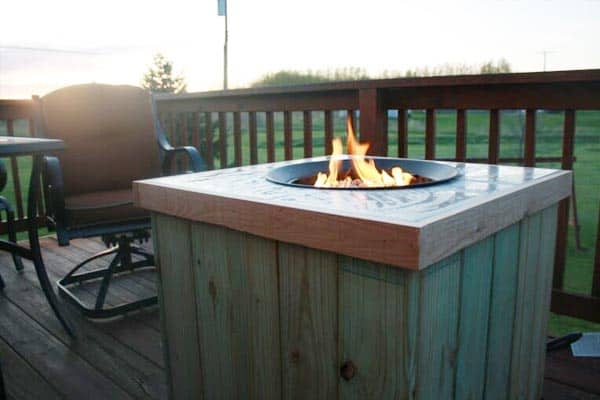 You can find the detailed instructions on the Modernize blog.
5. Graceful Stone Deck + Fire Pit
Stone complements grass exceptionally well – that's just how nature designed it to be!
Start by laying out the stone for the fire pit, then mortar it all in place. Add seat stones to the top, and fill the pit with sand and stones.
Build your deck AROUND the fire pit, placing stones in patterns, and build a seat wall to match.
DIYing this deck + fire pit is a sure-shot way to ensure you have the neighborhood's best deck.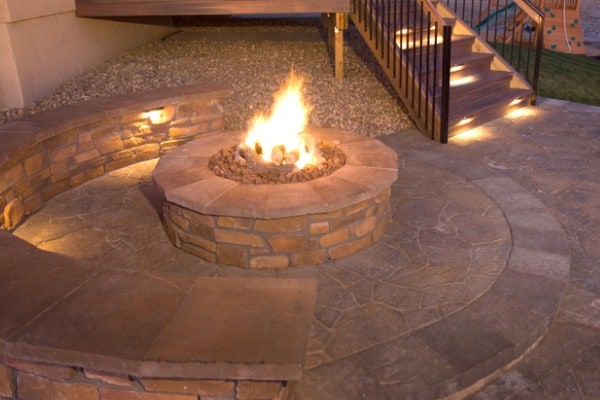 6. Wood Deck With Integrated Brick Fire Pit
Have a few pallets lying around?
You can make a deck out of those!
Screw pallets to deck boards like Zena did, and fill in the gaps with strips of wood.
Stack bricks together in a staggered pattern in the center, and line with sand.
That's it.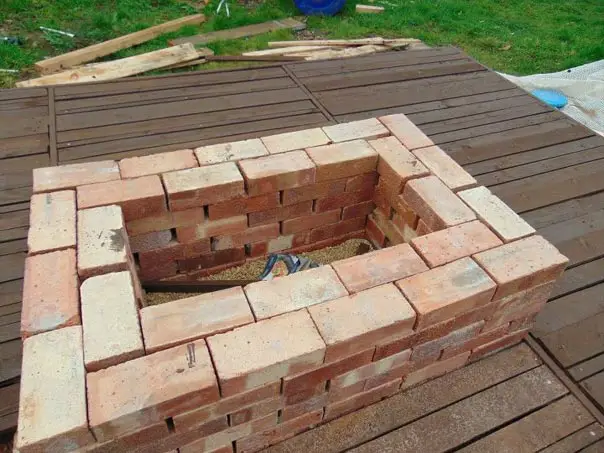 Zena Walker explains her process in detail on her post on the Hometalk blog.
7. Hazel Fire Pit for a Deck
Lane from the Maker's Lane YouTube channel uses mortar in favor of concrete, giving this rendition its hazel color.
After the two layers of mortar set, he makes the legs with square tubes.
The plain sideboards complement the hazel top beautifully!
8. Round Patio with Integrated Fireplace
This is DIY Pete's second entry on this list – his designs are super impressive!
But this time, the design is a lot simpler. You have to make two circular forms, with the second one much smaller than the other, and fill concrete between them.
9. Posh Rectangular Fire Pit for Deck
The design on the Family Handyman blog looks posher than the rest for two reasons:
The concrete is darkened using two bottles of Quikrete Liquid Cement Color dye, and Mark uses Cedar, which elevates the look.
Find out how Mark pulls off the posh look over at Family Handyman.
10. Quaint Metal Fire Bowl
I love this design because the soot the metal body collects makes it more attractive – cement and stone fire pits sometimes lose their charm because of the natural formation of soot.
You will need some metalworking experience to pull this off or find a good DIY fire pit bowl. But the retro look it will give your patio is simplistically attractive.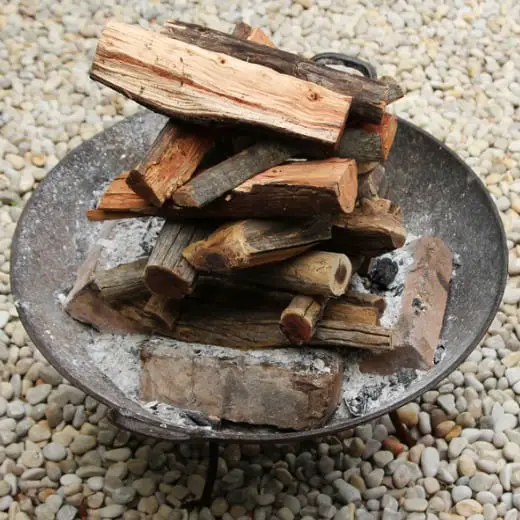 11. Refined Deck with Integrated Fire Pit
Pulling off Nick Walleck's exact design will require some landscaping, but you can also dig the yard to achieve the recessed effect.
The design by itself is simple – wood flooring with a rustic steel fire pit in the middle. It's the lighting, the yard work around the deck, and the TV's positioning that gives it a pacifying look.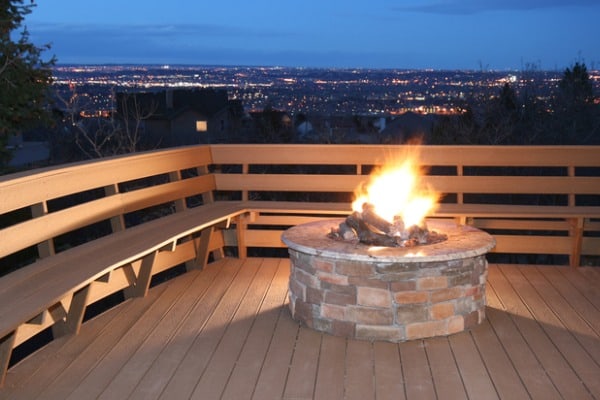 12. Classy Wine Barrel Fire Pit
If you can get your hands on a wine barrel, you can't miss the chance to make this classy fire pit.
Finding the right grill cover and drilling a hole in the right spot for the key valve is all you need to do!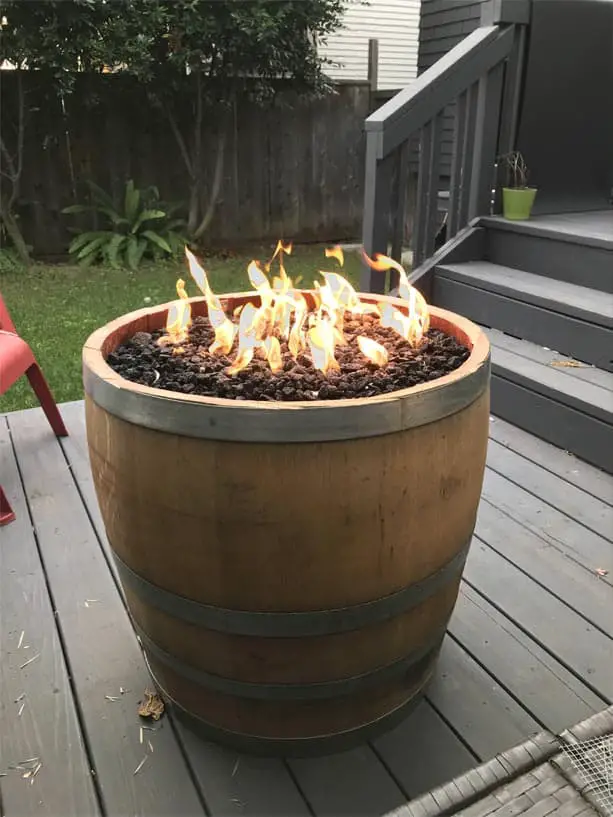 Learn how Reddit user /u/Wax-Poetic pulled it off by clicking here.
13. Exquisite Design
Greg Magnus's design bests anything you'll ever find at a store.
The granite top seals the exquisite look that the reclaimed wood base sets up to create this amazing fire pit table idea!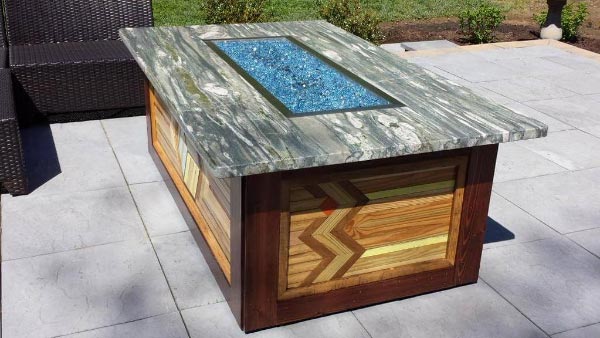 Find out how Greg DIYed a version that beats a $5,000 store-bought version on his blog post.
14. Cool Concrete Style for Patio or Deck
If you want something flashy on your deck, Michael from Michael Builds has just the fire pit design for you.
He makes a rectangular top with a rad-looking pattern integrated into it.
The wood bottom goes surprisingly well with the concrete top – and it too has rad patterns on it.
This build's for you if you want to be complimented EVERY time.
15. Minimalist Fire Pit (with a Twist)
While Mr. Build It's design is neat, not everybody likes a plain cylindrical fire pit.
YouTuber Shaloha Creations shapes his fire pit square, which gives it a modern twist.
But that's not even the best part – since it's propane-powered, adding a top to it as he does will convert it into a coffee table!
—
DIYing a deck fire pit is fun, and you'll feel great every time your fire pit gets a compliment.
Regardless of which project you decide to take up, though, remember to add a deck protector under the pit.
Remember: Safety comes first!