It is a nice feeling to utilize and consume clean water coming from bottles and the faucets overall. You guarantee that it is safe to drink and use and completely free from other unwanted minerals and microorganisms.
But do you know that multiple procedures are at work to make sure you get quality and safe water? Today, we will discuss one of those necessary methods: filtration. We will find out how filtration works, what it is, and everything in between.
Also, we will find out what you need to do to find and obtain the best faucet water filter money can purchase.
The Process Of Water Filtration
It is the reduction or removal of undesired materials and compounds present in water. These elements will have to go for you to have safe and clean water for a specific function, including food and drink, hygiene, cleaning, and so on.
Through the process of water filtration, you do not have to worry about compounds and materials, including the following:
Parasites
Suspended particles
Bacteria
Algae
Viruses
Metals
Fungi
Water filtration can also eliminate other biological components, as well as chemical contaminants. The entire process requires the utilization of a physical barrier or a chemical and biological approach.
Water Filtration Variations
There exist numerous variations of water filtration. Each kind has its unique function and specialty. Check them out below:
This type of filtration is one of the simplest methods out there. What happens is that the water goes through a piece of cloth. The cloth acts as a barrier that prevents solid materials and silt from moving on. In addition, the item can also eliminate specific pathogens.
This kind of filtration utilizes a special filter that individuals call a membrane. A membrane filter like this employs microfiltration and ultrafiltration that gets rid of bacteria present in the water. Membrane filtration also acts as the first step before water undergoes other processes, including osmosis.
A filter uses gravity to pull the liquid. The process also uses other steps, including sedimentation, flocculation, Straining, and particle interception.
In this kind of filtration, there are pressure filters in the overall vessel that handle the process. Then, steel plate nozzles and pipes collect the processed water for distribution.
With media filtration, the water undergoes a selected filter medium. Examples of medium filters include sand filters, activated carbon, metal screen, woven and non-woven fabric.
So How Does Filtration Improve Water Quality?
The process eliminates all sorts of undesired compounds and microorganisms present in the water. There are several kinds of filtration approaches that deal with specific unwanted materials and minerals. Each of these methods will guarantee that the water coming from pipes and faucets is clean, safe, and ready to use.
Is Water Filtration Necessary At All?
If you want to have safe water to drink and clean water for everyday use, then that is a solid yes. Besides, water filtration has several benefits you can take advantage of at any time. Here are some of them:
Thanks to water filtration, you do not have to worry about pesky things in the water. With an efficient water filter system, the water you use and drink does not negatively impact your body.
When you employ water filtration, there will be no need to purchase water from outlets and shops. This aspect lets you save more cash. It beats buying crates of bottled water every week or so.
In addition, you can flex your inner eco-warrior when you use a water filter. With water filtration, you reduce the consumption of bottled water. As a result, you save on resources that water processing may require. It is one decent practice when you get rid of plastic bottles in your home once and for all.
Unprocessed water can damage and clog the plumbing system in your home. If you leave the system unchecked, it will wear down and rust. However, you do not need to stress yourself with all of that, thanks to water filtration. The process will make sure the water does not have components that may affect plumbing.
There is nothing more relaxing than a well-deserved shower or bath. With water filtration, your bathing and shower experience becomes better. The processed water does not harm your skin, and it gives it a decent glow.
There are instances that your laundry turns out a bit dark and dry. Say farewell to all of that with water filtration. The processed water makes the clothes softer, brighter, and way cleaner.
Water is one of the most crucial aspects of a person's survival and longevity. So it is paramount that you consume water for better health. Water filtration allows you to enjoy the water that tastes better.
Finding An Ideal Faucet Water Filter
Your best course of action would be to look at shops and outlets online. The internet will be your best friend as you peruse water filters that may cater to your requirements. In addition to all of that, shopping online has numerous advantages. Check them out:
You can do the shopping from the safety of your home
You have access to thousands of water filter websites
You do not need to spend money on gas and other public transportation expenses
You may browse a catalog with ease
You can do all the shopping you want any time of the week
You may have a company deliver your water filtration system directly to your doorstep
You will land neat discounts
Sites and platforms can educate you with aspects and matters regarding water filters
Start With Filtration Today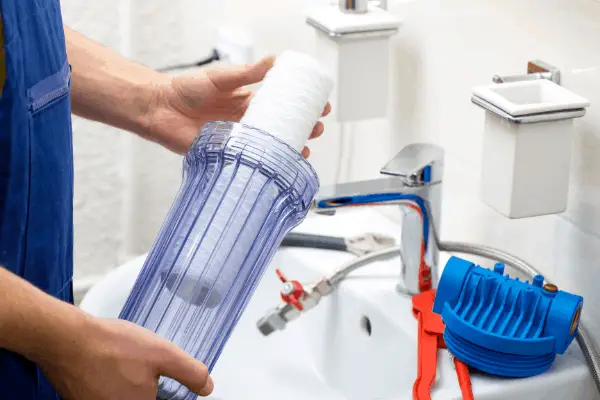 Opting for water filtration will save you a lot of time, resources, and money. Having a water filtration system in your commercial or residential property is one of the best investments you can make.
Not only does water filtration make your water taste better. It has numerous benefits you can reap for yourself and your family.
Related Articles: