Do you want to give your kitchen a new face but wondering where to start? We are here to help you.
A kitchen is one of the busiest and special rooms in every house – which is why most homeowners will do anything to keep it functional and efficient.
Kitchen remodeling is not only stressful but also time-consuming especially if you plan to DIY the project. And if you decide to call a remodeling expert, you should be ready to incur costs but sometimes that's best.
We spoke to Austin At Palm Beach Premier Remodeling, a south Florida kitchen remodeling company, to get their take.
According to Austin Doherty of Palm Beach Premier Remodeling, it may be costly but with the right team, a kitchen remodel can increase your home's value and comfort levels, create more space, and enable you to sell your home faster and at a higher price.
Here is a guide to help you spruce up your kitchen!
1. Identify your needs and wishes
Why do you want to remodel your kitchen? Are there any specific additions you want your kitchen to have? How do you want your kitchen to look after the remodel?
These are some of the questions you need to answer before you kick start your project. When assessing your needs and desires, make sure you get opinions from every person in your family who uses the kitchen.
For starters, identify some of the challenges you are experiencing when using your current kitchen. Is there enough space to cook effectively? Do you have enough storage space to keep your dishware and food? Is there a dining area?
People have different needs and reasons for a kitchen remodeling. Some feel that the kitchen and the appliances are too old. Others are inspired by trends. In any way, just find a reason for conducting the remodel.
2. Align your needs and wishes with reality
It is good and possible to have extreme desires on how your new kitchen should look like. But can you meet those needs?
This is the point you need to sit down with a pen and paper and make a plan. Don't just create desires in your head without knowing what it will cost to achieve them.
In your plan, jot down all your needs; new additions, the ceiling, storage space, paint, floor, and many more.
On the list, identify the things you can afford and those you can't. Identify all the expenses and include them in your budget. Also, it is recommended to set the budget slightly higher so that the excess money can cover unforeseen expenses.
If you find it hard to plan and budget for your kitchen remodeling project, you can get help from a professional.
3. Decide on who to conduct the project
It's either you will do the project yourself, or you will get a professional to help you do it perfectly. Every choice you make will have its pros and cons.
For instance, if you choose to DIY the project, you will save some cash and also you'll have a sense of control and pride. However, the project will take longer and you may not have the required tools and equipment.
On the other hand, if you hire a professional, the project will be done in less time since they have the skills and experience.
Also, they have all the tools and equipment needed to successfully remodel your kitchen. The downside is that it may be expensive to hire contractors.
Tip: it is best to hire a professional for the kitchen remodel rather than do it yourself. Kitchen remodeling experts have the knowledge, skills, and experience to do the job in less time. Besides, it may seem costly at first, but it will save you some cash in the long run.
4. Get the necessary permits
If you plan to do a major kitchen remodel, then you will need to get the necessary permits. This is especially if the project involves plumbing and electrical work.
You should know that different states have different permitting laws and requirements. Some permits require inspection of the building while others are issued on site.
However, not all kitchen remodeling projects require permits. Things like installing a new floor, repainting cabinets, replacing the faucet, and installing countertops do not require a permit.
5. Prepare for the remodel
You may not be able to access your kitchen when it is being remodeled. Most of your kitchen appliances will be disconnected and you won't be able to use them.
You must make plans on how you will cook your meals during this period. Besides, you must prepare your kitchen for the remodeling.
You can start by choosing one room in your main house and make it your temporary kitchen. If possible, move a few kitchen appliances to the room and leave the rest. You can make other arrangements like eating in restaurants.
6. Begin the project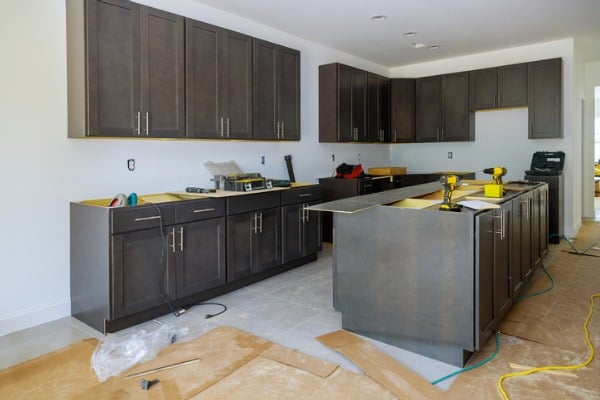 Once you've identified your wishes, made a plan, got the necessary permits, and made arrangements for your meals, you are now set to begin the project.
Here are a few ideas to get you started.
Install more cabinets to create more space for storage. If the room is small, get creative and build the cabinets going up.
Make a replacement for dated plumbing. Add some lights to brighten up the kitchen. Apply your desired paint on the walls and the ceiling. You may want to change your ceiling before painting it.
Get some new appliances like a refrigerator, stove, and other additions you may want. Also, don't forget about the baseboards and the flooring.
Once everything is done, give yourself a tap on the back, you made it.