As a home owner, it's your responsibility to ensure the cleanliness and beauty of your property.
Apart from keeping your lawns and walls presentable, you need to ensure that your windows are clean.
Whoever said 'if you want something done right, do it yourself' may not have been faced with the task of window cleaning.
To always have clean windows without having to wipe them yourself, it's best to hiring a window cleaning service.
A window cleaning service can provide you with amazing expertise and, of course, convenience that'll surely make your home comfortable and clean.
Luckily, there are many companies now providing exactly this service, such as Window Cleaning People.
Below are some tips on how to hire the right window cleaning service:
Confirm Proof Of Insurance
Cleaning windows is a risky task, especially if one's doing it from the top of the building.
You can just imagine the horror when an accident occurs while someone you hired is cleaning your windows on the 40th floor.
To avoid any uncomfortable and inconvenient scenarios, you should ask the window cleaning service if they have any insurance.
This way, you won't be liable for any damages and expenses in case of any accidents while they're working on your windows.
You should verify the legitimacy of their insurance. The insurance should cover their company and every worker on the field.
Check Qualifications
The last thing you'd want to happen is to hire unqualified people to work on a dangerous job.
Even if insured, it'll be nice if they're qualified to be on the field by knowing exactly what they're doing.
To confirm their qualification, you should ask for the company's license and see if it's still valid.
Licenses usually expire annually and require renewal for them to remain valid.
If a company still hasn't or has trouble getting one, view this as a red flag.
This could mean they're not following the standards or aren't qualified to perform the job.
Ask For References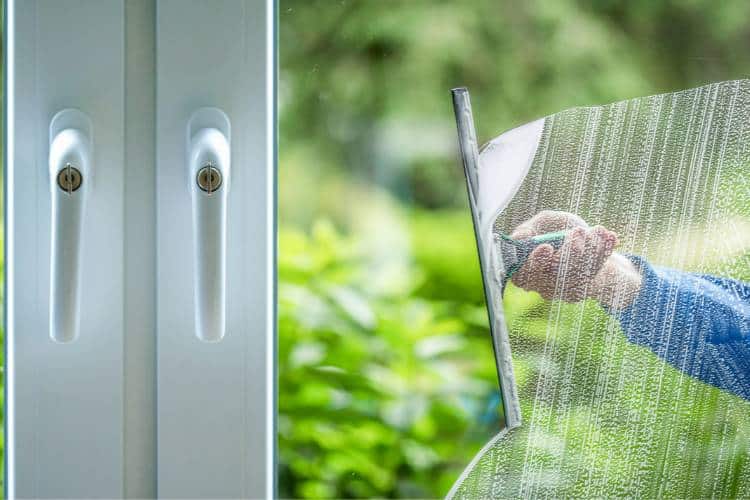 If you already know someone with experience hiring window cleaners for their home or establishment, you might want to ask for their recommendations.
This'll be a better way to find the right window cleaning service as you'll have an honest opinion on how they perform.
Alternatively, if you don't know anyone who had a great experience hiring a window cleaning service, you should confirm the validity and quality of service with the service provider you are looking to hire.
You can ask for references you can check, which allows you to read reviews from their service.
Apart from what they can provide, it'll be helpful if you search for reviews online yourself.
Look at various blogs and groups and get opinions from as many people as possible.
See Other Services Offered
Most window cleaning services offer other services for their customers. They can provide eavestrough, power, roof, or house cleaning.
Even if you don't necessarily need them right now, it'll be great to book one that can offer these services in case you want one for your home.
If you already know firsthand that provide superb window cleaning service, you somehow have a guarantee you'll get the same amount of quality and professionalism for their other services.
Inquire About Experience In The Field
While it's not a requirement, most people prefer working with a company that's been in the field for at least a couple of years.
This means that they have plenty of hands-on experience handling various cases.
If you prefer to hire someone with plenty of knowledge in the field, you need to inquire about how long they have been in the area, along with what kind of experiences and special cases they've encountered.
Verify Employee Safety Training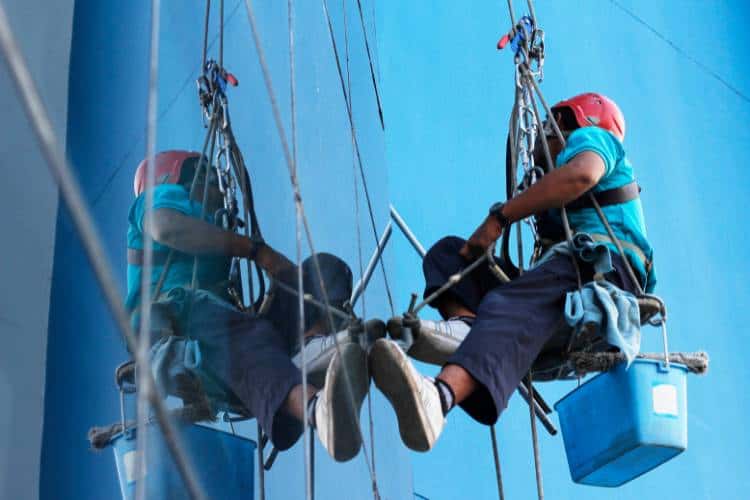 Safety should be a consideration when hiring window cleaning services.
Since they're working outdoors and handling high floors, the last thing you'd want to happen is for them to catch an accident, which can result in injuries.
To put you at peace, you could ask the company if they provide regular safety training to ensure that everyone's still updated about property safety practices.
Ideally, they should be holding quarterly training to keep them on track.
Apart from the regular training, you should confirm with the company if they conduct background checks before hiring their employees.
This should include previous job references or criminal records. Moreover, you should also ask if they have any pending cases you should be worried about.
Ask For A Quotation
Of course, budget plays an important role before you hire someone. To avoid surprising yourself with a price, you should ask for a quotation first from the cleaning service.
While some companies can give you a quote through a phone call or email, it'll be better if someone does a quick visit instead.
This way, they can be more accurate about their estimation.
Even if you have an unlimited budget, you need to ensure you're getting what you've paid for.
When a company asks for a higher rate, it doesn't automatically translate to good quality service.
With that, you need to ensure that their rate matches their service by looking at reviews online.
Contact Different Companies
Try not to book the first company that you come across with just so you can get over the task of hiring a window cleaning service.
While they may provide you with amazing deals and offers, you should check other companies' rates and services and see if they can match what you initially have in mind.
Gather as many companies as possible and see which one you'll be most comfortable with. You can even create pros and cons for each to help you decide.
Takeaway
Hiring a window cleaning service can provide your home with plenty of amazing benefits.
All the tips discussed above may seem much, but as you ask all these questions and verify their credibility, you are more likely to find one that best suits your needs and budget.
The search may take a while, but finding a company you can trust makes it worthwhile.