When it comes to choosing the perfect window shades for your home, one size definitely does not fit all.
Each room in your house serves a different purpose and has unique requirements, which means that the ideal window shades should be carefully selected to suit the needs of the space.
Whether you're looking for privacy, light control, or simply want to enhance the aesthetics of a room, we've got you covered.
In this comprehensive guide, we'll explore the best window shades for every major room in your house, from the living room to the conservatory.
Living Room: The Hub of Your Home
Your living room is where you unwind, entertain guests, and often enjoy your favorite TV shows and movies.
Therefore, the window shades you choose should strike a balance between maintaining brightness and preventing screen glare.
For the living room, we recommend:
Dimout Fabric Blinds or Curtains
Dimout or screen fabric blinds and curtains are perfect for the living room.
They allow just the right amount of natural light to filter in, ensuring a well-lit and inviting space.
These shades are particularly effective at reducing glare on your television screen, making them an excellent choice for movie nights.
Plus, they offer the added benefit of ensuring your privacy from prying eyes outside.
Kitchen: Where Delicious Meals Are Created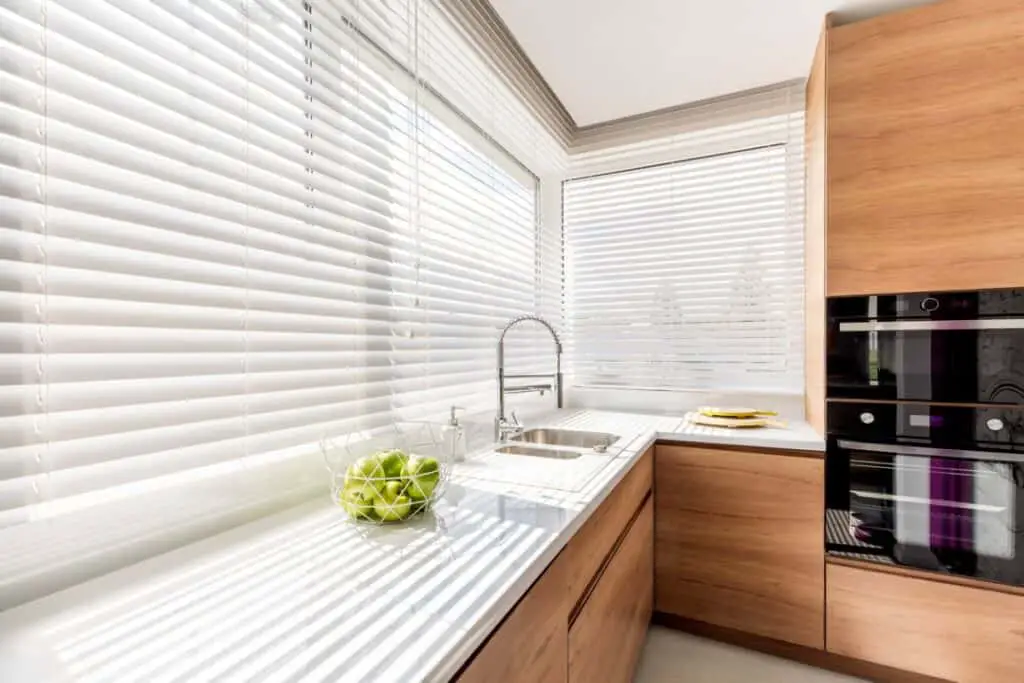 The kitchen is a high-traffic area where spills and splatters are common occurrences, therefore your kitchen window shades should be easy to clean and maintain, you can ensure this by purchasing shades made from a wipe clean PVC fabric.
For the kitchen, we recommend:
Vertical Blinds or Roller Blinds Made from Wipe-Clean PVC Fabric
Vertical blinds and roller blinds made from wipe-clean PVC fabric are the ideal choice for your kitchen.
They are not only easy to clean but also highly durable, standing up to the challenges of a busy cooking space.
These shades come in a variety of styles and colors to complement your kitchen decor seamlessly.
Bathroom: A Sanctuary of Serenity
In the bathroom, privacy and water resistance are paramount, so you need a window shade that can withstand the constant barrage of water and steam, whilst maintaining your privacy.
Traditional fabric blinds or curtains won't do the trick here. For the bathroom, we recommend:
Roller Blinds Made from Water-Resistant PVC Fabric or Faux Wood Venetian Blinds
Roller blinds made from water-resistant PVC fabric or faux wood Venetian blinds are designed to withstand the moisture-rich environment of the bathroom.
They are not only resistant to water damage but also easy to clean, ensuring a fresh and hygienic atmosphere.
Bedroom: Your Personal Oasis
Your bedroom is your sanctuary, and the quality of your sleep is of utmost importance.
That's why you need window shades that create a dark and tranquil sleeping environment. For the bedroom, we recommend:
Total Blackout Cassette Blinds or Blackout Curtains
For a truly restful night's sleep, consider total blackout cassette blinds or blackout curtains. These options block out 100% of light, creating a cocoon of darkness that promotes deep and uninterrupted sleep. Unlike some other blind types, they leave no room for light leakage, ensuring you wake up feeling refreshed.
Dining Room: A Place for Elegance
In the dining room, aesthetics often take centre stage.
While there are no specific shading needs, you can elevate the elegance of your dining area with the right window shades. For the dining room, we recommend:
Roman Blinds
Roman blinds are a popular choice for dining rooms due to their luxurious and high-end appearance.
They add a touch of sophistication to your dining area while providing you with the flexibility to adjust the incoming light as desired.
Conservatory: Embracing the Outdoors
Conservatories are unique spaces that bridge the gap between the indoors and the outdoors, Conservatories spaces are very versatile, having lots of functions, so you will need a shade as versatile as your conservatory space.
When it comes to conservatory window shades, we recommend:
Clic-Fit Conservatory Blinds
Clic-Fit Conservatory blinds are specifically designed for use in conservatories.
They offer a seamless fit by clipping into each window panel, eliminating the need for power tools during installation.
These blinds allow you to control the amount of sunlight and heat that enters your conservatory, creating a comfortable and inviting space all year round.
In conclusion, selecting the right window shades for each room in your house can greatly enhance both functionality and aesthetics.
By considering the unique needs of each space, such as privacy, light control, and maintenance, you can create a comfortable and stylish living environment that suits your lifestyle.
Whether you're entertaining guests in the living room, preparing meals in the kitchen, or relaxing in your bedroom, the perfect window shades are just a choice away.
Make your house a home with window shades that cater to your every need.