Homeowners are spending more money to remodel their kitchen and dining areas now that we're spending more time making meals at home.
According to a 2020 survey, there was a 40 percent jump in demand for kitchen renovation projects compared with a year ago.
Moreover, there has been an increase in sales of kitchen appliances and accessories, since some homeowners chose to do a mini refresh rather than a complete renovation.
If you've got a small kitchen and dining area and you're unsure of what to do to make a significant change, don't fret. Here are some brilliant design ideas to help you upgrade your cooking and dining space.
Switch to Small Scale Appliances
Small scale appliances have become increasingly popular over the years, since they're easier to maintain, consume less energy, and have luxury features that can modernize any kitchen.
Industry experts predict that the small appliance market will continue to generate big earnings from this year up to 2027, and more companies are expected to churn out small kitchen appliances in the coming years.
Consider swapping your old cooker for a 24-inch range, and add a compact microwave the fits right above the range.
You can also get a 24-inch wide small space freezer refrigerator with unexpected storage zones to maximize your appliance.
To keep kitchen appliances in good condition, don't forget to give them a thorough clean regularly.
Microwaves should be wiped clean after every use to prevent grime and grease from accumulating inside the device, which can affect its performance.
Refrigerators should be deep cleaned once every few months, while ovens should be cleaned once a month.
Replace Cabinets with Shelves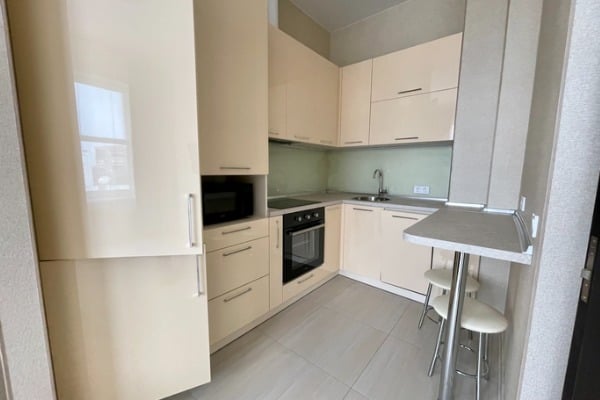 If you've got a small kitchen and dining room combo in your home, you can make it look larger by replacing all the cabinets with open shelves.
Conventional cabinets may keep your living spaces organized, but they can dominate a room and use space inefficiently.
By installing customized floating shelves in your kitchen & dining walls, you'll have an easier time organizing your dishes, tools and decorative items, and you can even create amazing displays to make your kitchen/dining combo more attractive.
Embrace Community and Elegance
Opt for a large communal table or modern inspired breakfast bar for a trendy take on informal dining.
The idea works especially well in an open-concept kitchen and dining room.
In this setup, the breakfast bar works as a divider to separate and fulfill the needs of the two spaces.
If you're working with a tight area, try setting the dining table on casters for a movable breakfast bar with more flexibility.
Go ahead and use materials that bring elegance without breaking the bank.
Shop thrift stores for furniture make-over opportunities or buy a cheap marble dining table and chairs for sale from a reputable store like Furniture in Fashion – see here!
You'll wow your guests and even yourself every day you live in your home.
Create a Chic Booth
Make the most out of a narrow dining space by creating a booth with two built-in banquets.
Have it custom-built so that it has room for your entire family, and maximize it by adding built-in storage under the seats.
Choose natural, light-colored woods for your booth, or paint them white to reflect light and make your eating space look bigger and brighter.
Meanwhile, for those who want to keep their existing table but want to make their eating space less cramped, consider replacing two chairs with a bench.
This works well for a rectangular table, and you can place the bench along the side that's near a wall. It can sit two adults or three children, and it neatly tucks away under the table to create more space for you to move around.
If you're cooking and eating spaces are in dire need of a makeover, consider making these small changes that yield maximum impact.
Try customizing your appliances, storage solutions, and seating to have a more functional, spacious and beautiful kitchen like these and dining area.