You can easily run into many people who love animals more than other humans for a variety of reasons.
However, not every animal admirer is ready to get a pet. Such a decision involves a high level of responsibility and unforeseen troubles.
For example, a cat may leave scratches on a sofa, or a dog can chew your shoes and wake you up too early!
Besides, some people reject the idea of getting a four-legged friend because they don't want to meet the true demands of care taking for one.
Even if they just need to read soulistic cat food reviews (see at: topratedcatfoods.com) and similar articles to get the essence of feeding a cat, for example.
And a third category is afraid that a pet's essentials will not fit their interior design.
Well, indeed, if you have spent a fortune on your design, you would hardly want to spoil the job after all the work you've put in.
However, there is always a way out if a desire to get a furry friend tips the scale.
You should just consider a few things to choose the most suitable option that will please your pet and fit perfectly in your apartment.
Choose a suitable spot
The very thing you should do when picking up the right bed for your pet is to decide on your apartment's area that is suitable for your pet to sleep in.
It should be a quiet place that will not make it difficult for you to move through the house.
Pay attention to the size restrictions of the chosen area before you proceed to purchasing the bed.
Pets sleep for about twelve hours a day, so it is worth considering this moment when selecting the spot.
With both your pet and your interior decor in mind, you'll want to pick up a high quality bed, like the 5-star pet bed options that are available on the market today.
Determine your style
If you are serious about your interior design, you know everything about your apartment's style and décor elements in it. Are you an admirer of contemporary, classic, or high-tech style? You can search for your pet's bed on the Internet, specifying the desired parameters.
Things that will look awesome in the loft-style apartment may look weird in a posh Victorian-style mansion.
Integrate
The most effective way to make your pet's bed not look like a black sheep in your interior design is to look for a place that you can integrate your four-legged friend's bed into.
Maybe there is a suitable place under your working table, or you can use your stairs to arrange a pet's bed in it. If there is the smallest opportunity to integrate your furry friend's bed into your interior design and décor elements, use it.
Choose the right color and pattern
Fortunately, the modern market offers a tremendous number of options to satisfy even the pickiest clients. In fact, the Internet provides all possible sites to stay a good pet owner. For example, you can visit toprateddogfoods.com to treat your furry friend only with high-quality goodies.
Thus, the chances are high that it will not take long to find an online store with pet beds that will meet your requirements in terms of décor. You can run into various styles of pet beds that differ in shapes, prints, and colors. If your furniture, curtains, or pillows have a specific pattern, you can search for suitable colors and patterns.
Choose materials that are resistant to stains
Creating the perfect home for you and your pet is often a challenge, so you should devote special attention to choosing the right furniture with suitable fabrics. You will hardly find a fabric that resists all kinds of strains, but some materials are more resistant to wear and tear than others.
Decide on what stains and marks your pet can potentially leave on your furniture. Porous materials such as velvet and velour are the least suitable, while microfiber, tweed, and even covers made from durable cotton can be good options.
Many professional cleaners suggest protecting furniture by spraying it with chemicals that repel dirt, wool, and stains. It may help temporarily but will hardly work in the long run with pets. And pet owners should be extremely careful with any chemicals and opt for eco-friendly options.
Choose a separate bed for your pet
Many pet owners believe that a separate piece of furniture for an animal is a waste of money. However, your four-legged friend must have its private space. Thus, it is worth purchasing its bed.
Companies have already started creating very stylish pet furniture that perfectly fits the chosen design.
Pet stores also have great options that look like miniature versions of human furniture. When choosing furniture for your pet, consider a size that will suit your room and your pet. A small pet bed can look great in the store, but it can be bulky for your house.
Make your pet's bed a safety zone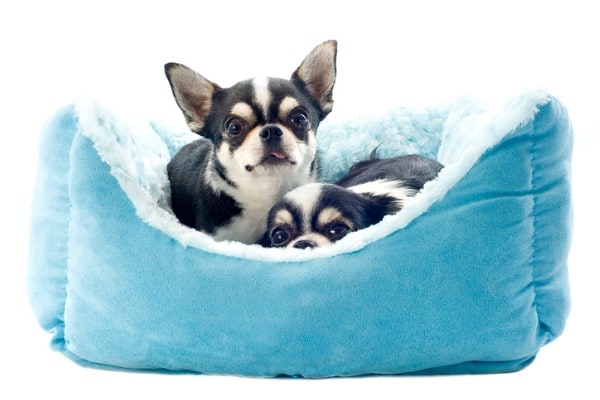 Your pet's place should become its safety zone. Thus, you shouldn't punish the animal, place other things or objects, sit down yourself or let other animals lay on it. If you choose a pet for an adult pet, it is worth cheering up the pet with a delicious treat.
In case of a categorical refusal to stay on the bed, you should try to move the object or examine its composition for the presence of allergens and sharp parts.