A few of you (ahem… Caleisha and Stephanie) noticed a sneak peak of this little holiday decoration over on Instagram recently.
I got the idea for this DIY from this adorable mini mitten garland at Anthropologie last year. I wanted to create my own, but on a larger scale.
Ready to make some warm and cozy holiday decor?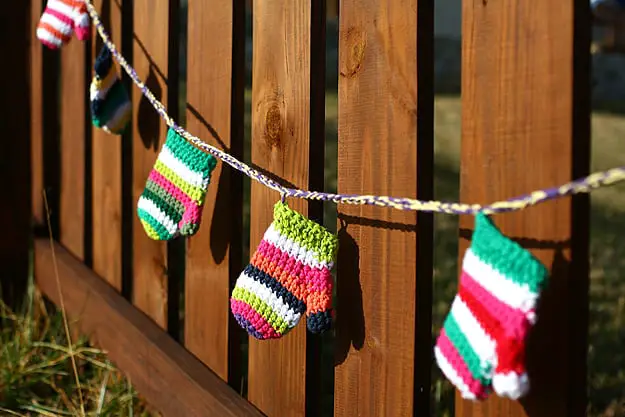 How to Make Your Own Mitten Garland
I crocheted my own mittens using a pattern from Tangled, which is no longer available, but no worries I found a similar free pattern Crochet Me.
If you don't crochet, you could get the look by finding mittens at thrift stores, re-using your kids' old mittens when they grow out of them, or buying mittens out of season when you can get a good deal on them.
You could also cut mitten shapes out of felt to get a similar look. Once you have your mittens, all that is left is to attach them to some string, twine or ribbon for the garland effect. I tied mine to a length of crochet chain stitch.
When it comes to colors, there's no limit of course. Go with whatever yarn you have for a festive spirit. Red and white or gold and white would be elegant.
Depending on your decor a white mitten garland design would be breathtaking against a darker backdrop. Be creative!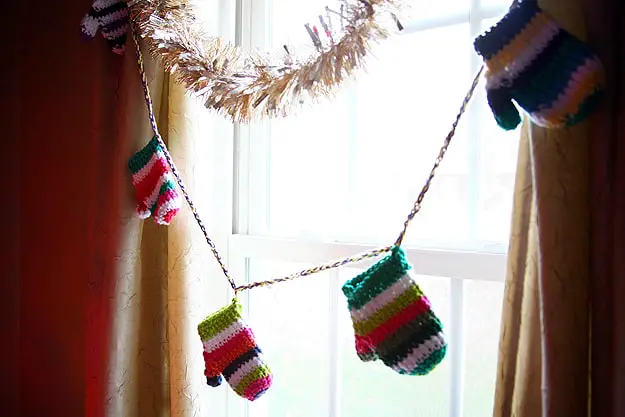 These looks so fun when draped or looped outdoors along railings, fences, between trees or even around and over your front door.
Indoors can work of course too, wherever you want to "warm" up the look of your home during the cold months. Windows, going up stairs and around large piece of furniture like a buffet would look great.
One idea is you could put them along your mantel and turn them upside down (so the hand openings face up). Then, drop little gifts inside as you count down to the holidays. Who knew a DIY mitten garland project could server many purposes?
Enjoy making these, and enjoy the comfy feel they provide even more!
Now, how is that for some cozy holiday decor??