Want to have a fun movie theater room experience?
You can convert the family room or a spare room with a movie theater themed decor. Spend weekends or early nights catching up on movies with the whole family. How does that sound?
Zombie pillows, movie room wall art, a candy maker, or a real popcorn maker on the side makes for a real movie theater experience without stepping out of the home even for a bit!
If you are struggling for ideas, read our curated list of movie room decor ideas to get you started instantly.
#1 "Admit One" Tickets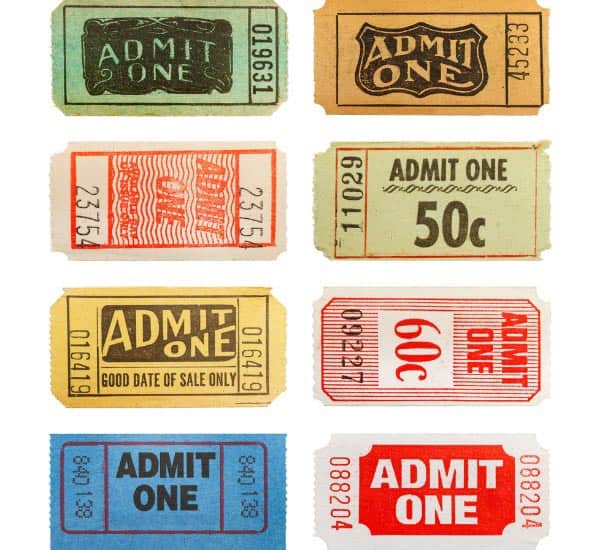 Fashion movie tickets with craft paper.
A quick and easy DIY to give the movie room a semblance of a real movie theater.
Movie time should be fun; every moviegoer in the family should have one of these tickets to enter the movie room!
Design the movie tickets as you like, color them, and cut to size….that's all!
#2 Movie Hall Entrance
Turn the hallway leading to the movie room into a typical movie entrance setup. Put up lighted movie poster frames and vinyl wall decals. Give the walls a fresh coat of paint.
Any old ceiling fans can be replaced with modern ceiling fans like these or with dim lighted overhead lamps, the kind you see lining up the passageways leading to the theater room. The lighting panels should blend with the interiors
Do a quick DIY to write "Theater" in bold on a wooden plank and screw it above the door panel. Accessorize with small LED lights around the corner.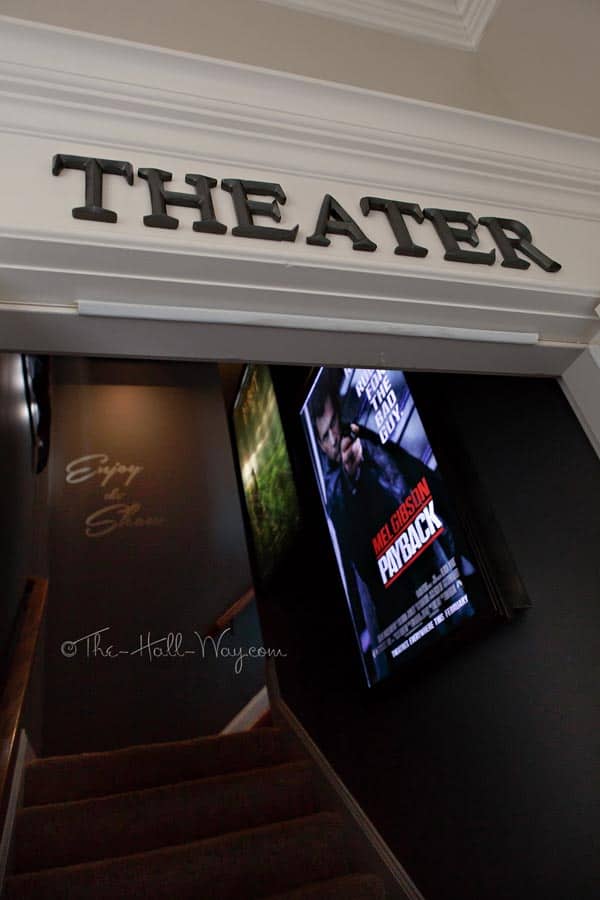 See a 'before' and 'after' of how a blogger on The Hall Way transformed their spare room into a movie room with a customized movie hall entrance.
#3 Film Reel Accent Table
This is a really nice piece that can really set off a movie room at home.
The vintage tripod based topped with and old movie reel is the perfect combination.
Use next to your couch or have two flanking your big screen TV. It's functional, movie themed decor at its finest.
Check this on out at Amazon
#4 Vintage Dominoes Wall Hanging
Retained this. Perfectly good DIY idea for a movie room decor. Creative and goes well with the ethos of a movie room. Rest changed as given in the feedback message.
If you want to give the movie room a rustic gamified look, a vintage dominoes wall hanging is marvelous among movie room decor ideas.
You can hang the vintage dominoes wall art as art panels surrounding the TV screen. Randomize the pattern setup as you wish to.
All you need are pieces of fine lumber to make the dominoes measuring 16 inches each. Cut a batch of 8 to 10 pieces. Sand the sides to give it the shape of a domino.
Give the dominoes a base color such as off-white or light pink to offset the satin black color used for the dots. After the paint completely dries, use wood polish for a glossy and shiny vintage look.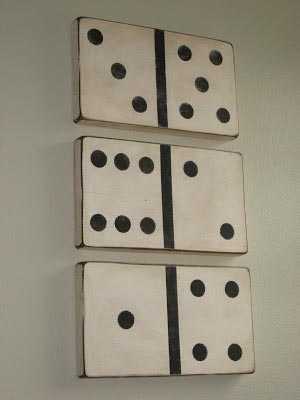 Whitney and Ashley created these beautiful vintage dominoes for their homes. Read the DIY journey at Infarrantly Creative.
#5 Decorative Movie Throw Pillow Case
These are simply splendid because they hit several film elements in one.
The best part is you can dress up something you already have in your living room or movie room – throw pillows!
Simply slip these cases on, and spread about your couch for both comfort and to get your viewers in the spirit.
You can buy these on Amazon
#6 Rustic Wood TV Console
If you do not want to attach the TV unit to the wall, you would need a console unit to keep the TV and store other accessories.
You can fashion a rustic wood TV entertainment center with mahogany wood. Build a two-level console unit with a tabletop to place the TV unit.
The console can double up as a storage space to keep family heirlooms, memorabilia, small planters, books, and all the wires connecting the TV unit can be stashed at the back, leaving a clean and uncluttered look.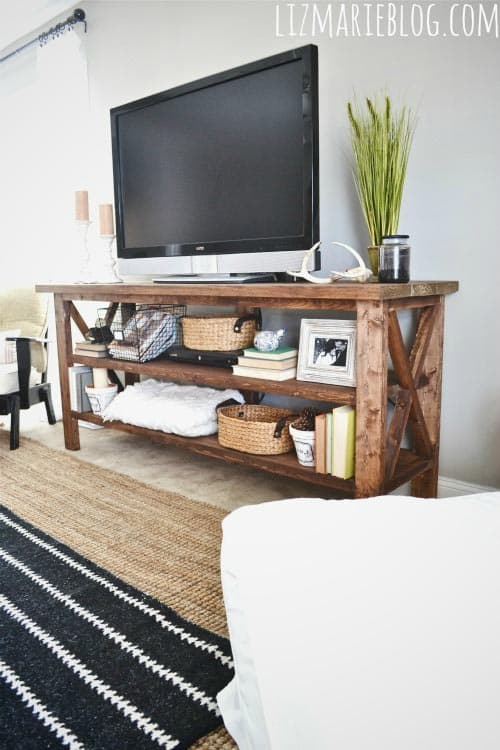 Read on Liz Marie Blog how Liz Marie's husband fashioned a heavy TV entertainment unit for their home. An additional tip – add slider doors or traditional cabinet doors to complete the look.
#7 Movie Reel Wall Art
A lightweight cardboard based movie reel wall art jazzes up the entire movie room. It fits above the entertainment unit or as a background wall art behind the movie room seating space.
Cut the cardboard in the shape of movie reels, in varying sizes. Color them golden or grey.
Attach the movie reels with superglue, as you see in the actual movie theater, and drape the reels on it. You can DIY the reels from plastic.
If you have done DIY projects before, a movie reel wall art can be fashioned from metal discs too.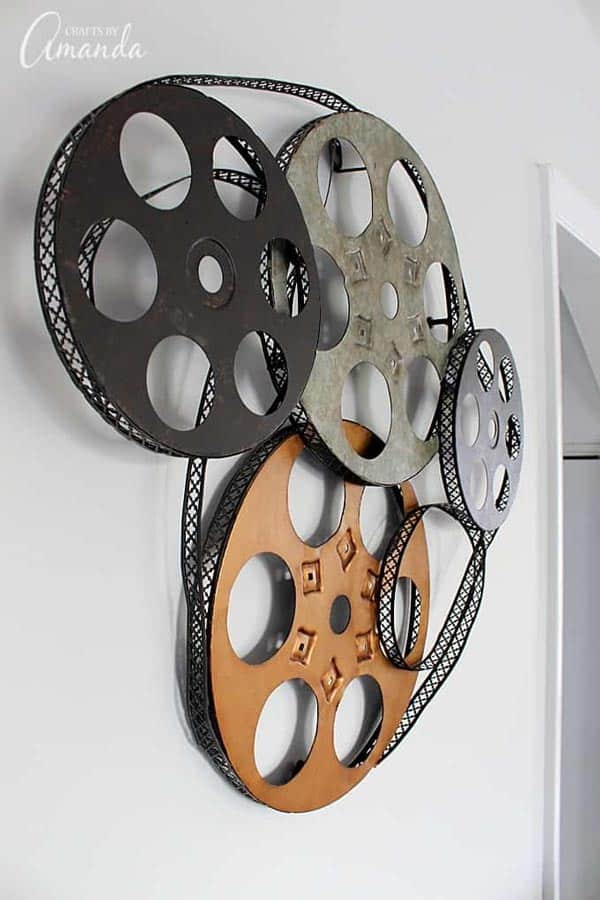 Amanda Formaro at Crafts by Amanda gives you a peek at how she converted her family room into a movie room, where the movie reel wall art was the main attraction.
#8 Movie Room Pallet Popcorn Stand
Old pallets and wood scrap lying around the house can be repurposed into creating a popcorn stand for the movie room.
The one Liza Marie shared on her blog will give you a good idea. Of course, you need to minimize a bit to suit the movie room size; the one in the image below is good for outdoors.
Once the stand is created, set up an automatic popcorn maker and popcorn buckets for self-serve. DIY a nameplate from cardboard and acrylic paint.
Decorate it with LED lights or fairy lights, and keep it one corner of the movie room.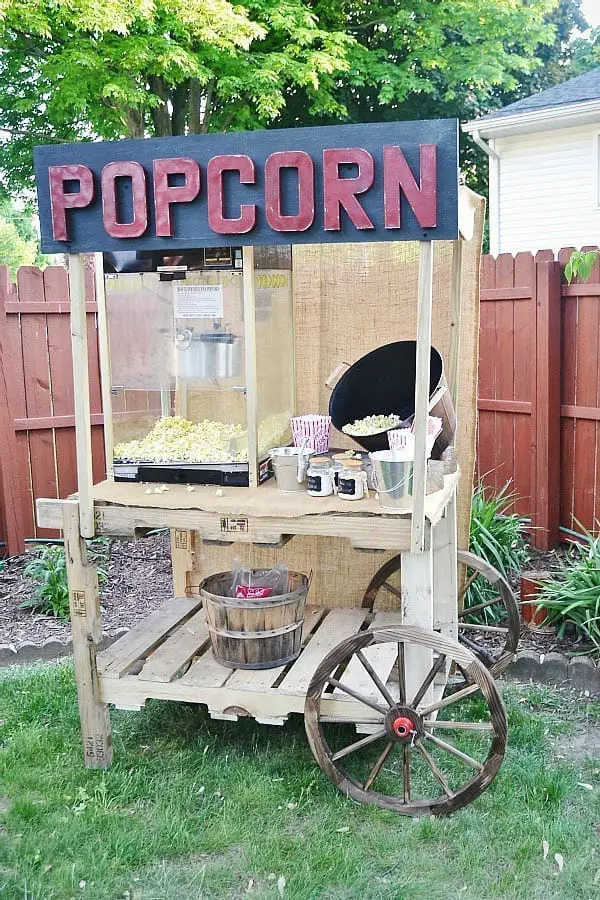 Liz Marie from Liz Marie Blog has written a detailed DIY tutorial on how to turn pallets and wood scrap into a popcorn stand for the movie room. Check it out!
#9 Ticket Stub Frame Craft
Create a personal ticket stub collection encased in a frame as the movie room decor.
If you are a big movie buff and have been collecting ticket stubs for years, it's time to give them its right place.
DIY an old-fashioned wooden case with a glass opening and a slot on the top. Place all the old stubs and the new ones as you collect them.
An alternative is to create a wall display album of the ticket stubs, but the frame DIY sounds better.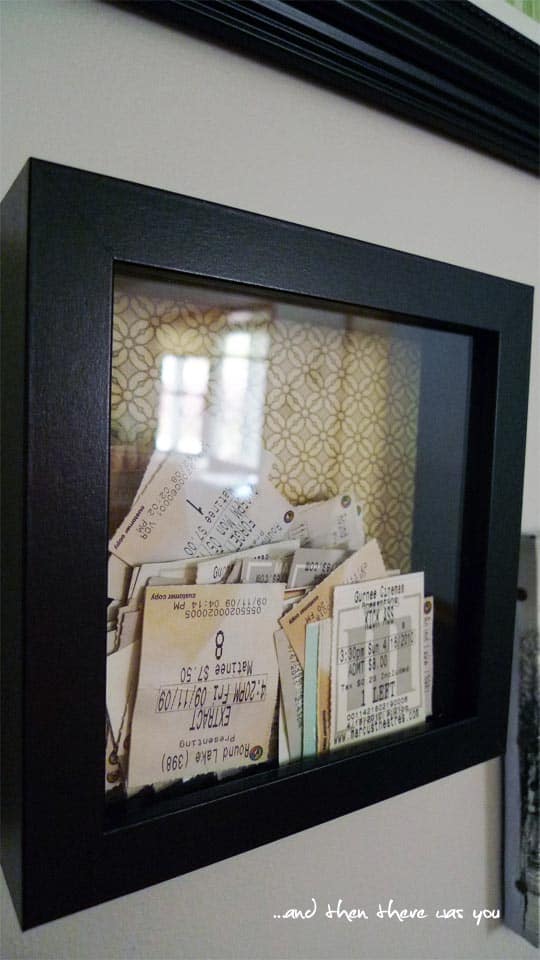 Scott shares how he and his wife collected ticket stubs over the years and turned it into a frame DIY decor on And Then There Was You.
#10 Vintage Camera Bookends
These resin bookends are perfect for a media room where books and other decor adorn shelves.
They look a lot more expensive than they are but carry the cheery spirit of the movie industry of yesteryear.
Check these out now on Amazon
#11 Movie Clapper for Wall Decor
Every movie lover has to have one of these as part of there movie room decorations.
This one is more than just decor, you can actually use it.
Have fun, and mark the time when it's time to start of a flick. You're sure to get a few chuckles.
Pick one of these up for under $15.
Bonus: Vintage Flintlock Pistol Replica on Display
Love the Pirates of the Caribbean and other similar movies? Add oomph to your movie room decor by hanging a realistic flintlock pistol replica just like these on the wall as a centerpiece.
On one hand, it shows off your great taste in movies. On the other hand, it makes for a unique decoration space and goes well with the vintage theme.
You can up the ante by adding more types of historical weaponry such as swords and battle axes and create an entire wall full of life-like replicas.
Anyone who walks into your movie room will know your love for movies set in the past.
I hope you enjoyed reading about these DIY movie room decor ideas. The more you think about this theme, the more ideas that will come.
What about a lighted start marquee and other theater signs; or vintage or present day movie posters; gilded academy award trophies or theatre masks…
All these add up to the ultimate makeover to your movie room. Lights! Camera! Action!