Hi guys! You are in for a treat today! Since I'm away from the blog for a bit, I've got Laura from Wrapped Up In Rainbows here to share this fun DIY with you today. 
Hi, I'm Laura and I blog over at Wrapped Up In Rainbows. I am very excited to be guest posting on Erica's blog today. I know that you are a crafty bunch so I thought I would take you through a little DIY for a unique cross stitch bracelet. I hope you enjoy it!
What you will need for your cross stick bracelet:
Cross stitch fabric
Embroidery threads
Graph paper
A needle
A scrap of fabric
A piece of felt
A piece of elastic
A glue gun
Scissors
The great thing about cross stitch is you can create your own designs easily. All you need is some graph paper and some pretty coloured highlighters. If you don't have any graph paper, you can find an image online and print it off like I did. I chose a colourful design with little hearts.
My design measured 66 stitches by 15 stitches. You can make yours thinner or longer if you wish.  If you are new to cross stitch, you can create a simple design just by stitching lines in different colours  I think picking out the colours is the most fun part!
Once you have made your design and are happy with it, get stitching!
Now that you have got a complete cross stitch, we are going to start the process of turning it into a cuff!
To start you will need to iron it, folding over the excess fabric so that you can see as little white as possible on the front, and ironing the back until all 4 sides have nice crisp creases.  Take your piece of scrap fabric, this needs to be just ever so slightly smaller than your actual cross stitch design, we are really just using this to protect your design from the hot glue we will be adding in a moment. So place your piece of fabric on top of your design, now we will glue the flaps down onto it using the glue gun. It doesn't have to be too neat as we are going to cover the back up. But do make sure that the edges are all neat, as these will show.
The correct side should now look something like this: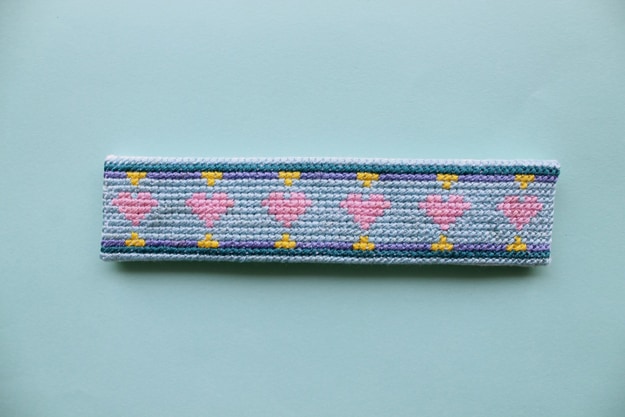 Now, take your piece of elastic and use the glue gun to stick it down, I would suggest a good 3 cm overlap.
Take your piece of felt, and cut it so that it is the same size as your bracelet. This is going to act as a backing to tidy up any mess we made with the glue, and also it's comfy! First, you will glue down the felt on top of the elastic you just attached. Next, glue the 2 long sides about 3 quarters of the way.
Now you want to make sure the bracelet will fit correctly, so try it on and stretch the elastic to where you need it to be, hold it in place as you glue this down on the other side. Finally, glue the rest of the felt in place.
And it's finished! Hurrah! After I made this, I realized that you could turn any piece of fabric into a bracelet this way, and you could avoid sewing at all, just by using the glue gun.
I'm really pleased with how it turned out, can you tell?
Thanks so much for reading my post today, and thanks to Erica for having me.
—-
Thanks for sharing, Laura! For more from Laura, be sure to check out her blog Wrapped Up In Rainbows, where she shares all her DIYs, recipes, life adventures and more!