If you have some unique designs that you would love to bring to life with inflatables, then you should definitely consider working with a personalized inflatable manufacturer.
There are endless possibilities when it comes to inflatables, so you can be sure that your designs will be brought to life in a way that is both creative and unique.
Think of inflatables as a blank canvas where you can paint your ideas with no restrictions.
Do you have some inflatable ideas for your next holiday yard decorations or birthday party?
If yes, let's jump in and explore all the exciting ways you can use inflatables to make your next holiday or event unforgettable!
Custom Inflatables for Every Occasion
So you have some ideas for inflatable designs to decorate with – but you can't find them anyway to order online!
One of the most significant advantages of working with a custom inflatable manufacturer is that it gives you creative control over the design.
You're simply not limited to just what's available in stores or online.
Going direct with the manufacturer allows you to work with a design to create pretty much whatever you want.
All limits are seemingly lifted! You can customize inflatables for any location, such as large backyard events, birthday parties for all ages, holidays and any other special celebrations.
Here are a few ways you can unleash your creativity with an inflatable manufacturer
You Can Have Inflatables Made to Order to Meet Your Exact Needs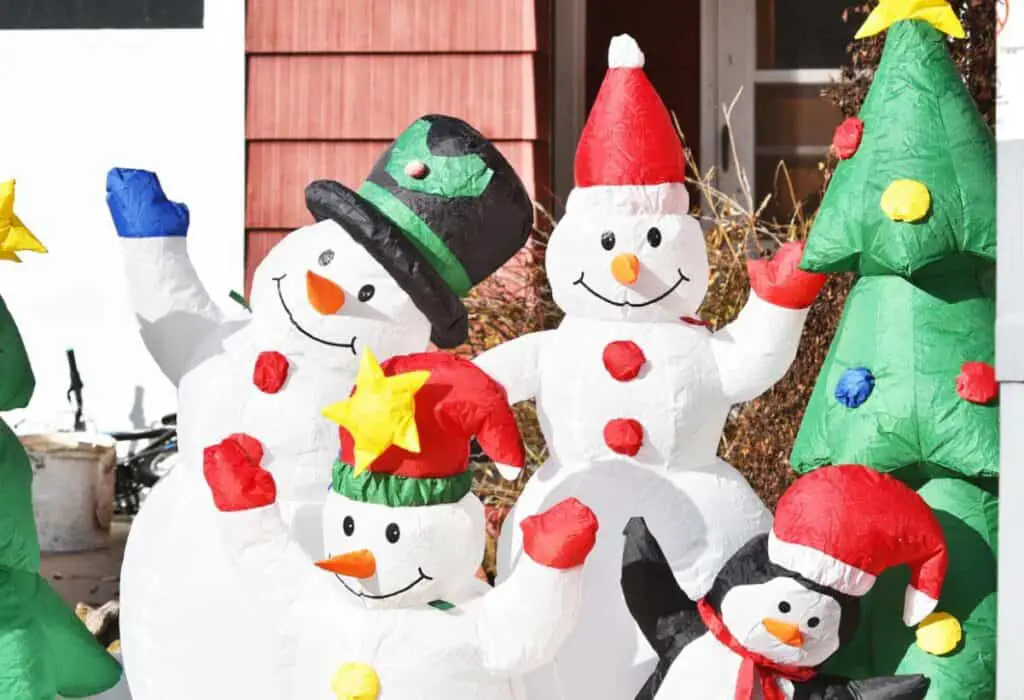 Working with an inflatable manufacturer allows you to create custom-made inflatables that meet your specific needs.
All you need to do is communicate your ideas to the manufacturer, figure out the dimensions, and place your order.
The manufacturer will then take care of the rest, from designing and manufacturing the inflatable to shipping it straight to your home.
This can save you a lot of time and hassle, and it can also give you peace of mind knowing that your inflatable will be made to the highest standards.
For example, let's say you are organizing a summer party with family and friends.
You could hire an inflatable manufacturer to make inflatable ice cream cones, beach balls, and sheds.
These inflatables would be perfect for a summer backyard festival because they are fun, colorful, and would even provide shade and shelter from the sun.
Want to have a backyard talent show?
You could also set up an inflatable stage!
The question is, "What inflatable ideas can you think of?"
The only limit to what you can create is your imagination, and going direct to a manufacturer can help you make your ideas a reality.
The possibilities are endless!
You Have the Option of Customizing the Inflatables Size, Shape, and Color
Sometimes, the inflatables we find in stores are not always what we have in mind for our events.
They may not be the right size, shape, or color. They may not have the features we want.
Or they may not even be the right theme for our event or decorations vision.
That's where custom inflatables come in. When you work with an inflatable manufacturer, you can create a custom inflatable that perfectly matches your vision.
You can choose the size, shape, color, and features of the inflatable. You can also choose the theme of the inflatable.
You Can Choose the Materials Used to Make the Inflatable
Another key advantage of working with an inflatable manufacturer is that it allows you to choose the material you want.
The choice of material determines the durability, visual appeal, portability, safety, and customization possibilities of your inflatables.
For instance, if you need an inflatable for a short-term event or just the Halloween or holiday season, you can select a standard material that is appropriate for that purpose.
On the other hand, if you need a long-lasting installation for permanent artistic touches on your property, you can choose thicker materials such as PVC or vinyl-coated nylon.
This way, you can get exactly what you need and save money.
You Can Customize for Your Family
If you are making the inflatable for your family, you can work with the maker to customize with your family name.
In addition, you can also create avatars or family crests or even your favorite characters that your kids love.
This creates a fun and memorable experience for your family and guests!
In Conclusion
If you're looking for a custom-made inflatable, working with an inflatable manufacturer is the best way to go.
It empowers you to unleash your creativity in fun and exciting ways, and add a personal touch to your decor or special event.
Reach out to a personalized inflatable manufacturer today to learn more about how you can bring your ideas to life.