Dark colors are making their way back into the kitchen. For some time, people were going crazy about light cabinets.
However, now people are turning back to the elegance and mysteriousness of black. That being said, all-black kitchens might make the room look very small.
So, you need to find some ways to just incorporate the black instead. Here are a couple of ways for you to do so.
Dark Accent Wall
Accent walls are a great option for those who want to add a splash of a certain color in a room but do not want to commit to doing the whole thing.
Using black on all four walls might make your kitchen appear smaller, but by applying it on just one wall of the kitchen, you might get the actual opposite effect.
"One wall painted with a rich, dark color creates visual depth in a room, making it feel larger," says interior designer, Mariella Cruzado.
You can also decorate that wall with paintings, or even a few shelves where you show off your favorite plates.
Make a Dark Backsplash
If you want to add black in your kitchen, but you don't want to commit to a full wall, you can try doing the backsplash instead.
A black backsplash with a pattern just behind the sink won't take over your entire kitchen but will add something like an element of surprise.
The contrast will actually create an intriguing element in your room. Consider dark against light, smooth against texture.
The effect will be dramatic, but at the same time, it will be restrained.
Dark backsplashes will also fit perfectly with contrasting materials such as antique glass or copper.
Dark Cabinets and Shelves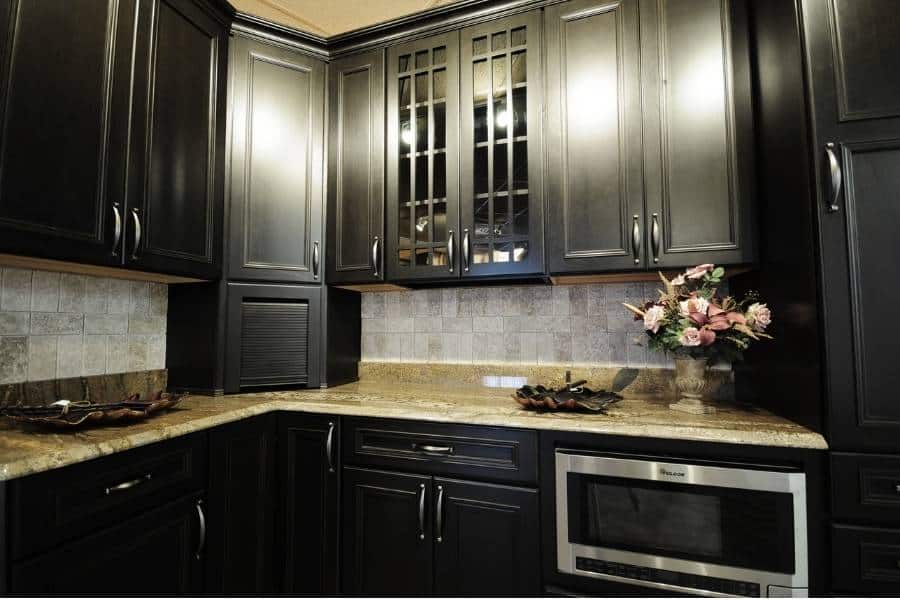 Another good way to incorporate dark accents in your kitchen is to go for dark-colored cabinets.
Put together with some white countertops, dark cabinets create a nice contrast that will add a touch of elegance to your kitchen.
Plus, if you think that the dark is too much, all you need to do is add some glass doors, as they will bounce off the light.
"Cabinets look great when they're painted dark, like navy blue, charcoal gray, and even olive green" says kitchen designer from Cabinet Set company.
Dark Furniture
When you have a smaller kitchen that does not work well with dark cabinets or dark walls, you might want to go for dark furniture instead.
For instance, let's say that you have a white kitchen bar; you can try using some black bar stools instead of light-colored ones.
Another option would be to darken your seat covers. For instance, if you already have a kitchen bench or chairs, you might want to consider reupholstering them.
This will create a pleasant contrast in the kitchen, especially if you have a light base.
Black Appliances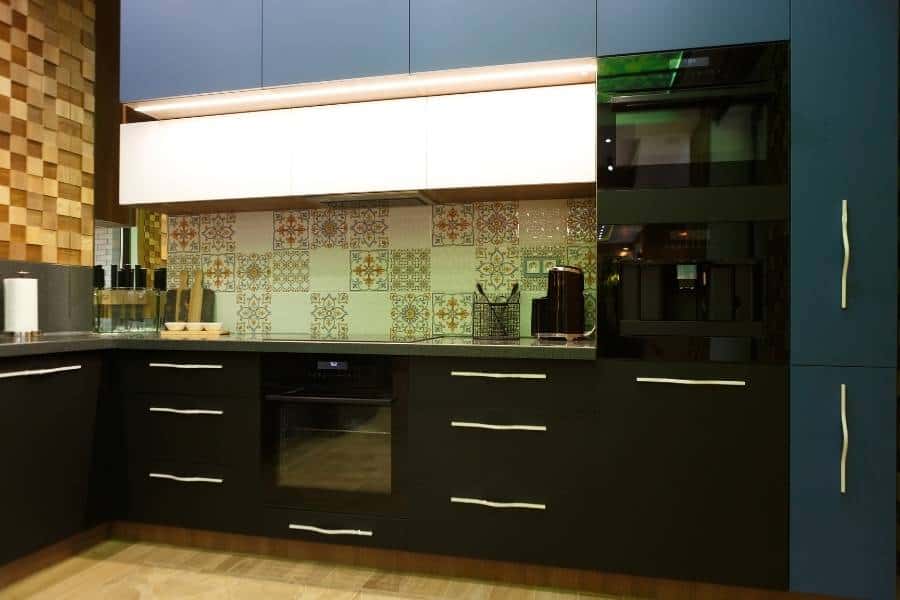 If you don't want to fully renovate your kitchen but still want to add some dark accents to the room, then you may want to consider using black appliances to get that effect.
If your fridge, your oven, and your other appliances are old and need changing, go for the dark-colored appliances.
"Black appliances are a great alternative to stainless steel, especially in dark-colored kitchens, where you can achieve a custom built-in look without having to penalize your appliances.
And in kitchens with white, wood, or other neutral cabinetry, matte black appliances can create a very dramatic and elegant effect," says Michael Ferzoco of Eleven Interiors
Dark Pendant Lighting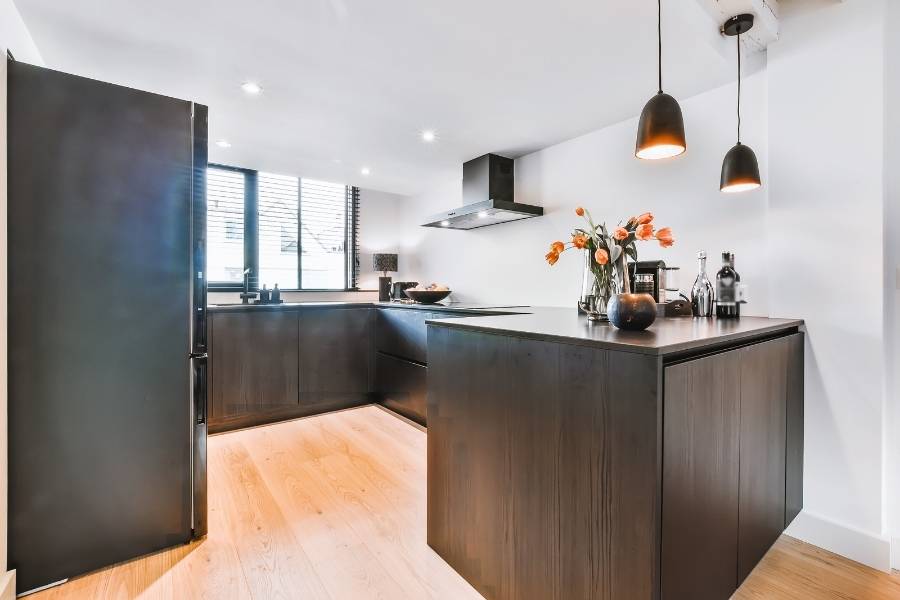 The right kind of lighting can create a perfect contrast in your kitchen.
For instance, if your kitchen is light in color, try going for black pendant lights over the kitchen island.
Not only will this illuminate the room, but it will also add character. If you'd have used white pendants or spot lighting, they would not have been visible at all.
The Bottom Line
As you can see, black accents can be easily added to a kitchen, no matter if it is a big or small one.
The trick is to find the right balance with the light, contrasting counterparts so that you don't have an all-dark kitchen.