Do you feel as if your kitchen is outdated? That it doesn't fit the functions required for your lifestyle as it alters and grows?
As we go through life, and especially in the current era of a busy lifestyle, our homes often need to feel adaptable to change.
We often say that it sells the house or that the kitchen is the heart or center of it because that's what we do in it. We spend so much time in them that they become the main thoroughfare for our daily lives.
From school lunches to dinner at the end of a workday, it is an area that is often active, no matter who we are.
Therefore, when it needs a change and modification, here are 6 ideas you can use to redesign and reinvigorate that heart.
The Golden Triangle:
When it comes to renovating your kitchen, this is a layout that kitchen and interior designers have used for decades, and there's a reason – if it works, why not?
It's not rocket science but it does take some careful planning with professional help from contractors like A+ Construction & Remodeling to truly execute this design efficiently.
Ideas are endless here, so don't feel you're stuck with despite this being a basic model to follow.
Some things to keep in mind:
When installing fridge water lines and sinks – see examples, this is a layout for which your plumber will be thankful.
This design incorporates having your kitchen sink over near your kitchen window, in line with all of the major kitchen appliances to create, as you may have gathered, a triangle.
It also creates easy access to all main areas for food prep: storage, cooking and clean up.
Reduce, Reuse, Recycle:
When it comes to giving your home a much-needed transformation, sometimes it can be best to first look at what you can save.
Those such as your cabinetry and your tiles can be reused as drawers or rearranging your bench space to create a more modern-looking and functional room.
This will also save you money on the renovation by not having to buy everything new.
The power of paint:
It can be amazing sometimes what a simple brush, tile and wall paint can do to your space and how much you can save on the renovation.
Do it right and it truly can make your kitchen look completely different for little cost.
Paint can cover a variety of sins and be used in a multitude of areas. However, make sure you get the right paint for the area.
This is especially helpful when a kitchen renovation is a zone where keeping to a budget can be important.
Simply maximize storage: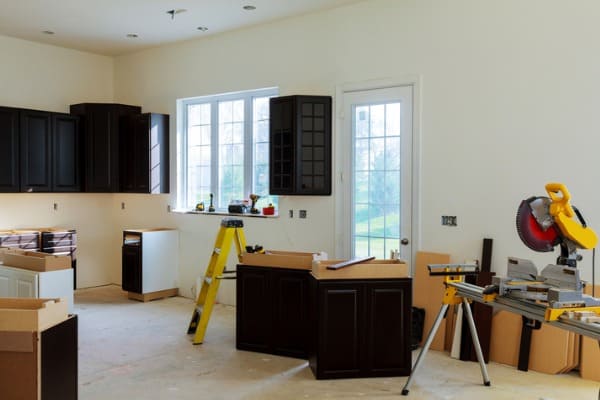 One of the most fundamental things a kitchen needs is functional storage. A simple way to do this is to make use of some negative wall space.
A way to use the space is to install slats on the wall to hang and house your common cooking and baking utensils.
This way those you use regularly will be at close access rather than jumbled up in a drawer and let's be honest, we all have one.
Clean out your cupboards:
If you've lived in your house for several years, you'll understand how much crockery, china accumulates, what you use daily and that which you don't.
You'll be amazed at how looking at the inside of your cabinetry and a simple de-clutter and rearrangement to those you more can truly help the flow of your kitchen.
Look for items in alternative places:
When it comes to your dining table and other kitchen furniture, don't be afraid to look outside the box, especially if you're working on a budget.
Those such as garage sales and thrift stores can house some of the nicest pieces to house in your kitchen.
Conclusion:
Hence, there are six ideas on how I hope you can renovate and transform your kitchen. Good luck!