Blaze and the Monster Machines debuted on our television screens in 2014. The story of an 8-year old techie kid AJ going on adventures and solving problems with his monster truck Blaze, has captured the imagination of many young boys.
If your son is just like AJ, he is probably a brilliant kid who wants his birthday to be a fun and adventurous activity.
And in that case, putting together a Blaze and the Monster Machines themed birthday party is an excellent idea!
But wanna know the best part?
You can DIY almost every aspect of the party!
Let me make finding the right DIY ideas easy for you. Here's a list of some of the internet's best blaze birthday party ideas!
1. Blaze Party Donuts
These yummy looking chocolate-coated donuts are absolutely AH-mazing!
Kara from Kara's Party Ideas tried it for her son's birthday, and these chocolate donuts were an absolute favorite.
Coat the donuts generously with melted chocolate. Make sure you put some of the extra chocolate syrup in nozzled-bottles for self-serving.
Put the donuts in a bucket and place the bucket on a decorated tire for the complete blaze birthday party look! You can gift wrap the tires with colorful papers too.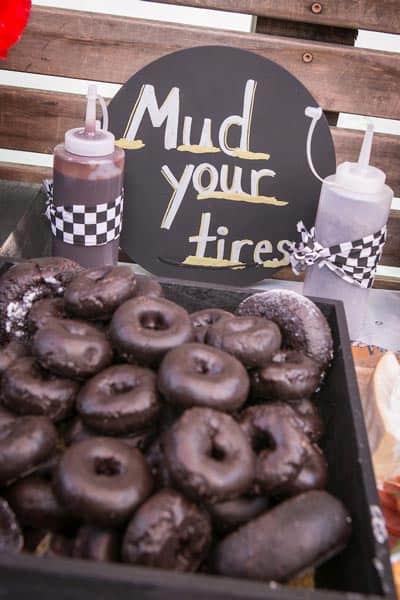 The "Mud Your Tires" tag is simply perfect. You can find a ton more DIY blaze birthday party food options on the Kara's Party Ideas blog.
2. Monster Truck Races
Sounds exciting, no? That's because it is!
The second DIY idea is also from Kara's Party Ideas blog – her ideas are just too good!
She creates a truck tournament arena with a truck track and inflatable wheels.
It's a fun activity that will keep the kids engaged for hours on end. You can reward the winners with dessert and even a Blaze and the Monster Machines souvenir!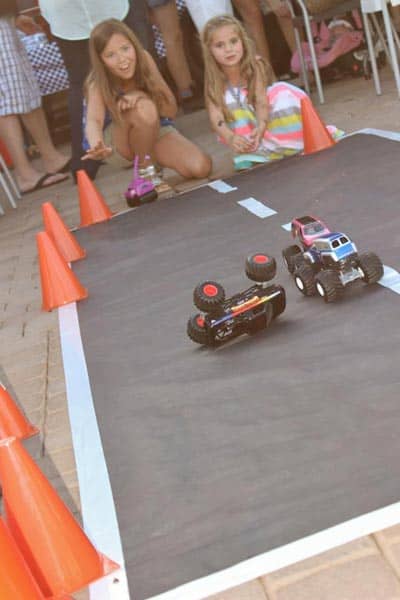 Find out how Kara planned this party over at Kara's Party Ideas.
3. Monster Truck Fruit Tray
Getting creative with fruits is a great way to stick to the monster truck theme and encourage kids to eat healthily!
Karen from the Desert Chica blog made a sumptuous fruit tray in the shape of a monster truck.
It's really easy to do:
Draw out a monster truck image as your guide to getting the bigger version right on the parchment paper. Use edible colors to create the image – avoid pencils or pens.
Peel and cut fresh fruits like oranges, blueberries, and blackberries, and stuff them in the right spots.
You can also use marshmallows, yogurt dips, and bananas in the tire loops and window!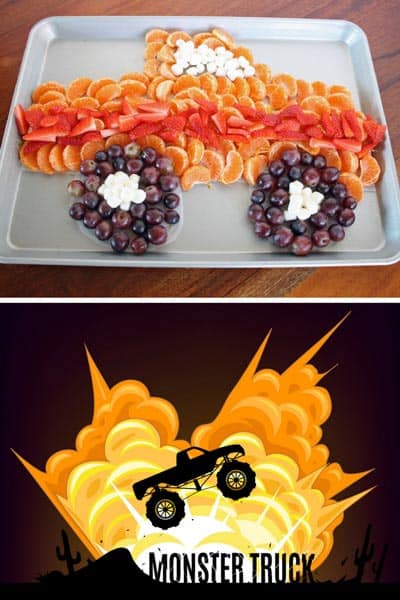 You can bring out this fruit tray from Desert Chica as a pre-cake treat or before the monster jam begins.
4. Blaze The Monster Truck Photo Booth
Make the day memorable by making a creative and crafty blaze the monster truck photo booth!
Cut strong cardboard in the monster truck's shape – keep it simple and use a picture of Blaze as your guide.
Then, use glossy chart papers to decorate the cardboard pieces. Write the birthday boy's name and age on top, and you are ready to roll!
You can take things a step further and dress the birthday boy in AJ's outfit: a white driver's suit with red and black accents!
5. Blaze And The Monster Machines Entrance Decorations
Nothing says "welcome to the party" better than a themed entrance.
And to make one for your kid's birthday party, all you need to do is make a black and white roadway with chart paper with racing flags and balloon stoplights!
You could also try and mimic the entrance of a real monster truck arena!
Pulling that off will be just as easy with chart paper and some other basic supplies.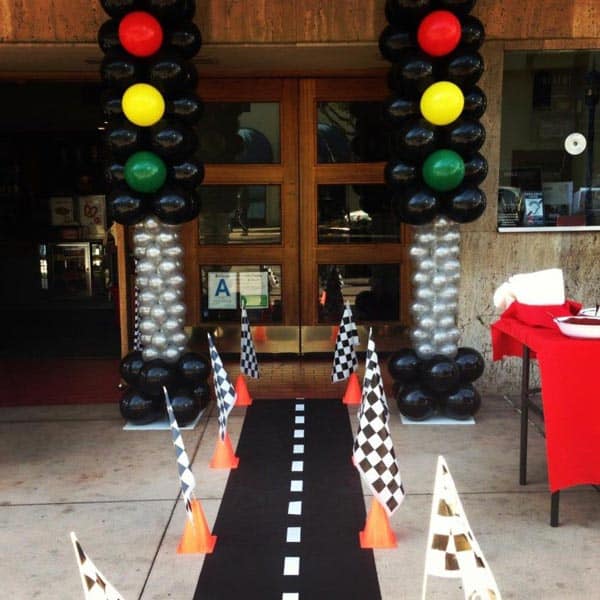 LA Party Stylists created this cool blaze and the monster machines entrance decoration.
6. Three-Tiered Blaze Birthday Cake
What's a birthday party without a fantastic cake, right?
Tyann from Delectable Cakes made this three-tiered blaze birthday cake with modeling chocolate and fruity pebbles.
The trucks were hand-painted with gum paste. The frosting had the appearance of tire wheels breaking out of them and raring to go!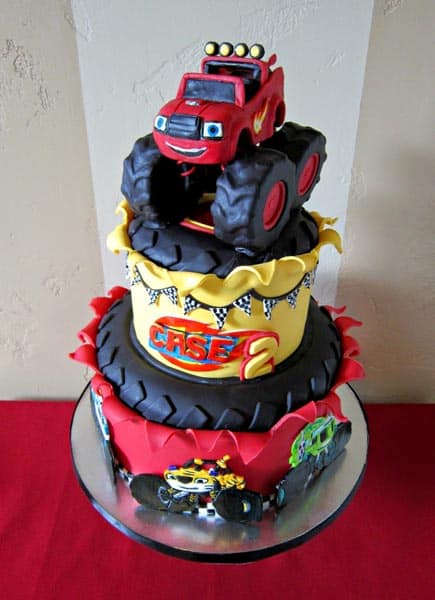 Delectable Cakes' three-tiered blaze birthday cake is a riot of colors!
7. Blaze Monster Trucks Balloon Weights
I loved the idea of attaching balloons with weighted monster trucks and using them as a table centerpiece!
Megan from Meet Maddox bought miniature colorful monster trucks and turned them into party favors for the kids.
They doubled as centerpieces for the treats table!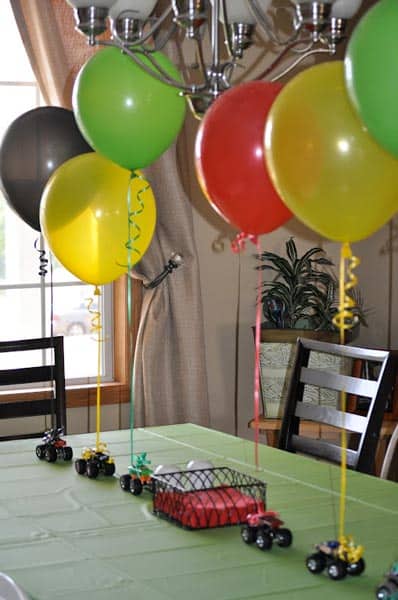 The blaze monster truck balloon weights from Meet Maddox are an easy DIY project that perfectly complements the three-tiered birthday cake!
8. Engineer Fun Flame Decorations
You cannot have a Blaze And The Monster Machines birthday party without flame decorations! The orangish-yellowish flames lend intensity to the birthday decor.
Use a simple table cover to engineer flames. Table covers are versatile and inexpensive.
Get yellow, orange, and red table covers and cut them into flames. Remember that each colored flame is a bit smaller than the others.
Use regular tape to attach the colored flames. You can also connect flags to the flames and use them on chairs to make "finish line" chairs!

Check these out on Amazon
9. Mini Corn Dog Bites
You won't even realize when these easy-to-make mini corn dog bites vanish off the birthday party treat table!
Get mini corn dogs from the store and cook them as per instructions. Pop the checkered flag toothpicks into the bites, then place inside these themed cupcake liners.
Display each mini corn dog in these black and white checkered baking cups – your little AJ and his friends would love it!
Buy at Amazon – they're pretty cheap!
—
If Blaze and the Monster Machines is your child's favorite show, making it the birthday party's theme is a great idea.
And these excellent DIY blaze birthday party ideas will make executing the birthday theme easy!