Are you looking for barber shop decor ideas?
We have collected a list of barber shop decoration ideas from unique barber shops displaying retro, vintage, luxury, fancy, and other modern designs.
You will see barber shop themes, shelf ideas, barbershop station options, wall art, lighting and furniture, and much more.
Let's see what they are.
#1 Black and White Barber Shop Corner
You can opt for a minimalistic modern appeal with black and white hues.
Divide the barber shop space into two sections – one for the clients to wait / reception and the second the actual functional barber shop.
Paint the background white to give a neat and decluttered appeal. Huge mirrors with wooden work and comfortable beige chairs complete the look.
You can put shelves near the chairs for the barbers to access their toolkit and store them back neatly.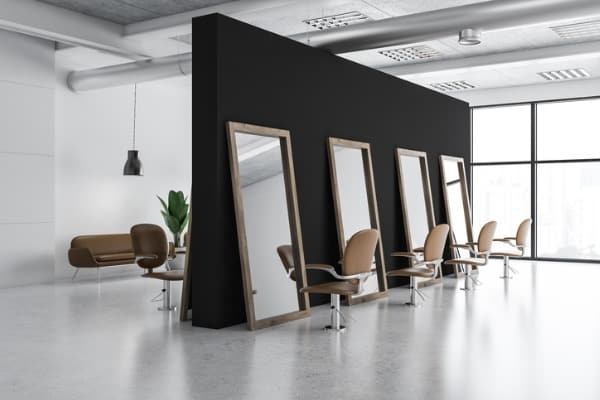 #2 Wood Paneled Barber Shop Interiors
Give your barber shop a rustic and wooden appeal with wood panels decorating a larger part of the barber shop.
Make cubicles with wooden partitions, and each cubicle holds no more than two comfortable leather chairs with square mirrors in front.
Use brick wallpapers for the background wall, and hang well-lit lamps above the leather chairs for impeccable detailing.
Decor the empty walls with wood-framed wall art and put up shelves to hold barber shop tools.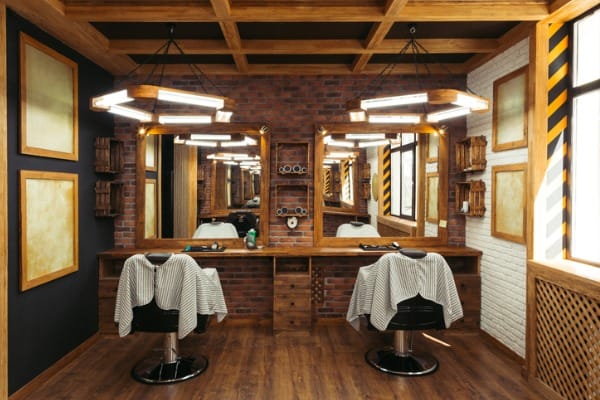 #3 DIY PVC Barber Pole Lights
Sand and spray paint a PVC pipe with multiple coats. Use a masking take to draw patterns and spray the empty spaces. Remove the masking tape.
Give the colored PVC pipe a base and a globe or a lamp shade on top, with electrical wire running through it.
This is best suited outdoors.
#4 Old School Chair and Cupboard Barber Salon
Remember the kind of salons our grandfathers used to frequent in the past?
The kind which had a local flavor and was welcoming to everyone in the town. The kind where men could spend hours catching up on politics and sports.
Bring back the old school barber salon feel with a simple chair and cupboard setup that is higher on utility than fancy.
Dark wallpapers with wooden cupboards and a comfortable chair are all you need to complete the look.
Put up dim lighting and keep a lot of magazines and newspapers on the side.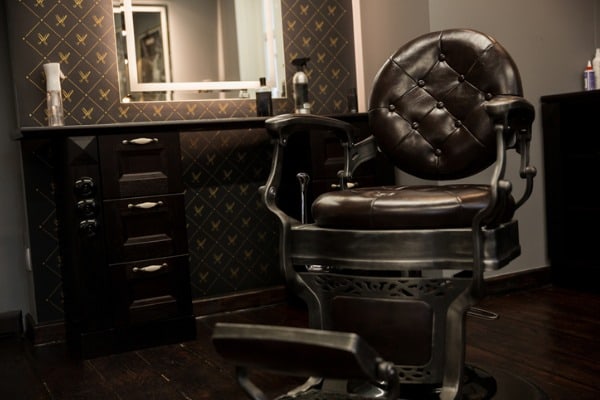 #5 Panoramic Barber Shop Decor
If your barber shop is high up and right in the middle of a busy business center, the panoramic minimalistic modern decor would suit the overall sensibility.
Complement the glass walls on the two sides of the barber shop studio with a white or grey color for a serious and formal demeanor.
In-set lighting on the ceilings and tall mirrors with white leather chairs complete the look.
The flooring should be of concrete. Add a splash of red color (such as red tables or a red sofa at the reception) to signify power and authority.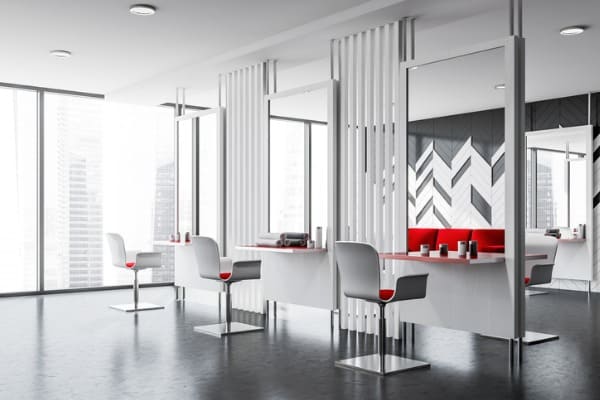 #6 Vintage Effects for Times Gone By
Moving to a completely different era, there's something special about a throw-back design and where people (mostly men) went for shaves and haircuts.
This sign does the trick, even if you're just decorating your home with old time barber decor.
This sign is pretty inexpensive, but offers an authentic look
#7 Modern and Retro Barber Shop
A modern yet retro barber shop looks fantastic for the suburbs! It creates a welcoming, warm, and comfortable presence for the barber shop patrons.
Divide the barber shop floor into various stations. Line up the leather chairs with footrest neatly in an L-shaped or reverse L-shaped layout. Place separate tool kits in front of the seating arrangements.
Give the walls a dash of white, light green or blue, and gray colors for a chic pastel retro outlook.
Such an arrangement encourages easy conversations with the patrons and creates a friendly-vibe, which you definitely need to receive profitable business. Isn't it so?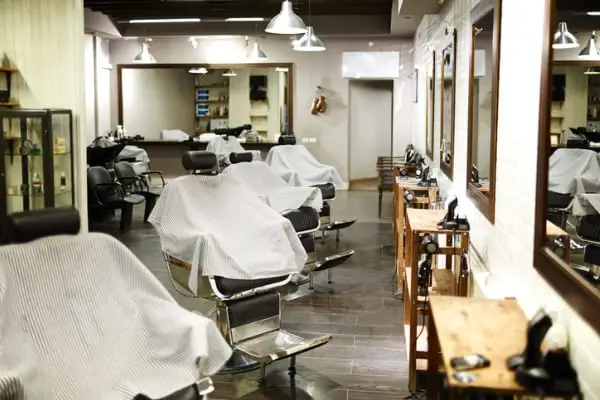 #8 Barber Shop and Beauty Salon Combo Decor
How would you modify the decor if your studio is both a barber shop and a beauty salon?
The ideal combination of male and female energy vibes is hard to replicate. While one wants a serious and formal decor, the other wants a colorful and jazzy decor.
One way to solve this is to create a partition, signifying the barber shop and beauty salon aspect, with some common elements like the hair wash basin or the hair cutting area.
Invest in ample overhead lighting; you can use a dual-mirror setup to compensate for lack of space.
Add small and medium planters, and install wall-mounted colored shelves to store toolkits.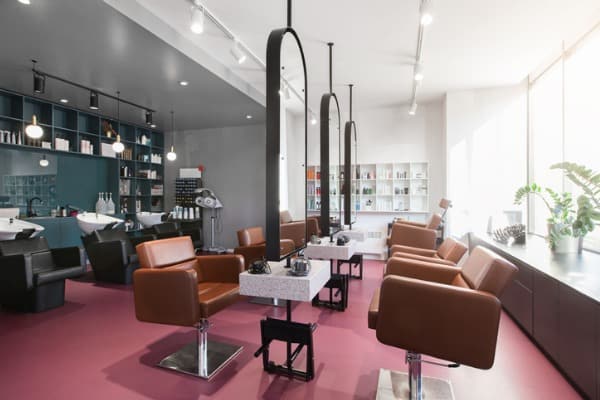 #9 Textured Wooden Barber Shop Decor
Amplify the class and appeal of the barber shop decor by adding textured and accented wooden panels at the workstation.
Wall length textured panels function as partitions, and mirror embedded wooden frames give the setup masculine energy.
Abstract wooden panels make for an accented wall decor idea for the background. Pure white leather chairs in front complete the look.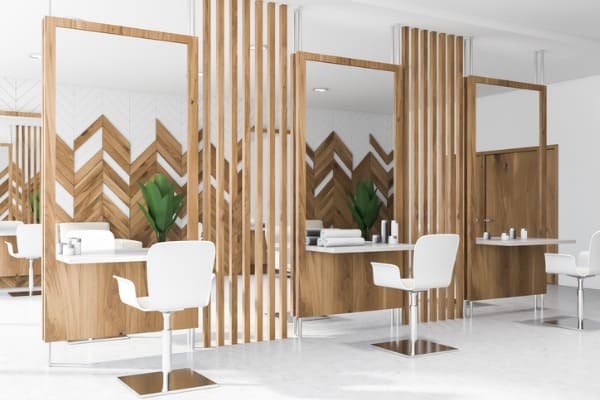 #10 White Minimalistic Clinical Barber Shop Decor
If you want to give the barber shop a minimalistic clinical appeal, glasses will play the central role.
The barber shop room should be painted white with tall glasses adorning the walls. The barber shop chairs should have steel finishing with leather seating.
Add ample white light overhead for an adequate impact.
While this barber shop decor idea may not feel warm and welcoming, it is perfect if your target customers are corporate executives looking for razor-sharp and quick services.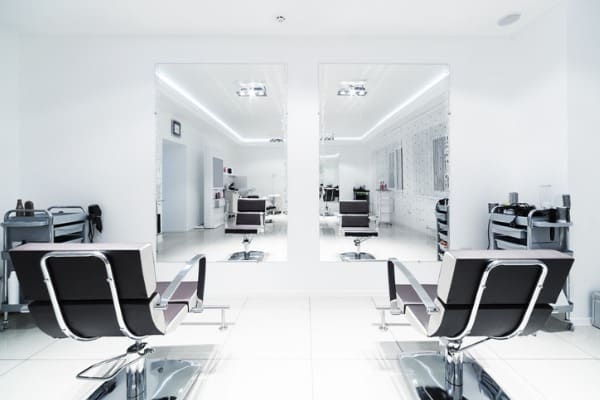 #11 DIY Acrylic Wall Clock
Give your living room a geeky touch with this 3D acrylic wall clock art. You need 12 pieces of waterproof acrylic barber shop icons clock numbers with mirror effect.
Clear a portion of the wall. Setup the clock hands and arrange the clock icons – an unique and classy styled clock is ready.
Check this cool clock out on Amazon
#12 Barber Clipper or Trimmer Holder
An easy DIY to store all your electronic toiletries like a beard trimmer or a hair dryer. All you need is a piece of fine wood and double clothes hooks.
Screw the hooks into the wood and hang the wooden plank in the bathroom, away from water.
#13 Neon Scissor Icon
Neon lights brighten up your home decor in a fun way. You can create various barber shop icons with EL wires, which are neon wires used in DIY projects.
Choose a clean background, like the brick background in the image below. Use cardboard to create the barber shop icon and line it with EL wires. Hang it on the wall for the desired effect.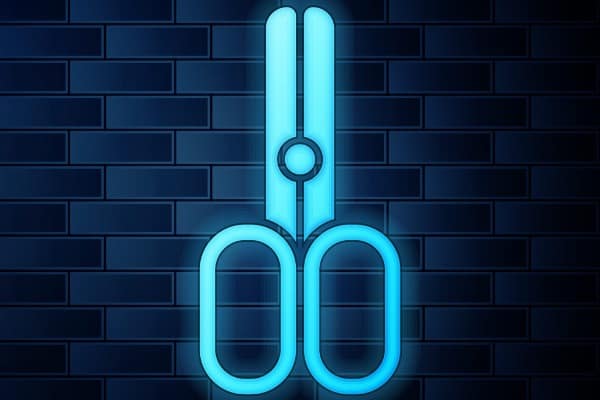 #14 DIY Barber Lights
The right lighting is essential to portray a power look! Ring lights aren't always helpful.
You can create a lighting zone as commonly seen in barber shops. Modify or create the dresser zone with empaneled LED lights or simple bulb lights.
You only need wooden panels and multiple in-built bulb sockets. Isn't that easy?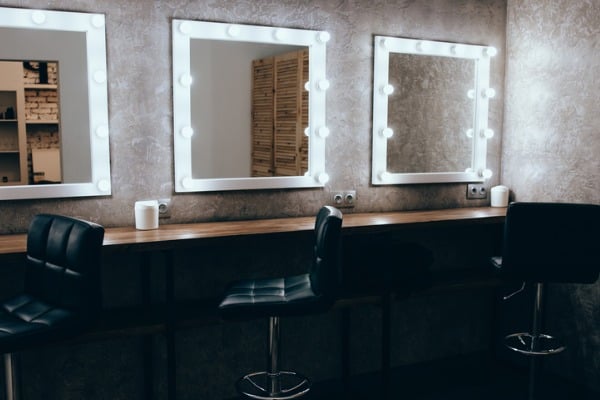 —
We hope these barber shop decor ideas have inspired you to create a pleasing, relaxing, and comfortable barbershop that clients would love to walk into, both old and new.