Hanging a chandelier to a plain white ceiling makes it look incomplete. You don't need a trained DIYer's eye to see it!
But, there's an easy fix for this – a ceiling medallion.
A ceiling medallion will add some contrast to your ceiling, which will make the chandelier pop even more!
But here's the best part:
You can easily make your own ceiling medallion for next to nothing!
However, finding executable DIY ceiling medallion projects can be difficult. Using molds or installing a pre-built medallion isn't really the spirit of DIY.
But, lucky for you, you found my post!
Here's a list of the 13 best ceiling medallion DIY projects on the internet!
1. Picture Frame Ceiling Medallion
Denise Sabia made a simple, tidy-looking ceiling medallion for the light fixture in the girls room using just a picture frame.
All she did is stuck the frame around the fixture with Velcro, and then added a collage of vintage papers to the frame.
It's quick, easy, and beautiful – no painting or nailing required!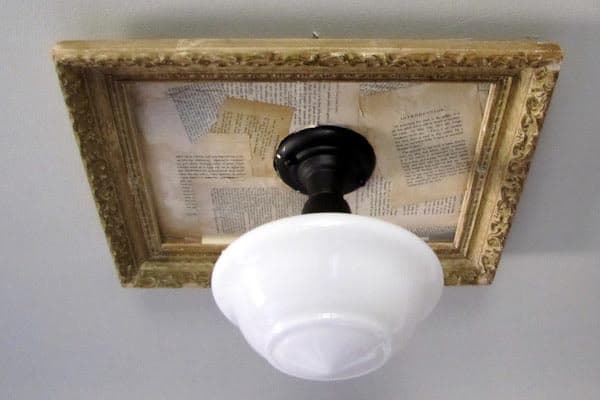 Denise shares all the changes she made to the room and also how she made the medallion on her blog The Painted Home.
2. Minimalistic Black Medallion
MrMountainHawk made his simple black medallion after discovering that his new fixtures don't fit the hole in the ceiling correctly.
He cuts out the center from an acrylic disk and then roughens the surface up, so the paint adheres to it.
He uses black spray paint that complements his light fixture's finish and simply fits it in place.
3. 3D Victorian Floral Effect Medallion
Dale Ovenstone makes his medallion using nothing but some vinyl silk emulsion and three texturing combs.
There's a great deal of technique involved. He essentially creates layers of the emulsion, uses the combs to make the patterns, and blends the floral pattern's ends into the ceiling, making it completely seamless.
https://www.youtube.com/watch?v=iGSLVJhrgiQ
4. Mirrored Ceiling Medallion
Fancy mirror ceiling medallions cost in the ballpark of $500. The prices just don't make sense sometimes.
Dana Tucker realizes this, too, and she made her own mirrored ceiling medallion for $30.
It was just a matter of finding the right mirrors and sticking them to the ceiling in the right pattern.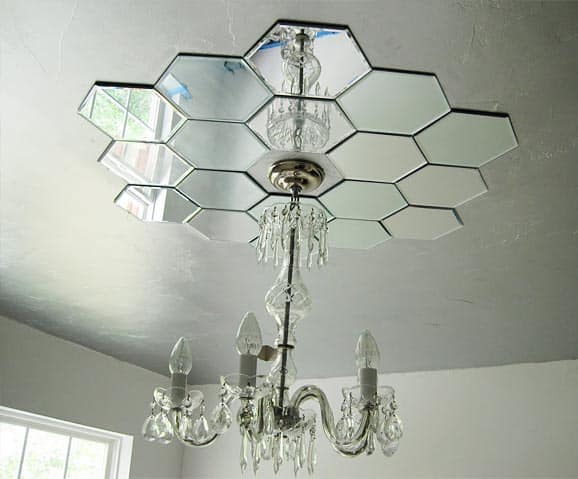 Dana's post on her blog Faux Daddy Designs outlines the entire process of making the ceiling. Make sure you check it out!
5. Beautiful Painted Medallion
On her YouTube channel, OnTheSurfaceDesign, Patricia Presto demonstrates how she painted a gorgeous pattern on her ceiling around the chandelier using a stencil.
Her flawless brush-tapping technique ensures that none of the paint goes under the stencil.
While Patricia gets her stencil from Royal Design Studios, but you can find others online or even make your own!
6. Large Voguish Ceiling Medallion
Imgur user your4eversummer made his modern medallion out of plywood and MDF.
His project involves a lot of precise cutting and nailing – it will take longer than other projects on this list. But the outcome is certainly worth it!
You can read about the entire process on your4eversummer's post.
7. Pretty Lace Medallion
Wanda adds dimension and interest to her fifth wall by making a gorgeous lace medallion for her chandelier.
She places her printed pattern on her mat board and traces it using a mat board cutter.
After spray painting it gold, she uses ¾" brass nails to nail the pattern onto the ceiling.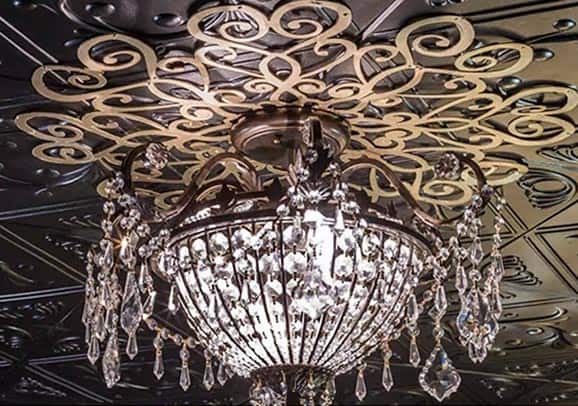 Besides the instructions, Wanda also supplies a printable file with the pattern on her blog From House To Home.
8. Neat Plywood Medallion
Morgan Satterfield of The Brick House hilariously explains how she decided to DIY a ceiling medallion after years of bearing what the market had to offer.
She uses a 16" birch plywood disc and drills but one hole – in the center.
Morgan then installs her bulb through it. That's it.
It's cheap, modern, and minimal, but still looks SO pretty!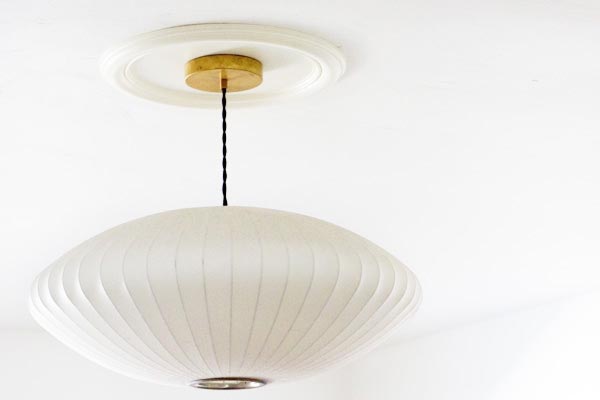 You can read Morgan's spirited post on The Brick House by clicking here.
9. Striking Compass Medallion
In her funny post, KariAnne describes how her son explains that he wants the compass she's painting to be geographically accurate.
Her cute red compass design only requires you to paint five circles and a few lines. Adding some dots and serif letters should seal the look.
This is a medallion you can DIY in your child's room – it'll look adorable!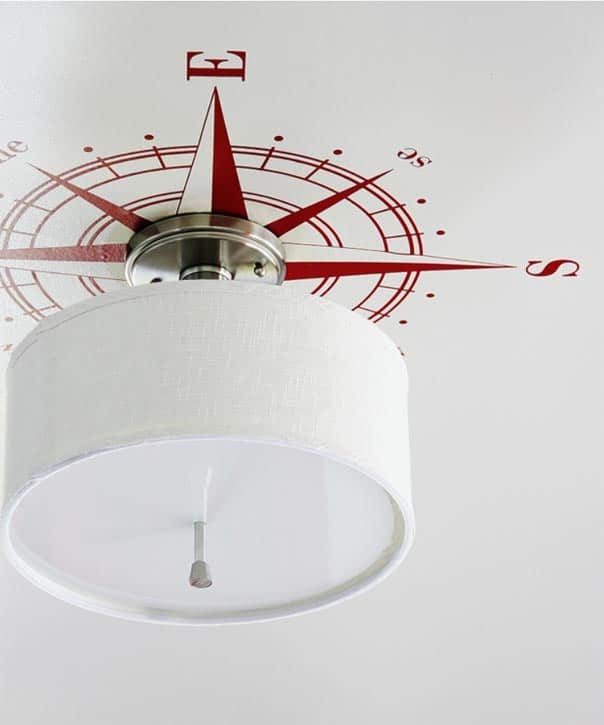 Read KariAnne's hilarious post on her blog Thistlewood Farms.
10. Iron Scroll Ceiling Medallion
Jennifer Allwood uses her old iron scroll from her dining room wall to give her office a voguish lift.
Her husband and son hang it up using sheetrock anchors for her, and I have to say – it looks serendipitously fabulous!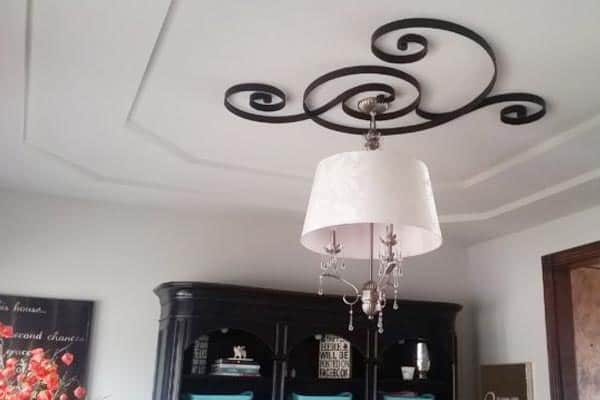 Make sure you check out Jennifer's full post over at her blog Jennifer Allwood Home.
11. Simple Shimmering Floral Ceiling Medallion
You can make the floral DIY ceiling medallion that YouTuber Craft with Creativity designed without needing to visit a shop for plywood or nails.
All you need is a piece of cardboard, some aluminum foil, hot glue, and paints of choice.
Simply draw the design, stick the aluminum foil, and paint!
12. Upholstered Ceiling Medallion
If you have a popcorn ceiling, Jaime's upholstery medallion will make it instantly fabulous.
She uses the frame from her old broken mirror as the enclosure for her medallion. She paints it white, cuts a sheet of ¼" plywood to size, and fixes it in the enclosure.
Jaime then ruffles up some batting and staples it to the outer edge, makes a hole in the plywood center, and pulls the batting through the hole.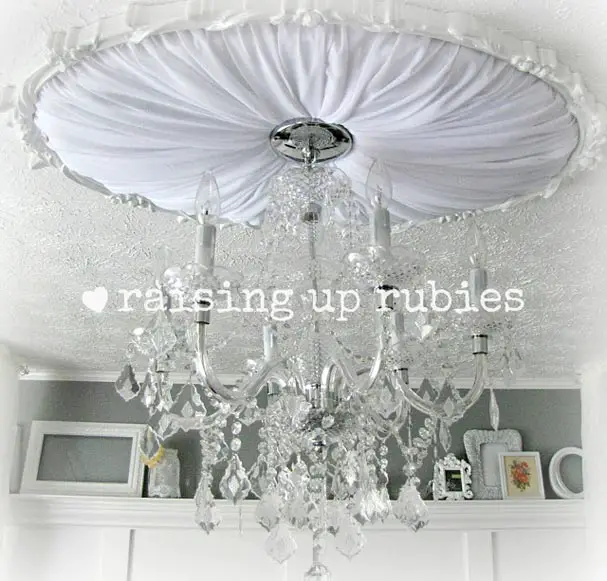 It looks gorgeous! You can read Jaime's comprehensive guide here and learn more about how she did it.
13. Heavenly Mandala Medallion
Juliet rose DIY makes a wonderful medallion inspired by mandala designs.
She picks a design she likes from Google and uses different circular objects – from bowls to saucepan lids – to draw the circles she needs on her cardboard.
After cutting out the excess from the center, she adds more detail to her design using sharpies and metallic pens.
The medallion is mesmerizing!
—
You don't need to make fancy molds or spend hundreds of dollars to make a DIY ceiling medallion.
These projects prove that patience and creativity are really all you need!