Imagine a cold Saturday night with friends around a fire pit…
… just the thought of it brings a smile to your face!
Well, you can turn the thought into reality by making your very own cinder block fire pit – and no, you DON'T need to pay thousands for one.
DIYing a fire pit is a lot simpler than a lot of other projects of the same scale. It's just a matter of learning what you need to do.
And that's what I'll be helping you with in this post!
I'll take you over how you can execute some of the most beautiful fire pit ideas on the internet!
1. Sleek and Modern Square Pit
Melissa, from the Welcome to the Woods YouTube channel, built a modern square fire ring in a matter of HOURS.
All it took was finding the right liner and patio pavers, some digging, and proper placement of the cinder blocks. Easy!
While Melissa bought the liner separately, you could also build one yourself. It will keep the cinder blocks from cracking and ensure that the pit lasts decades!
2. Slate-Finish Fire Pit with Large Stone Top
Cliff, on his YouTube channel, Cliff's How To Channel, wonderfully details how he made a pretty slate-finish fire pit from start to finish.
After pouring a layer of cement, he places the cinder blocks on top of it, ensuring that each is perfectly level. Cliff makes three layers of cinder blocks, filling the blocks' holes with cement every time he adds a layer.
After mortaring the pit's exterior, Cliff sticks pretty tiles to it and then finishes by placing aptly-sized stones on the top.
3. Inviting Fire Pit with Brick Seats
On her blog Around Karen's House, Karen explains how her husband Mike made a fire pit on a Memorial Day Weekend.
Post leveling off the first layer of blocks, Mike fills the pit with sand and adds more layers of cinder block.
Mike stucco's the exterior and makes forms for the brick seats.
The perfect placement of the seats is what makes the pit SUPER attractive!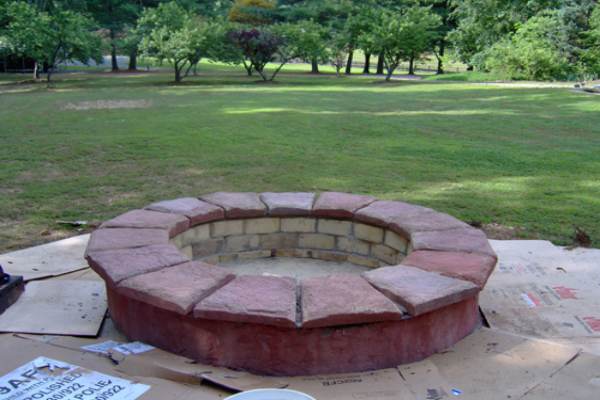 Make sure you check out the full DIY fire pit tutorial on Around Karen's House!
4. Cozy Fire Pit and Benches
The classic staggered look of dalewithac's fire pit seals the cozy vibe that the comfy-looking benches set.
The best part? It's all made from cinder block – including the bench!
And trust me, it's not difficult to do. The key is just the correct placement.
DIY We built outdoor benches and a firepit for a cozy backyard summer area
Find out how Imgur user dalewithac made this cozy fire pit and bench here.
5. Rustic Fire Pit and Benches
Tami Rodriguez on Instagram shares how her husband and kids put together a rustic fire pit as a Mother's Day gift.
The fundamental idea is similar to dalewithac's idea, but it's a lot simpler. Two rings of cinder block make the pit, with the blocks on the outer ring lying horizontally, and the blocks on the inner ring standing upright.
The benches are simple – cinder blocks arranged to the desired height and thick sticks of wood pushed through the holes.
6. Elegant Fire Pit
If you dig a "professional" look, you will LOVE budget101.com user cutewikki's idea.
With a few cinder blocks and block caps, a small bag of mortar, and two bags of red lava rock, you can make the exact fire pit.
After arranging the caps and blocks accordingly, seal them in place with mortar, and line the bottom of the pit with lava rocks.
BOOM! Backyard beautified!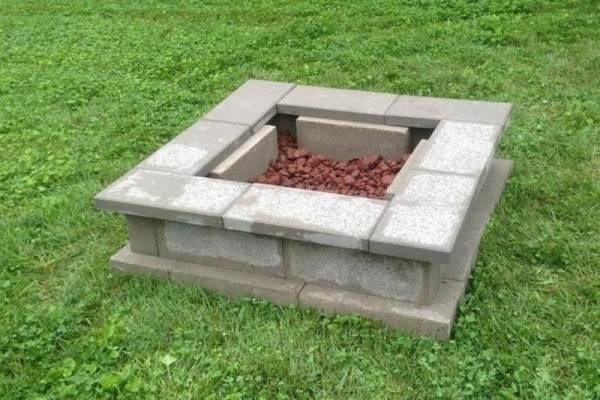 Read cutewikki's full tutorial on budget101.com by clicking here!
7. Fire Pit Grill with A Mature Look
Mandy documented how to build a cinder block fire pit on her YouTube channel, BanjoLemonade.
No mortar, cement, or fancy stone needed. Just follow how she and her husband placed the blocks, and you'll have a fire pit grill in no time!
8. Picturesque Pathway-Connected Fire Pit
If you have a pathway in your garden, extending it to make a fire pit area is a great idea.
Executing it this way takes more work, but you can bet you'll have the best fire pit in the neighborhood!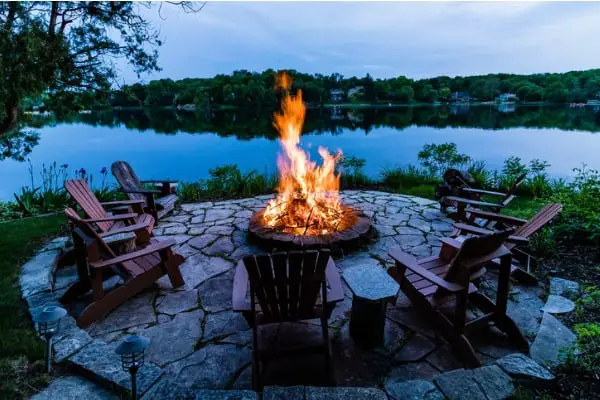 9. Pragmatic Slate-Finish Fire Pit
Chris Griffith makes his large fire pit for burning debris, but it's gorgeous, making it the perfect fire pit for any backyard.
His process is simple: layer blocks, add cement, add stones to top, then mortar exterior.
10. Graceful Concrete Fire Pit
Post pouring cement for the footing for the fire pit, Odell from Odell Complete Concrete shows his students the right method of cinder block placement.
But the best part of his tutorial is when he reveals how the LOVELY stone top is made! It looks like it was made for the house when it was built.
Even so, if you don't want to invest in building such an involved fire-feature and structure, you can achieve what you're after with an electric fireplace. They require minimal setup, and you can install them by yourself.
11. Classy Fire Pit with Bench
Craig explains how you can make a classy-looking fire pit with just cinder blocks, bricks, and some decorative blocks on his YouTube channel, CAmericaProjects.com.
It took him maybe an hour to put together, and his circular fire pit is sized perfectly for hanging out with a group of friends around.
12. Beautiful Stone Top Fire Pit
I'd never thought that a simple two-layer cinder block fire pit will look this pretty!
Again, it's all about the placement and finding the right stone, but your fire pit can look like this: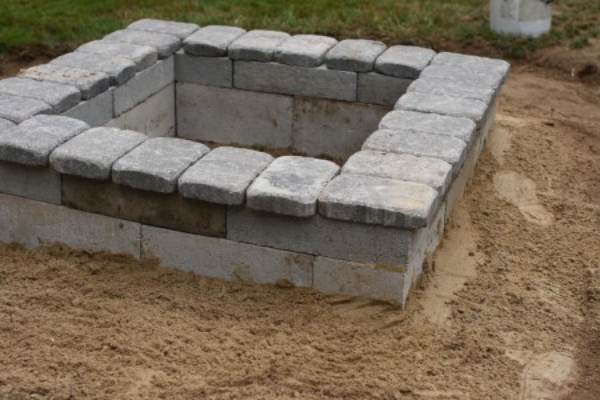 Carole hilariously explains how she "pushed" her husband, Dale, into making her fire pit idea happen on her blog Carole Knits.
13. Stucco-Effect Fire Pit with Bowl
If you need to know how to mortar cinder block stone fire pit the right way, Savannah and Philip from Oh The Potential will help you out.
After they mortar their cinder block pit, they fill it up with sand and place a fire bowl in it.
The bowl really seals the look – the design is simple but very effective!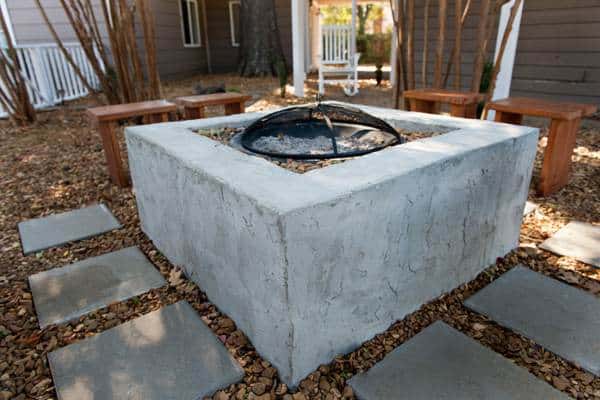 Find out how the duo made the pit from scratch on Oh The Potential.
—
Those were some of the best cinder block fire pit ideas on the internet!
But, you don't have to execute those to a T. If your fire pit is smaller, you can make a top for it and use it as an outdoor table when it's warm.
You can also alter the pit to fit a grill! The ideas and potential our simply endless.