Ah the futon, that convenient, dual-purpose piece of furniture you can find in apartments, guest rooms and dens across the world.
The original futon, comes to us from Japan. It too offered a "stow-away" type bed that saved room and comfortable enough place to sleep for the night.
The western-style futon comes in abundant style choices. Futon frames, mattresses and "duvet" like cover choices are nearly endless.
You can spend a wide range of money on futon sets, from an inexpensive DIY futon, or slightly more with an IKEA model all the way up to expensive Pottery Barn wood versions that look like a million bucks – the kind they use in fancy hotels.
What more do you need?
Well, I'll tell you: Unlike a nice couch or a great mattress for that matter, a futon is not one of those pieces of furniture most of us don't want to lay down a huge chunk of cash for.
It's practical and often serves a temporary purpose until we "move up in the world" and get a bigger place with more space or upgrade our guest quarters to an actual room instead of the end of a living room.
Enter the DIY futon frame. This is your chance to build something good enough at the size you need, but solid and perfect for your immediate needs.
DIY futon frame projects allow you to create custom, functional furniture that suits your personal style and needs. By choosing the right materials, design, and applying a bit of elbow grease, you can build a cozy futon frame that adds a unique touch to your home. Similarly, Spin Samurai Casino Login Australia offers an experience that can be tailored to your preferences. With a wide range of games available at your fingertips, you can easily navigate through their user-friendly interface to find your favorite slots or table games. Just like building your own futon frame, Spin Samurai offers a personalized gaming journey that is both enjoyable and rewarding.
Again, there are numerous styles here. We've picked a nice bunch of options where each piece can not only inspire you but answer your basic questions.
Most also provide helpful futon plans because you need the easiest way to make your own right?
Let's get started!
How Do You Make a Simple Futon Frame?
Our first group of build ideas and futon plans focuses on the fundamentals of building a futon frame to make for a supportive bed.
We'll work from basic DIY setups to more advanced plans that may meet your needs further. There's truly something here for everyone,
1. Tri-fold Futon Frame
Measure, cut, drill and screw and boom, you've got yourself a pretty nice futon frame.
This one comes from a determined DIY'er who shares his making adventure on Instructables.
As with any project that someone else has done (and we can follow), it's nice to see some "if I did it again" comments at the end for you to use.
Use these comments for yourself and follow the steps to a "T" for a pretty nifty futon design.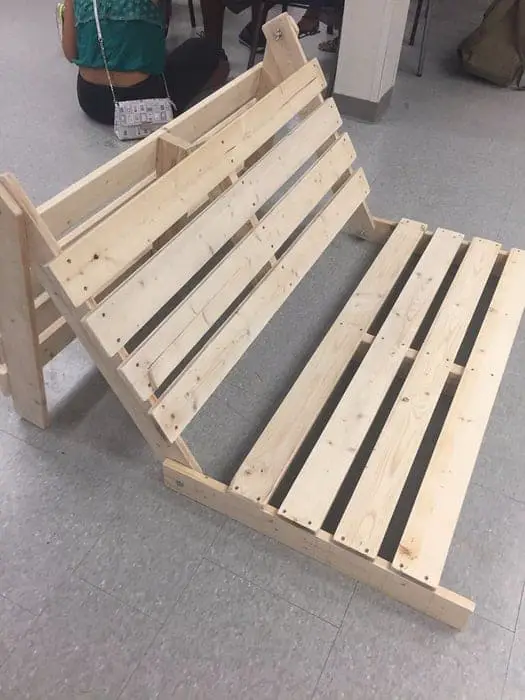 Visit Instructables for the complete low-down on making your own foldable bed and sofa.
2. Flip-Design Futon
Jane from Maflingo shares her unique, yet simple approach to create a futon that is a couch or sofa first, then a bed second.
What's great about Jane's design is she really stayed true to her needs and created a result that is perfect for what it needs to do in supporting her desired mattress size.
And that's function as a guest room bed when required, but be a comfortable enough sofa with a wood base all the other times.
Her flip-over design is actually pretty genius. You have to see it to get it, and you'll be nodding your head up and down in a very satisfied way immediately when you see it.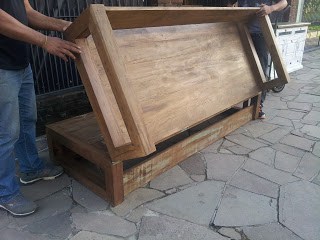 Take a stroll over to Maflingo to check out Jane's entertaining instructions on making this one.
3. Pottery Barn Inspired Chesapeake Double Lounger
Now, that title is a mouthful but this is one fold-up/fold-down piece of furniture that is sure to catch the eye and interest of every guest.
An outdoor futon? Really? Yes!
Who says you can't lounge or sleep on a futon mattress in style while you're outside? This design bring us this comforting idea.
Becky from The Design Confidential shows us her finished result taken from some well-documented plans.
If this style interests you, you should have no problem making your very own version.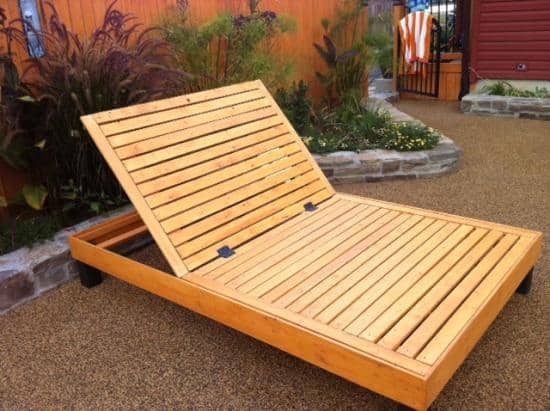 Check out Becky's rendition over at The Design Confidential and fall in love like we did.
 4. Sofa / Futon / Mattress frame
Here's another one from Instructables. This one is a straight-forward approach providing a 6-foot x 4-foot sized frame.
It requires only 4 differently cut sizes of pine wood and 2 sizes of drill bits for the holes.
You're going to create 12 planks here for your platform, so your futon mattress is going to be well supported by this frame.
The best part about this wood design it the cost of materials (wood and hardware) comes in easily under $50. Not bad.
Check out the very thorough assembling instructions over at Instructables. Lots of great photos are hosted there to show you the way!
5. Small Size Futon Frame
Sometimes, you just don't have a lot of space. In fact, isn't this one main reason you're building a futon frame in the first place?
This next how-to design comes from someone needed to make a futon frame at a size to fit in an RV.
Don't let that fool you though. This is one futon design that brings some cool flexibility with it.
For example, this futon frame is a modular one where the sofa bed can be configured into either a single or double bed by moving around each piece.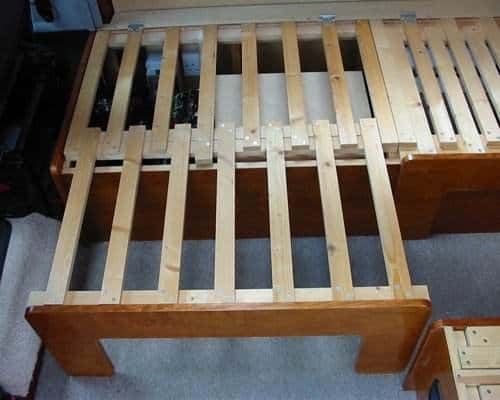 Visit DoitYourselfRV to get in on the action of making this versatile masterpiece.
6. Craftsman-Style Futon Frame
This one is a woodworker's dream. Or maybe we should say if you're dreaming of being a woodworker, this one is for you.
It's a stunning craftsman appearance that will have guests asking where you bought it. But when you tell them you made it, they'll be asking you for the plans instantly.
This is a nice size bed frame you can use to really set up your guest room.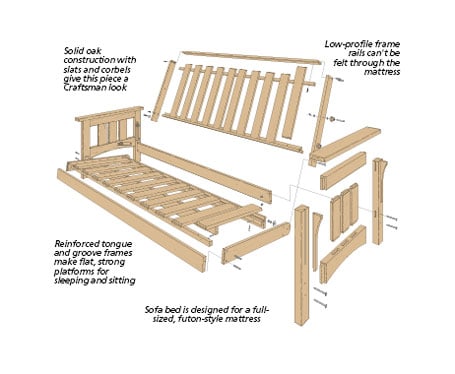 Check this futon frame out over at Woodsmith.plans and download your plans right now.
 7. Pallet Sofa Bed
I absolutely love this one because it is SO simple and one inexpensive futon frame. How about next to almost free?
Made from a throw-away wood pallet, there are just a few basic steps to elevate and "freshen" up the frame for a fun looking piece of furniture.
It's practical and does the job in a simple space. The design even comes with it's own nightstand or side table, depending on how you use it. And it's all in one piece.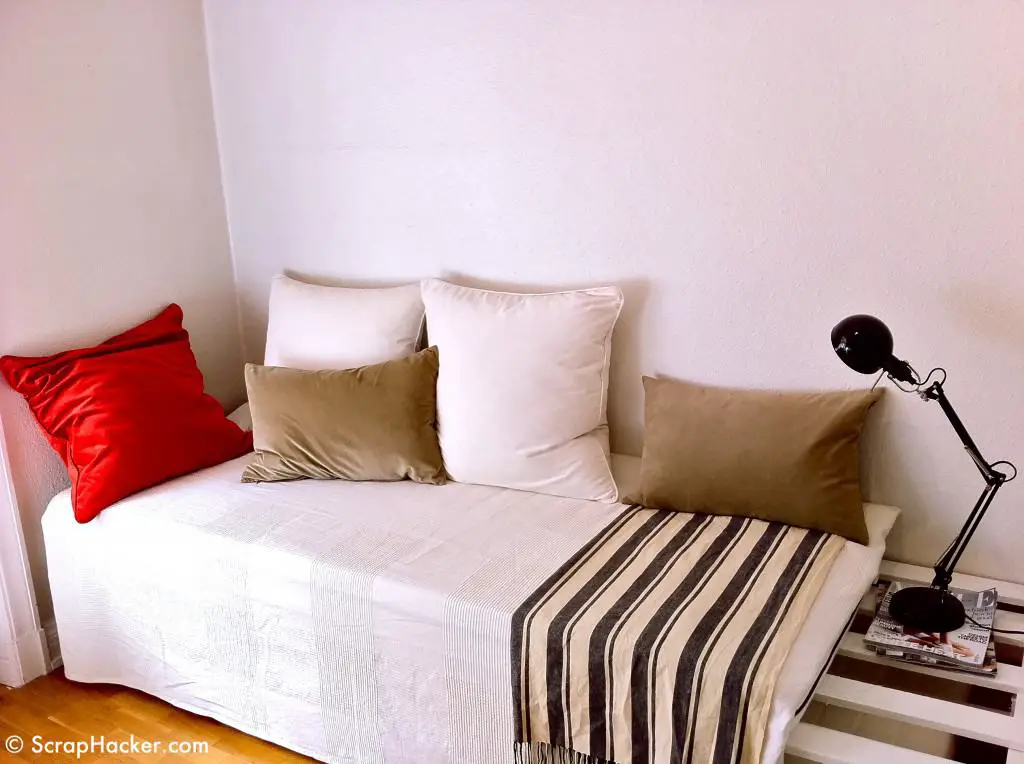 Find the plans and more photos over at ScrapHacker, where the DIY is so graciously shared
8. Knock-off Futon Frame
This make-it-yourself futon frame is just too pretty. You almost don't want to cover it up with a futon mattress.
Eric created this for one of his clients because they fell in love with an expensive original.
The fact that it can convert into a comfortable lounger sofa is a big plus; adding even more comfort and versatility to your room.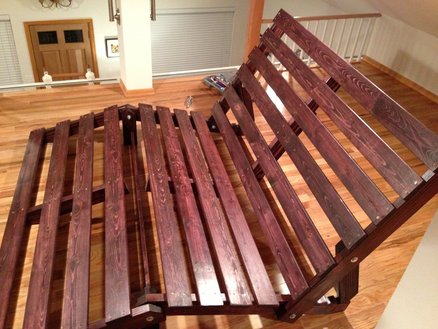 Learn more about Eric's project that he posted on LumberJocks and prepare to be awed.
 9. Oak Futon Frame
Here's how to build a catalog style wood futon frame from beginning to end.
As an "advanced" build, it goes without saying that this oak futon frame is one to keep in the family for years to come.
It will probably even outlast a mattress or two!
Make it yourself. Save money, and be proud.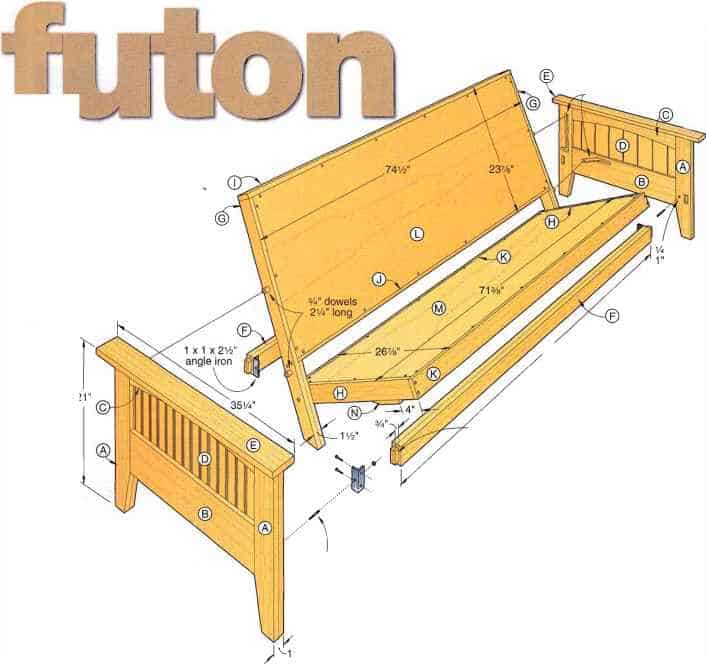 See how it's all done and download the plans over at FurnitureMaking.us.
So, how do you make a wooden futon? It's not too bad once you have an idea the multiple functions you need it to serve within your own space.
Some plans require and use more tools and hardware than others. If you're fine with a basic look, you can build a wood futon in a day.
How long does it take to build a futon if you're going for style as priority? Usually within a week you can make something pretty darn awesome.
The most difficult parts are really deciding what kind wood you want to use. Then comes finding the right mattress that will be easy enough to fold when being used as a sofa.