Your patio is an extension of your home and should be just as comfortable and inviting as your indoor living space.
It is typically used for outdoor entertainment and dining, and creating and maintaining a great patio relies on certain aspects such as design, space, furniture, greenery, lighting, and more.
When choosing furniture for your patio, there are several important factors to consider, such as size, style, material, and comfort.
Here is a guide to help you choose the proper furniture for your patio.
Determine the size of your patio
The first step in choosing patio furniture is to measure the size of your outdoor space. This will help you determine the amount of furniture you can fit and ensure that you select appropriately scaled pieces for your patio.
Consider the material
Furniture for outdoor use needs to be durable and weather resistant. Common materials used for patio furniture include aluminum, wrought iron, wicker, teak, and plastic.
Each material has its own benefits and drawbacks, so consider your climate and the amount of maintenance you're willing to do when selecting the right material.
Using recycled plastic furniture is a great idea.
Decide on your style
Just like with indoor furniture, the style of your patio furniture should reflect your personal taste and complement the overall look of your home.
Consider your existing outdoor décor, such as your landscaping, to help you choose furniture that matches the look you're going for.
Comfort is key
When selecting furniture for your patio, comfort should be a top priority. Choose chairs and seating that have plush cushions and select pieces with adjustable backs or built-in recliners for added comfort.
Think about the storage for your patio furniture: By keeping it in a safe place during the off-season, you may extend the lifespan of your outdoor furniture by decades.
Items will be protected from the weather in a garage, cellar, or shed to avoid damage or further depreciation.
Even the most arduous patio furniture, such as a wrought-iron sofa or a pair of teak chairs, can endure lengthier if it is preserved while not in use.
If you have a tiny closet space, search for foldable patio furniture that can be disassembled quickly for less room. Stackable chairs may also improve storage capacity when the outdoor season is over.
Don't skimp on quality
Investing in high-quality furniture is a wise decision. Quality pieces will last longer, look better, and become more comfortable over time.
When considering furniture, be sure to check for sturdy construction, weather-resistant materials, and well-made cushions.
Focus on the accessories
Adding accessories to your patio furniture can help create a cozy and inviting atmosphere. Consider adding pillows, throw blankets, and outdoor lighting to your patio.
These small touches will help create a welcoming and comfortable environment for you and your guests.
Consider the maintenance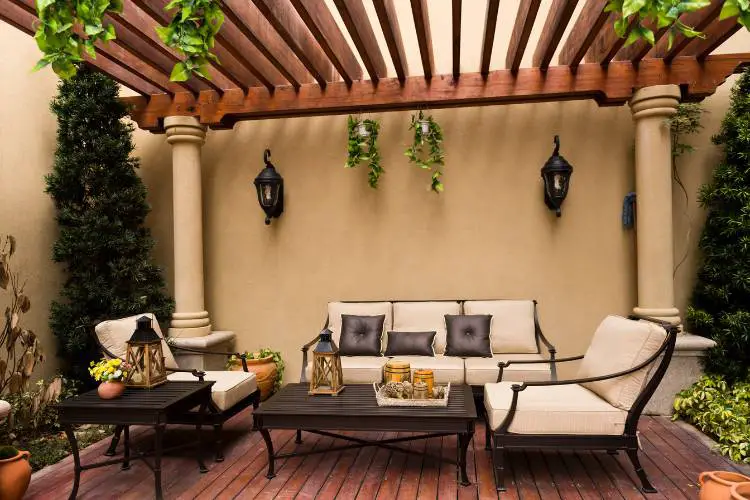 Outdoor furniture can require more maintenance than indoor furniture, especially if it's exposed to the elements.
Consider choosing pieces that are easy to clean and maintain or pieces that are designed to be left outside year-round.
Add Your Furnishings In
Add Your Furnishings In: It's lovely to imagine your outdoor room as a haven of peace in a chaotic environment, but it's not on a remote island; it's on your premises, sometimes right in the path of passing cars and pedestrians.
Make sure it should be distinct from the outside of the remainder of your property, even though you might believe that cheerful orange chair with the yellow happy faces is charming.
Patio furniture should be enjoyable and easygoing, but if you've recently invested a lot of money to increase the aesthetic appeal of your house, make sure the look is good with a stupid and temporary decorative piece.
Set a budget
Furniture can range from inexpensive plastic pieces to high-end, handcrafted sets. Set a budget for your patio furniture and stick to it.
By doing so, you can ensure that you get the most for your money and avoid overspending.
Take special attention to the fabrics
When assessing materials for outdoor furniture, look for heavy-duty thread and regular, even stitching at cushion edges.
Pick cushions that have vents to promote ventilation and rapid evaporation. It's also a wise option to choose patio chairs with flippable cushions.
They'll keep their form, dry faster, and degrade uniformly. Patio furniture is made from various cozy, long-lasting textiles, including polyester, treated canvas, acrylics, and cotton duck.
Choosing suitable furniture for your patio is an important decision that will impact the look and feel of your outdoor space.
When selecting pieces for your outdoor space, consider the size of your patio, your personal style, the material of the furniture, comfort, storage, quality, accessories, maintenance required, and budget when selecting pieces for your outdoor space.
With careful consideration and attention to detail, you can create a comfortable, inviting patio that you and your guests will enjoy for years to come.