Summer is the perfect time to complete an outdoor home improvement project.
Exterior home improvements and DIYs can add value and curb appeal to your home.
Curb appeal will make it easier for your home to move on the market, or just nicer to look at for you.
Here, we'll lay out 5 DIY projects you can do over the summer that will take your outdoor space to the next level.
Create a Paver Patio
This is a simple way to improve your backyard. Paver patios are a great DIY project.
They are low-cost, and you typically don't need a permit to make one.
To make a paver patio, gather your materials. You'll need sand, gravel, a paver, and tools like a rake and a shovel.
Once you have chosen a level area for your patio, put down a layer of sand. Next, put down a layer of gravel and install some edging.
Finally, you put down your pavers to complete your patio.
Revamp Your Porch
In terms of exterior design, porches are making a comeback. They're perfect for getting a breath of fresh air without leaving your home.
There are dozens of different ways you can redress and revamp your porch.
Consider replacing the steps or railings on your porch with new ones, or applying a new coat of varnish to the wood to keep it in good condition.
If you want a bigger project, why not convert your porch into a sunroom by adding screens?
Enjoy the warmth and weather with added privacy and protection from the elements!
Paint Your Front Door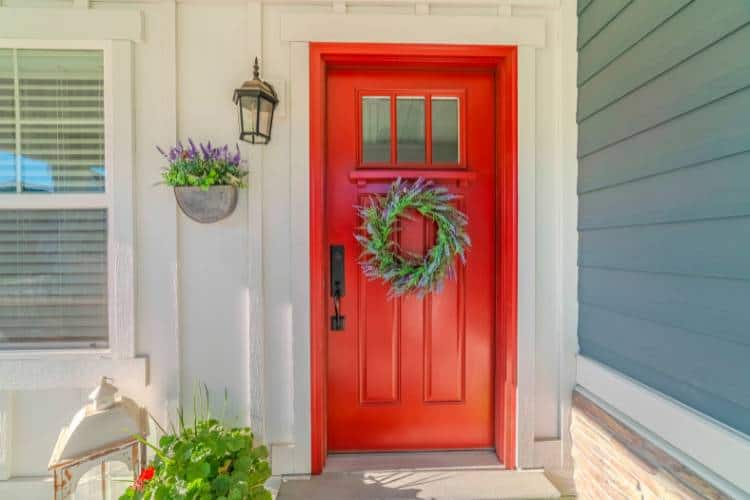 Painting your front door is a very easy and affordable way to add curb appeal to your home.
Choose a color that matches your door or adds some fun contrast. Gather materials like paint, rollers, sandpaper, and primer.
To paint your door, you'll first want to get it clean and sanded to remove not only dirt, but any paint that might have been on it previously.
Then, cover the door with a layer of primer. This will prepare the door to receive the paint, keeping it from chipping or revealing too much of the door's original hue underneath.
Finally, paint the door your desired color using a bristle brush to get into carved-in details.
Do a second coating if needed to achieve the color and opacity you want.
Install Outdoor Lighting
Installing outdoor lighting can be tricky, but you can make it a DIY project.
The first thing you must do is get yourself an outdoor lighting kit and some outdoor light fixtures like these.
Have fun shopping around for fixtures that suit your style! If the light fixtures come with instructions, follow them carefully in order to connect it to the house power supply.
Next, dig a shallow trench with a trench shovel. You'll place the wiring in the channel, pushing it to the bottom.
Strip the end of the wiring, and attach the wires to the transformer, which can be mounted onto the house itself, so should you wish.
Now, you'll place the fixtures. Keeping them at least 8 feet apart, connect the fixture wires to the wire in the trench.
Connect the fixtures to stakes and drive them into the ground. You'll bury the wire once you're sure all the lights work.
Create a Flower Bed
Flower beds add a wonderful, natural pop color and beauty to your home. And what's better is that they're fairly easy to put together. 
The first thing you should do is select a nice sunny spot for your flower bed that is within reach of the water hose.
Next, decide what kinds of flowers you want, then choose a soil that meets their needs.
Start by removing all of the grass from the area. Next, put down a layer of cardboard, and add a line of edging, like stones or bricks.
As strange as it seems, you'll want to water the cardboard – this starts the process of breaking the cardboard down, killing weeds and grass in the area.
Then, add about 6 inches of garden soil or more, depending on the types of flowers you'll be cultivating.
Finally, plant your flowers directly into the soil, carefully minding the roots.
Remember to water your flower beds regularly and watch for pieces you may need to prune or trim to keep the blooms happy and healthy.
Make a Fire Pit
Fire pits are a fun DIY project for any backyard. Choose a location away from your home and any trees to make a fire pit.
Mark a shape on the ground about 4 or 5 feet across. Dig up the earth- you'll want it to be about 7 inches deep and as level as possible.
Add a 5-inch base of gravel. Next, start laying out your stones or bricks, careful to keep them level.
Lastly, add a fire pit bowl or ring insert to complete the assembly. Most pit bowls can be found in hardware stores or garden supply centers.
Conclusion
If you want to bring new life to the look of your home outdoors, or you just want to keep yourself busy and engaged with a fun summer DIY to upgrade your home, try out any of these creative projects that will up your curb appeal game!