Curtains are not just a must have home decor feature, but they also boast some great functional qualities.
Aside from providing privacy, they help filter out sunlight, insulate against noise, and are generally one of the best ways to revitalize your space.
However, going for professionally made curtains can cost you a pretty penny, so if you don't want to bust your bank account, you can always opt for DIY alternatives.
It doesn't matter whether you're savvy in the sewing genre or not, because these handy tricks will certainly help you design the best curtains for your living room!
1. Get acquainted with clip drapery rings
This no-sew DIY curtain design hack requires just two things: the fabric of your choice and clip drapery rings!
This curtain style works best if you're opting for a classy farmhouse style look.
You can get the fabric of your choice, but plain white sheets that can give off that sheer, reflective vibe are definitely the best option.
All that you have to do is attach the clip drapery rings to the top end of the sheet.
Make sure that they're attached at equal intervals, and once you're done, all that's left to do is to hang them onto the curtain rod.
2. Trendy curtain rods, rings and accessories
One of the most important aspects of DIY-ing your living room curtains is to accessorize them properly, and nothing does that better than trendy curtain rods.
There are plenty of ways you can make yours look good. You can take typical rods and spray paint them an elegant gold to add an expensive touch to your interiors.
You can spray paint your rings or clips to match the rod for the best effect.
You can also DIY the rod entirely, from scratch. A good idea in this vein is to get yourself a simple wooden slat and attach hooks all along its length at equal intervals.
This type of a rod is excellent for hanging tab top curtains.
3. Add a bit of customization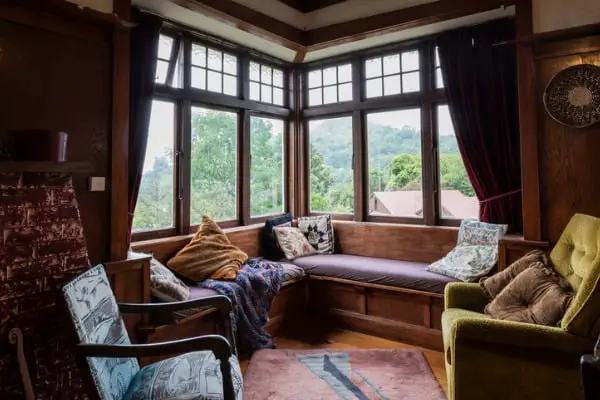 A custom drapery store should always be your go-to for professional curtain alterations, but if you're on a budget and have a hankering to DIY it, then here's the perfect solution for you.
All you need is some lace, some bonding tape, an iron, and an hour of your life.
Once again, you'll be attaching clip-on rings to the top of your fabric, but this time the sides are going to get customized with lace.
Pom-pom lace is great for evoking brightness and colors, but you can get any design you like.
Just take the flat half and iron it onto your curtains with bonding tape. It'll make a gorgeous fringe and will definitely add a designer touch to your homemade drapes.
4. Design your own blackout curtains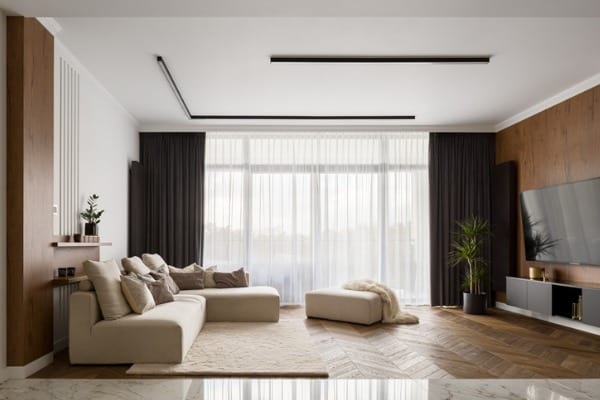 You might think that homemade blackout curtains would be the most challenging DIY project, but it's actually the easiest.
The trick to making it successful is  sewing a blackout fabric behind your actual curtain fabric, and hemming it properly.
All you have to do is pick out the fabric of your choice – be it a solid or a patterned one – and cut it according to the dimensions of your individual curtain panels.
Then take the blackout fabric and make sure it's cut 2-3 inches shorter than your curtain panel. Put it on top and sew in the hems for a neat, tidy look.
5. Adhesive tape for the win
If you don't have any sewing savvy, but still want to design the perfect curtains for your living room, then it's no big deal – you can just get steam-a-seam double sided tape.
It's basically like an iron-on adhesive tape that is very soft and pliable. You can place it where you want to create hems, then iron it to seal.
You can easily create rod pockets using this method as well. Then all that's left to do is to slip the curtain rods inside and enjoy your no-sew DIY living room curtains to the fullest!
6. No Fabric? No problem!
Finding the perfect fabric for your curtains is always a test of taste, but if you really don't want to make a selection, even a simple table cloth will suffice.
It's easily available and you might even have spare ones lying around at home. You just have to convert them into panels and clip on the rings, and you'll be good to go!
So, these are some great tricks and hacks that you can use to design your very own DIY living room curtains.
We hope this guide helps you break the ice with no-sew drapes, and shows you how easy it can be to make them.