Far from being just a place to park your car, the garage can be a functional. Multi-use space to help you achieve more around the house.
Many people have taken up new hobbies over the last year or used their free time to make do-it-yourself home improvements.
Often, we forget the how useful the garage can be. As a space we use rarely, it can become a dumping ground for unused, unloved and unnecessary belongings that clutter up the house.
"Out of sight, out of mind" seems to be a common thought for how we use our garages.
Tidying up and creating a useful garage could benefit your property though.
As many potential buyers hit the property market last year thanks to the stamp duty holiday, more versatile space was high on the list for buyers.
Having a multi-functional garage could therefore add value to your property price.
As demand for home offices grew last year with so many full-time employees working from home, garages across the country were converted to workspace.
However, as the world works toward a more open future, it might be worth considering a different use for your garage.
Creating a DIY workstation is a great way to maximise your garage's potential and help you with ongoing home improvements.
A workstation does not have to take up too much space and with a few clever hacks, can double as storage for your household tools and gadgets.
Aside from storage, you can also add a lounge area, or even a bathroom in your garage space.
The latter is the most ideal since it needs to be accessible when nature calls. There are bathroom fixtures like dual-flush sanicompact toilets (learn more here), that are easy to set up.
Of course, creating a work area in your garage is a job in itself and you will need to start somewhere.
We've compiled our guide to help you create a functional space in your garage to get all your home improvement and DIY jobs done.
Start by decluttering your space
First of all, you will want to rid your garage of all the unnecessary clutter that it has accumulated over the years.
Be as ruthless as you can and recycle everything that no longer works, no longer serves a purpose and you no longer need.
If you have some good quality items that are in good condition still, why not try and make some money by selling them online?
Resale sites and marketplaces are a great way to make some cash and keep goods out of landfills.
Get organizing what's left
Once you know what you are keeping, you will be able to organize it more efficiently. Clever storage hacks will help you organize shelving and cupboards effectively.
You might even stumble upon some interesting ways to store large items you had not considered.
Wall brackets or pulley systems are a great way to keep bikes organized in the garage and out of the way when you are working on DIY projects.
If you do not have shelving already, buy some metal rack shelving that can be customized to fit your belongings.
Set up your workstation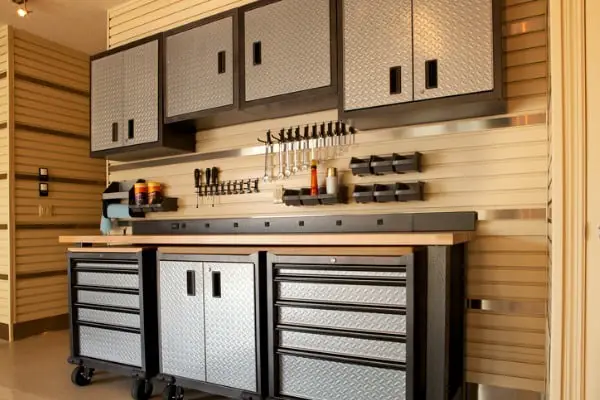 Now your garage is looking more spacious, you can set up your workstation. Invest in a high-quality workbench with storage for tool boxes and other necessary equipment.
You might need to invest in some good lighting too, so you are not straining your eyes when working.
Make sure your work area is set up near a power source so you can use your power tools.
Finally, ensure your workstation is set up ergonomically to avoid causing yourself injury while you work on your DIY projects.