Children's playgrounds are rife with structures meant for hours of fun play.
You likely have memories of the brightly colored slides, swings, and monkey bars from your own childhood.
Over the years, children's playgrounds have evolved—many of them now have fancier, multipurpose slides, obstacle courses, and complex play areas.
uptown pokies australia login has carved out a niche for itself in the competitive world of online gambling, primarily focusing on Australian players but welcoming gamers from around the globe. This online casino has made its name by offering a robust selection of pokies, the Aussie term for slot machines, along with a variety of classic casino games.
However, the thrill of sliding down from an elevated platform to reach the ground is as exciting as it has ever been.
Your children don't even have to leave your house to enjoy a slide—you can make one on your own!
A DIY slide like on playgrounds are incredibly fun to construct from scratch.
You don't have to be an expert on arts and crafts to do so, and you and your children can make construction a team effort.
Building a fun slide with your little ones is a fantastic bonding experience, and it will be rewarding for them to have a hand in a playground structure that they will enjoy for a long time to come.
There are plenty of ways to build a slide, many of which don't require a lot of specialized tools or materials.
All you need is a bit of time, creativity, and effort to lovingly construct a safe and fun slide for your children.
15 Ideas for Fun DIY Slide Structures
In this article, I've collated 15 unique and fun ideas to make a simple DIY slide for indoors as well as outdoors.
Check them out, and let me know what you think!
1. They See You Rolling, They Love It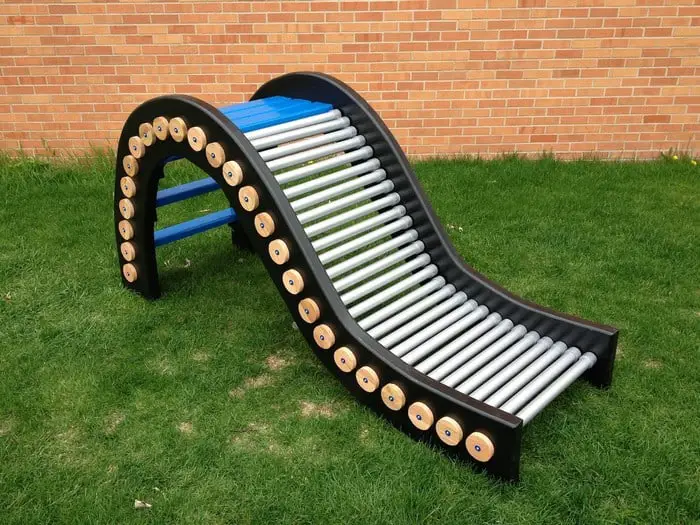 Here's an example of a very well-made rolling pipe slide from Owner Builder Network!
Are you looking to add a bit of excitement to your backyard? A DIY rolling pipe slide will work wonderfully.
Its unique aesthetic is what makes it so attractive—you'll have something so special to add to your backyard!
This DIY playground slide uses PVC pipes to create the rolling effect, while the frame can be made using wood.
You can see the step-by-step instructions in this video to make the perfect kids' outdoor slide.
2. Take a Slide Downstairs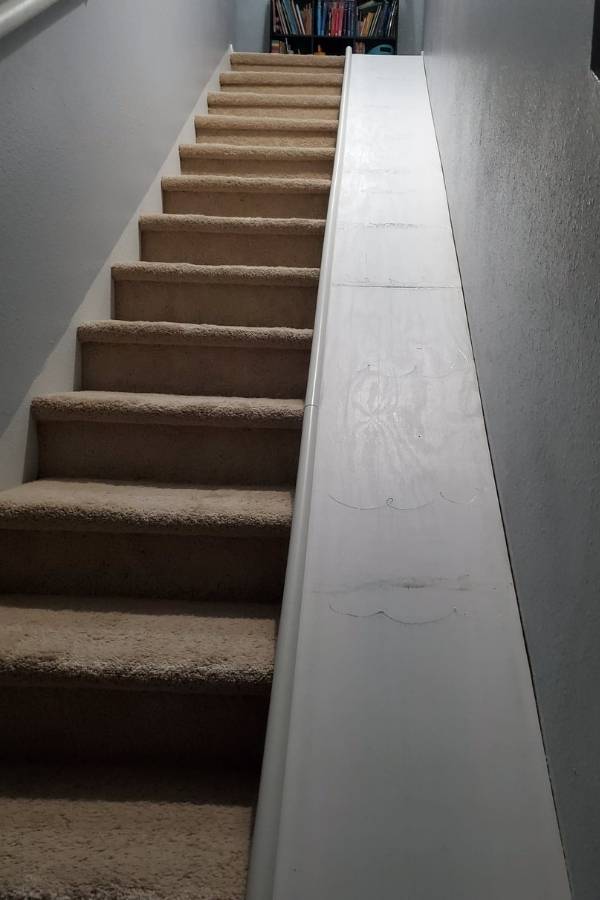 Check out this great DIY stair slide from HandCrafted Tale.
Do you constantly worry about your children falling down the stairs?
DIY slides for the stairs are the perfect creative fixes for you and your little ones!
This simple homemade slide uses your existing staircase as a descending base to fit a slide.
This project requires minimal materials and tools.
Choose plywood that matches the rest of your decor so that the slide complements the rest of your interiors.
3. Set Up a Cardboard Slide
Watch this video to learn how to construct a simple and safe cardboard slide at home.
Next on the list is a simple DIY slide that requires no specialized tools. Cardboard slides are customizable, easy to set up, and won't take up a lot of space.
The best part is that you can build a slide even if you're a DIY novice.
An added benefit to this homemade slide is that your kids can paint it!
A fun decorating project will encourage their creativity and give them a taste of arts and crafts at a young age.
4. Enjoy a Playful Outdoor Slide
Check out the steps to make this DIY slide here.
Do you have a passion for woodwork? Do you want your kids to have a fun and safe new hangout spot right in the middle of your backyard? This one's for you.
This kids' outdoor slide will be popular with your children and their friends.
It requires a bit of woodwork that may take a few days to finish, but the amazing result will be worth all the effort.
After all, the true reward is in watching your kids have fun on your playset!
5. Slip 'N' Slide DIY
Dunn Lumber will show you how to make a great slip 'n' slide in your backyard, with a tried and tested method from their own childhood experiences.
One simple way to make a DIY slide even more fun: add some water!
Slip 'n' slides are incredibly popular amongst not just kids, but adults as well. You can spend hours sliding up and down the waterlogged slide as a relief from the sun.
If you want to make this homemade slide, use a material that won't harm your child's skin.
6. Slide Down Some Boxes
Check out this video to learn how to make this DIY stair slide.
Empty boxes have so many potential uses. You have likely used your Amazon boxes for storage or home organization, but did you know you can also use them to make a DIY slide?
You read that right. You can easily make a slide at home using boxes, along with a few other materials.
This project is as easy as it gets, and you don't need extensive experience with DIY crafts.
You can also get your kids to paint the slide once it's finished.
It's sure to be a fun and artsy afternoon, followed by days of playing on your new DIY slide!
7. Play With Wooden Pallets
For a guide on how to use wooden pallets to make a slide, check out this tutorial here!
Do you have spare wooden pallets lying around and a lot of free space on your property?
This outdoor DIY playground slide is the perfect project for any woodwork enthusiast.
It will require one or two days to complete, but your children and their friends are sure to spend hours of fun on the final product.
Using sturdy wooden pallets will ensure that your DIY playground slide will remain safe and durable for a long to come,
You don't have to make it exactly as shown in this video.
Instead, look for ways you can adapt this technique to suit the materials you have at home, the available space, and your time.
8. Stylish Wooden DIY Slide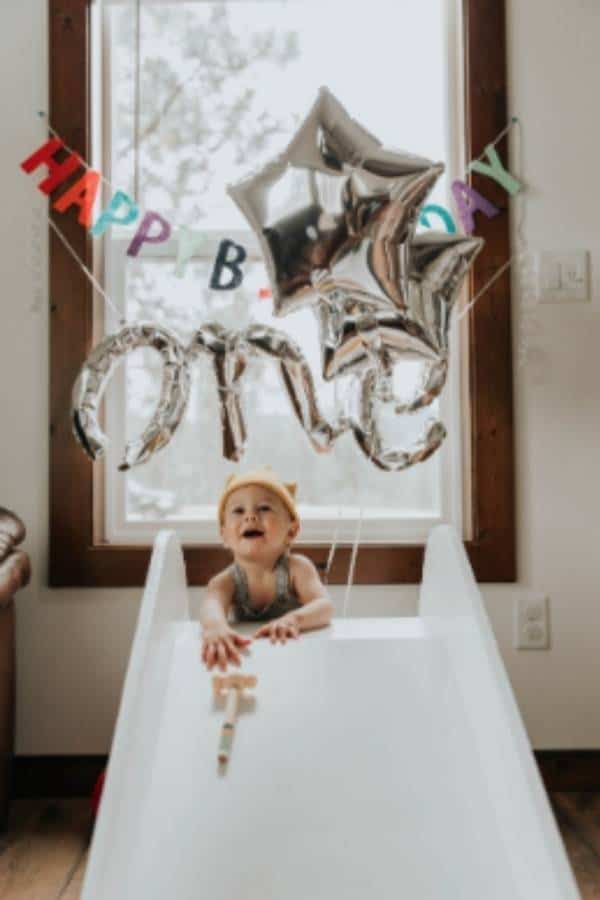 Jessi Martin details the steps in their blog here.
You can easily create a small, wooden indoor slide that matches your children's playroom.
It can serve as a great decor piece while providing hours of fun for your young ones.
This indoor kid slide can fit seamlessly with your interiors, and it doesn't require high-level craftsmanship to make.
You can decide on the final touches to make the simple structure suit your specific tastes.
9. Trick or Slide? (Halloween Special)
You can get the instructions for this slide here.
We know Halloween is months away. You can put this DIY slide idea in your back pocket for now and pull it out in a few months to surprise your kids.
This piece of decor is not for kids to slide down, but children will love it anyway when they come over for trick or treat.
It is the perfect piece to have on your front lawn to get your entire neighborhood into the spirit of Halloween.
You can also use the spooky crafts in this DIY slide on any of the other projects mentioned on this list!
10. Stairway to Slide
The video details each simple step.
If you're someone who hasn't made a slide before, or if you're not sure about making a full-fledged slide yet, this is a great place to start.
This DIY kids' outdoor slide is perfect if you have a set of stairs on your front porch or through the backdoor, on the way to your backyard or garden.
11. Revamp Your Playhouse
For a step-by-step guide, check out Houseful Of Handmade.
Do you have an old shed that's not being used? Is your kid getting bored of what you have in the backyard?
It's time to spice things up with this simple outdoor kids slide.
It is the perfect addition to an existing playhouse and will surely bring your kids back to their favorite spot in the backyard.
12. Slide Down the Rainbow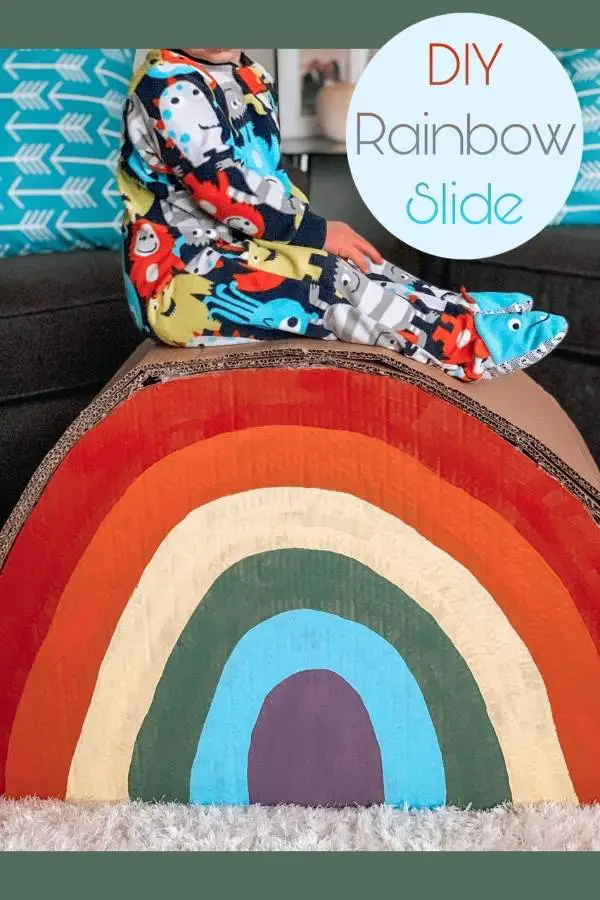 You can check out the original idea at Craft Monsterz.
When making a DIY slide for your kids, it's all about having fun every step of the way.
This rainbow slide is a colorful delight!
This is another indoor kids slide that does not require too many materials and can be made by DIY beginners.
It's a fun activity to do with your kids, as they will enjoy the painting process as well.
13. The Tower of Fun
Check out the step by step instructions here.
If you're up for some intense woodwork, this DIY slide tower is an excellent project to tackle.
It is sure to become a hit not just with kids, but other woodwork enthusiasts too!
While it is a commitment of at least a few weeks, the result is a wonderful haven for your children.
After all, every kid wants to have their own "secret" spot or hideout in the backyard.
With a few blankets and pillows, this will surely become their favorite.
14. Slide Down the Bunk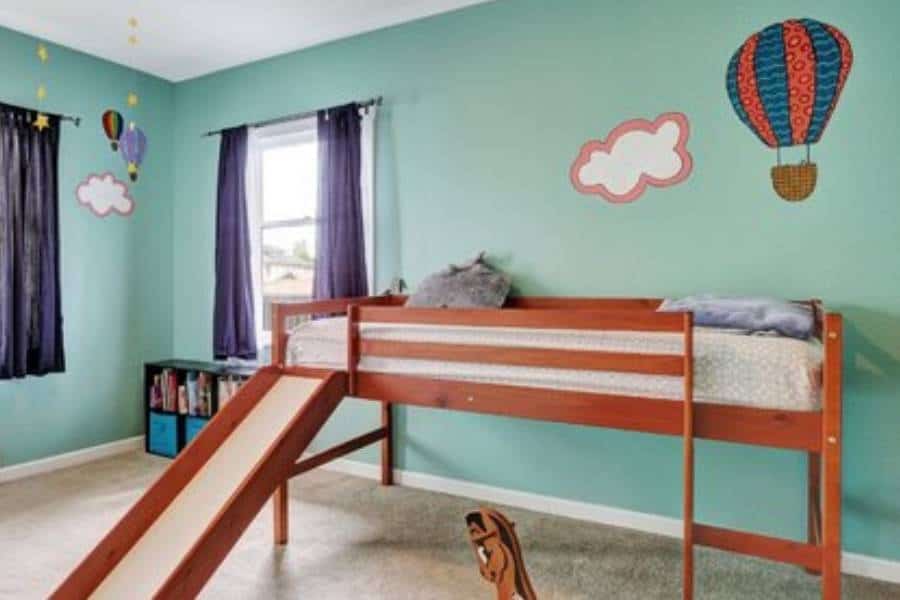 To learn how you can upgrade your children's bunk bed, check out this guide from DoItYourself.com
Bunk beds are already fun for kids. So why not make them even more exciting by installing a slide for the top bunk?
The only downside to this DIY indoor kids slide is that it has the potential to create rifts amongst siblings—they'll all want the top bunk!
Once you figure out a way to make everyone happy, this addition will make the bunk bed experience even better.
15. Treehouse Slide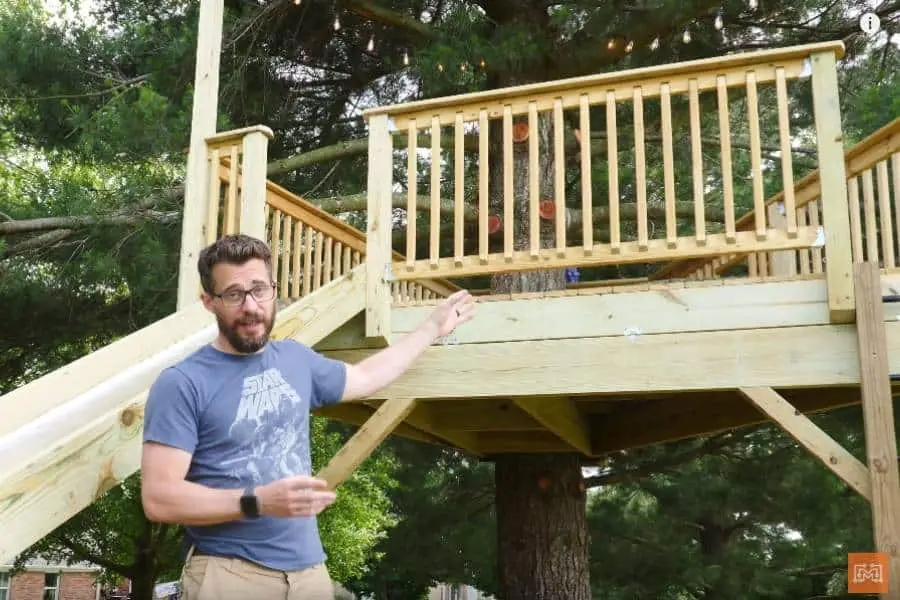 Have you ever met a kid who didn't want a tree house? Me neither.
A tree house is every kid's dream, so if you're making one for your kiddo, why not go all the way?
Add a slide and make it the adventure spot for your kids!
This project will require a few days of planning and construction.
But like every homemade slide on this list, the time and effort are more than worth it.
This extensive tutorial from the dad at I Like To Make Stuff has a part one and part two. The tutorial is also available as a video!
Conclusion
A DIY slide is a fantastic way to keep kids busy and help them stay active, especially during summer and winter breaks from school.
There is a homemade slide option for every level of DIY expertise, from novice to expert.
All you have to do is pick a project that suits your skills, something that your kid will love.
If you have any other suggestions for DIY playground slides, let me know in the comments!