Star and berry décor is a staple during the holy week. The star represents the star of Bethlehem, and holly was considered sacred by the Druids.
Such beautiful symbolism, no?
While you can always buy the adornments, there are a few ways you can DIY the symbolic decorations yourself!
So, in this post, in addition to showcasing some of the best décors you can buy, I will also highlight five of the best DIY star and berry décor projects on the internet.
Let's start with the DIYs first!
Five Star and Berry Adornments You Can DIY
1. Striking Star and Berry Bowl
If you have an old bowl lying around, you can give it a fresh look by painting it how blogger Tolentreasures does.
First, you must paint the insides black. Don't be afraid of using too much paint, since you have to spread it out using a piece of sponge.
Make checkers with shades of brown on the bowl's inner ends, then use a long script liner brush to make the vine.
Stencil in the stars, paint the berries, and that's it – you have yourself a beautiful decorative bowl!
You can also paint this onto a tray or other old pieces of crockery.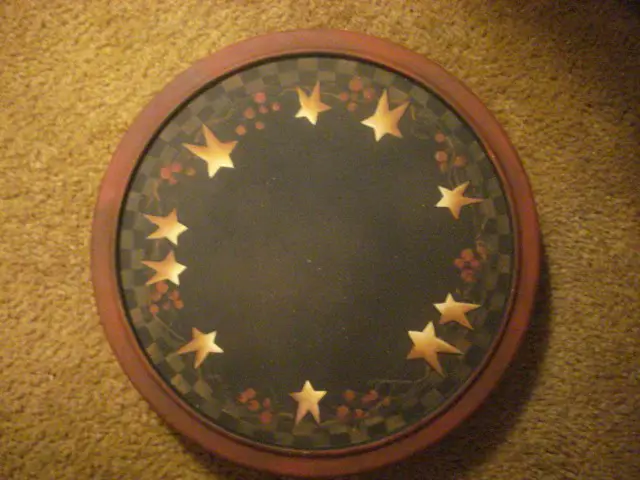 Tolentreasures illustrates how you can mimic her design on her blog.
2. Star and Berry Paper Wall Hanging Decoration
Mayuri demonstrates how you can make a star hanging decoration with ease in her tutorial on her channel Two Points Crafts.
Her design is cute and simple – she makes origami stars in different colors, connects a thread to one end of the stars, and ties them to a twig. Adorable!
While Mayuri adds mini-stars and beads to the thread to make the design more enticing, the beads are white, which isn't true to the theme.
However, you can get artificial pip berries from a store or pick some up from around a willow tree and glue those onto the thread instead.
3. Rustic and Beautiful Star Wreath with Berries
Pinterest user Simply Laurelle ties together twigs in the shape of a star with regular rope.
She ties a pip berry twig to the bottom-right corner and positions it, the lamp's base goes along the twig to the top-left corner.
The simplicity of the design gives it a unique charm – it's a wreath that'll look good on any door.
4. Macramé Star Ornament with Berries
If you're a beginner, macramé art may seem intimidating. But it's just like any other DIY project – you follow the instructions in a set order!
To make the macramé star ornament, you need four 130-inch cords and five beads.
While YouTuber Macrame School uses beads, you can use pip berries instead.
You must pin the cords at the halfway point and connect the four pieces of the cord by tying knots between them. Macrame School illustrates the technique wonderfully!
5. Wooden Star with LED Berries
Danielle de Lange shared her starlight design on Flickr, and it will make an excellent addition to your mantel!
The simple star is made out of sticks with nails driven in the corners. The extended corners give it a nice, agrestic contrast against the red LEDs used to represent the berries!
Visit:
https://www.flickr.com/photos/55397648@N00/8257460892/in/photostream/
Seven Star and Berry Adornments that Are Worth Every Penny
1. RoomMates Country Stars & Berries Wall Decals
A plain white wall is just too bland for the holiday season.
RoomMates supplies an easy and affordable solution: reusable wall decals!
The company promises that the decals do not leave any residue when removed, and since it's made out of vinyl, it will serve you well for many Christmases!
2. CWI Gifts 40" Pip Berry & Star Garland
Pip berry and star garlands are a classic piece of decoration that accent any room perfectly.
It also makes the entryway homier and more welcoming because of its natural colors and texture.
3. Stars And Berries Country Swag
The combination of cranberry and dark beige makes this swag from The Country House Collection pop.
It's made from cotton and will last you years, but the design is what makes it a must-have if you're looking to give a room some country flair.
4. Stars and Berries Cotton Embroidered Placemats
Using stars and berries placemats not only gives your table a rustic charm but the humble design, coupled with the positive symbolism, makes it the perfect addition to the dinner table in the holy week.
The set of placemats are hand-woven and machine-washable, which means you don't have to worry about maintenance much.
5. Rustic Star and Berry Wall Decor
These affordable pip berry picks combine burgundy and navy-blue berries with one-inch tin stars, giving it a colonial look.
It will give your space a graceful lift regardless of if you use it in planters, buckets, or baskets!
6. Burgundy & Old Gold Pip Berry Ring Wreath Rusty Stars
In addition to using this wreath for your door, you can place it on your mantel or around the base of a table lamp.
Since the inner diameter is 4 inches, you can also use the wreath like a candle ring!
The combination of burgundy and old gold berries makes the wreath very attractive. It will look great, regardless of how you decide to use it.
7. 63 Feet Red Pip Berry Garland
If you have some stars at hand, you can use this pip berry string to DIY some interesting ornaments.
You can also use the string in Christmas trees, garden fences, or wrap it with lights. It's super versatile!
Since the berries are artificial, you don't have to worry about the berries dullening over time.
It's something every DIYer should have in their inventory!
—
DIYing star and berry décor is fun and gratifying and can be a great way to get the kids involved and teach them about the significance of Christmas.
But there are plenty of purchase options also available if you need them.