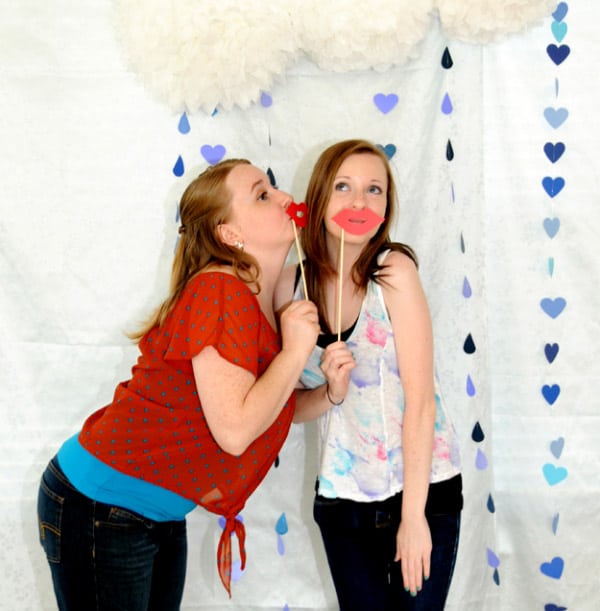 Meet my fabulous sisters Rene and Alison.
My sister, Rene, recently sent me these photos of a wedding "rain" shower photo booth she created for a friend and I knew I had to share them with you.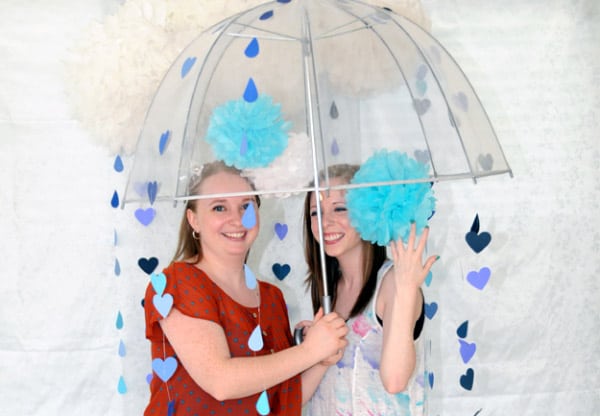 I mean, a rain shower themed wedding shower = AwEsOmE!! These photos are of my sisters goofing around on the set. They obviously take this party business pretty seriously.
One thing I love about this photo booth experience is that it can be a great ice breaker at your shower.
For example, if you have several friends from out of town or family that doesn't your friends, get them going in the photo booth at the beginning of the party.
Getting into costume and character is so much fun that everyone will connect more easily, quickly.
Then at the end of the party, when everyone is, shall we say, feeling good and merry… do some more pictures. You're sure to get some doozies.
Now, ready to make a rain shower photo booth of your own?!!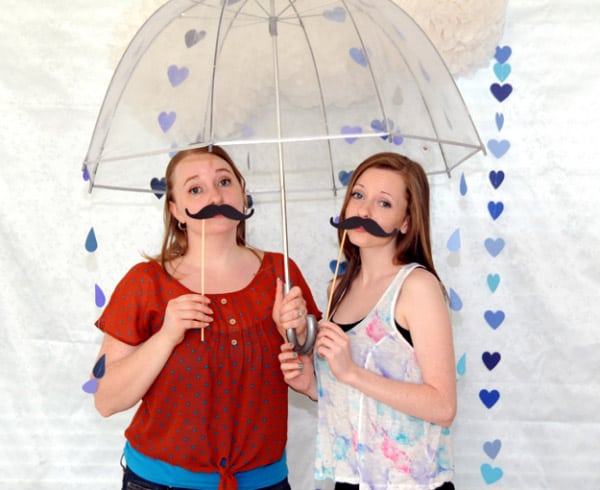 Here are some of Rene's tips:
How to Create Your Wedding Shower Photo Booth
1. Find a blank wall and hang a sheet up as a backdrop. Gray, light blue or white might be your first thought. But… any color can do here. Make it fantastical! Who said rain has to be all about gray skies?
2. Decorate! Use your imagination. My sister used giant poms to create a cloud and handmade heart garland for raindrops.
3. Add goofy props. Mustaches, umbrellas and giant lips are required. 😉
4. Invite awesome people over. (These two girls are pretty cool, for example.)
4. Set up a camera. Using a tripod, even if you're just using an iPhone or iPad will be key here so you don't have to waste time fussing with getting into position each time.
5. Lighting is good for any kind of photography. Use bright and diffuse lighting or a bounce flash off the ceiling. Now of course, if you not a photographer and they have the fancy equipment, but all means take your photo booth up a level.
5. Say cheeeeeese!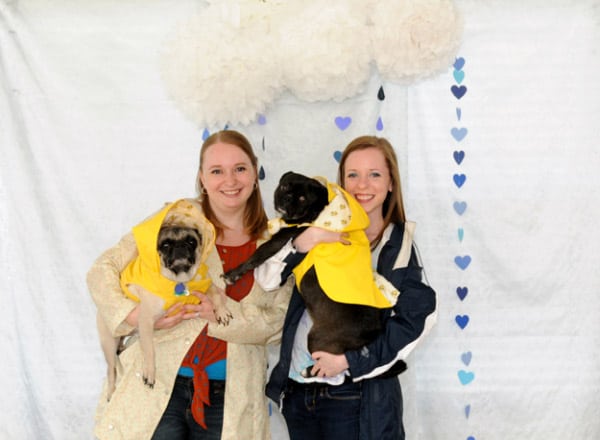 And of course, what would this post be without some pups dressed up for the shower (in raincoats, of course)!
The possibilities are endless when you think of the number of wedding shower photo props you can use with these theme.
Use Adobe tools such as this one, a free photo editor to make your photos look marvelous.
Let your imagination fly when it comes to clouds, rainbows, water droplets, puddles of love, raincoats, galoshes, umbrellas and more.