Are you thinking of remodeling your home? Let's help you with a few decor ideas. If you can get your hands on old and out-of-use window frames, they can transform the interior decor.
From window frame wall art to window cabinets, these repurposed old windows are simply fantastic!
We have rounded-up inspiring and beautiful DIY window frame ideas for you.
Let's dig in!
#1 Old Windows Gallery Wall
Large empty walls can be decorated with old windows turned into a big gallery wall.
Collect the old window frames lying around; clean them, and maybe add a coat of wood polish before hanging them on the wall in patterns.
They don't even require embellishment. No need to be of the same size either. The allure is their rustic look and old wall charm. The best location is behind the couch.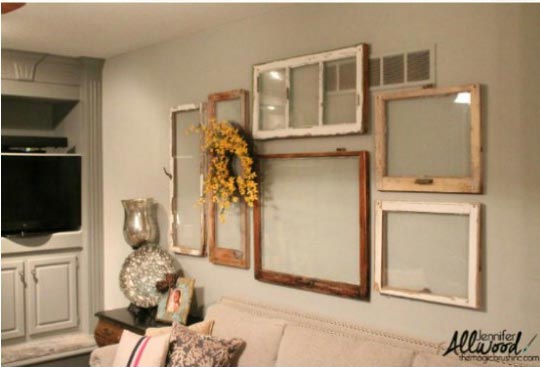 Jennifer All Wood Home posted a DIY on creating a beautiful wall of old windows for her family. Check it out!
#2 Standalone Window Bathroom Shelves
Repurpose long and winding window frames as standalone bathroom shelves. A simple and elegant decor!
Stand up the long window frame against a clean wall and fasten it securely. The window panes serve as hangars to keep towels, clothes or hang a box of bathroom essentials.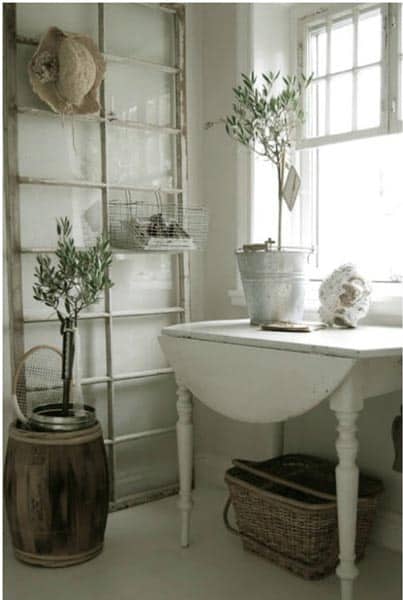 Take a look at this fabulous and exquisite idea over at Hvitur Lakkris DIY blog post.
#3 Window Frame Side Table
Apart from decorative wall art, the spare window frames can be converted into storage spaces for the living room or the bedroom.
You can create a sofa side table or a tea table with some knowledge of woodworking.
Polish and sand them properly, and you have the new decor in the home!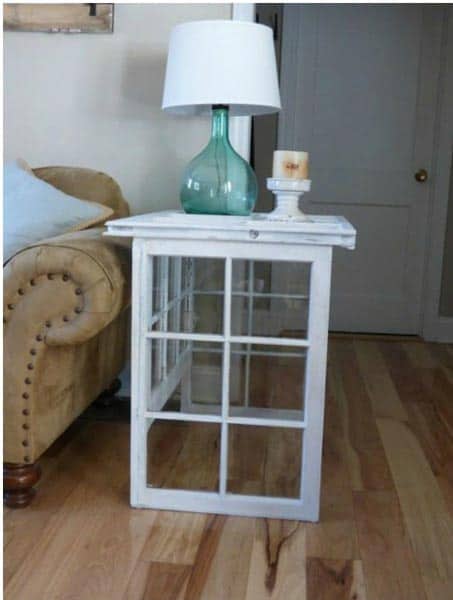 The blogger at Fun Fam Living crafted a unique side table from window frames. Isn't that wonderful? Check it out!
#4 Old Window Framed Quilt
If you have an old family heirloom, such as a quilt, that you're reluctant to let you turn it into a piece of wall decor.
Frame the quilt with an old window frame and hang it in the living room for the world to see. This will add life to the quilt for a few more years! It will be safe from weather damages and moths.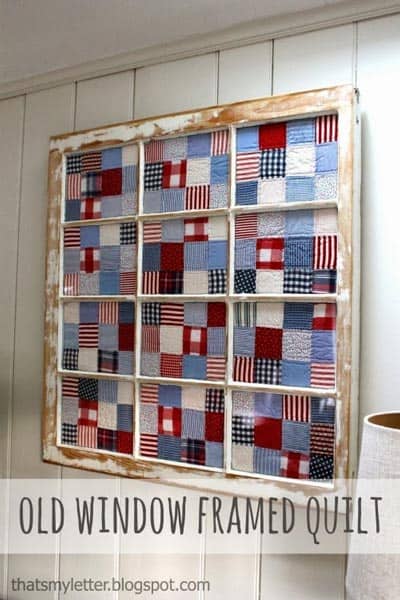 Jaime Costiglio  shows you how to make the old window framed quilt.
#5 Christmas Advent Calendar
First used by the German Lutherans in the early 19th century, the Christmas Advent calendar is a nice decor created in anticipation of the holiday month.
You need a medium-sized window frame divided into 24 small panes/separators with numbers 1 to 24 earmarked. Decorate with candles and flowers, and put this above the fireplace to complete the look.
The Finding Home Farms  family lays out the detailed DIY process of creating your own Christmas Advent calendar.
#6 DIY Window Frame Pot Rack
Who would have thought that you can repurpose old window frames into a pot rack for the kitchen?!
A kitchen always needs additional storage. Remove the glass panes from the window frame. Next, ang the frame from the ceiling with solid chains. The chains should be strong and sturdy to handle the additional weight.
Hang the pots, and other kitchen pans out of the way on the framed rack.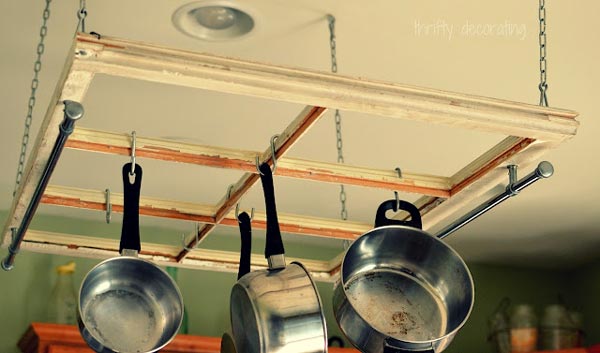 Take a look at how Nicole did this at The 36th Avenue blog.
#7 Epic Fairy Garden
Welcome to the land of fairies! The old wooden frame can be repurposed to create a fairy garden for the outdoors ideally or indoors if you want this for the kids!
You need an old window and other art supplies to create the fairy garden. There are no instructions to follow – your creative thought is the limit.
If keeping this indoors, make sure it gets natural sunlight or is in a well-lit area.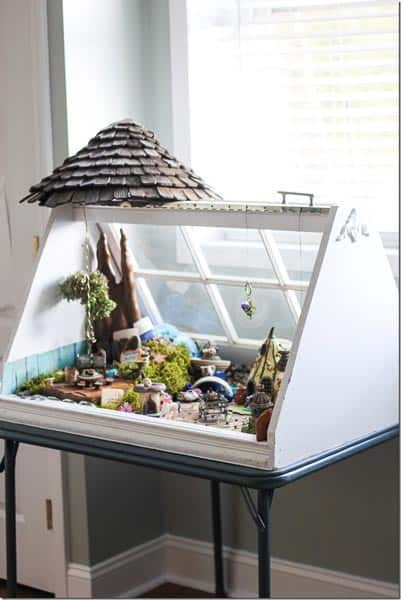 See how Beth at Unskinny Boppy made the grandma's fairy garden for her kids.
#8 Antique Window Tray
Fashion an embellished serving tray from an old window with this easy DIY process.
You can paint the glass with any design or text to improve its visual appeal. Attach vintage drawer handles on both sides for holding it.
The beautiful serving tray will definitely impress your guests.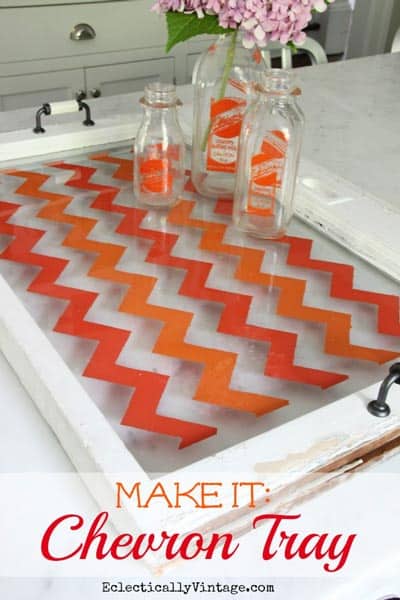 Visit  Kelly Elko for a video tutorial on creating an antique window tray with a chevron design.
#9 Old Rustic Window Coffee Table
Repurposed furniture need not be shabby! This is an ideal DIY if you're interested in woodworking.
Begin by building the wooden box and the legs. The window frame will function as the tabletop. You can have a liftable lid and a storage space in it for living room essentials like board games and magazines.
The end result is a gorgeous and rustic farmhouse inspired coffee table.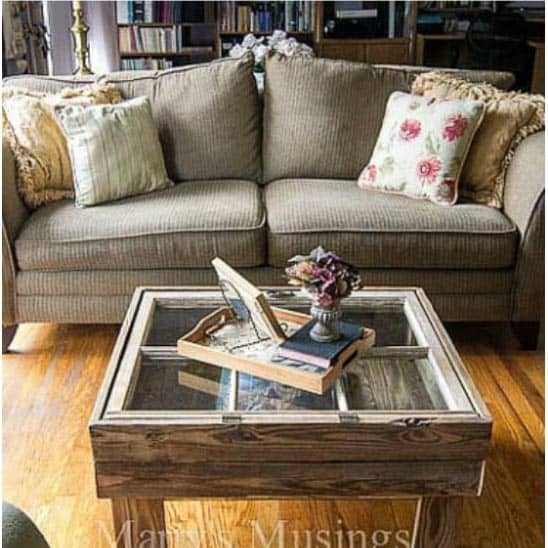 Marty Walden at Marty's Musings shows how she built the rustic coffee table from spare wood and window.
#10 Window Framed Family Keepsakes
Embellish a portion of the living room with family photos neatly framed in old wooden frames.
Wooden frames of any sizes will work. Frame the photos in it and arrange it on the wall in any pattern.
Leave space for future additions. You can retain the rustic look of the old frames or repaint them!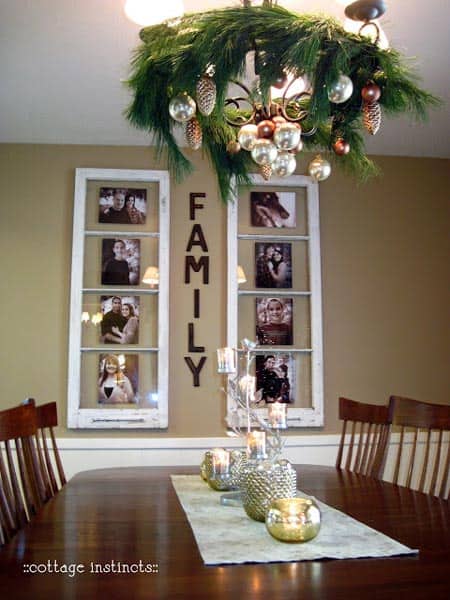 Cindy at Cottage Instincts created a beautiful family keepsake collection with old wooden frames. Head over to her blog for the details!
#11 Farmhouse DIY Sign Display
Do you want a sign display for the game room or the TV room? The farmhouse-styled display will help.
You need wooden frames, the type usually seen in old houses. Paint them white. Create the desired sign text on canvas or cardboard, and put it up in the room.
Watch how this is done from the video on Home With Mrs. Colunga channel.
—
These DIYs are just to give you ideas about how to repurpose window frames and improve the home's interior.
You can customize them according to holidays or any celebration. What is your favorite DIY window frame idea? Do tell us!